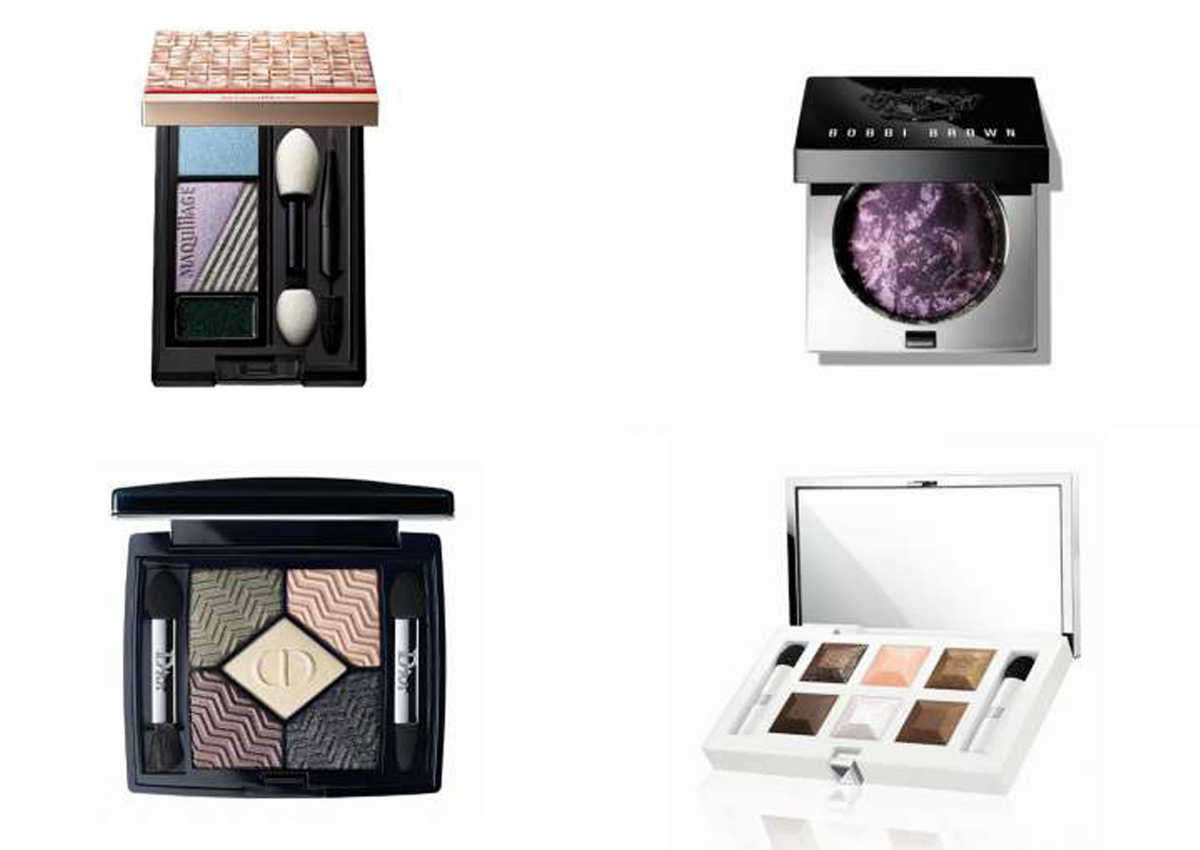 I want to elevate my party make-up look. What are some products I should get?
Every time the holiday season comes around, beauty counters brim with plenty of sparkly and shiny make-up options.
Many can appear too bold for everyday make-up looks. However, if you pick the versatile items, they can give you more mileage throughout the year.
Your best bet is to choose unique colours that are easy to wear or neutral shades with interesting textures.
Photos: Shiseido, Bobbi Brown, Dior, Givenchy, Elizabeth Arden, Guerlain, M.A.C., Cle De Peau Beaute, Chanel
Here are Life's picks:
1. Shiseido Maquillage GR753
$48, from Shiseido counters
Features a trio of three sparkly pastel shades in champagne, milky brown and pistachio, as well as a gel liner in shimmering navy.
2. Bobbi Brown Sequin Eyeshadow in Star Beam
$51, from Bobbi Brown counters
A charcoal black shadow with swirls of silver and purple glitter. Perfect for adding dimension to a smokey eye.
3. Dior 5 Couleurs State of Gold
$104, from Dior counters
A versatile palette with four metallic and shimmery easy-to-wear neutral shadows paired with an iridescent black one.
4. Givenchy La Palette Glacee
$105, from Givenchy counters
Six neutral eyeshadows - three pearlescent and three matte - that are made for everyday make-up looks.
5. Elizabeth Arden Beautiful Colour Eye Shadow Quad in Golden Opulence 01
price unavailable, from Elizabeth Arden counters
A quartet of gold, brown, champagne and olive green shadows that can be used for bold eye make-up or a simpler look.
6. Guerlain Meteorites Flocons Enchantes
$112, from Guerlain counters
The brand's classic meteorites powder - that is made to even out the skin tone - comes in a limited- edition version that adds a silvery sheen to the skin.
7. MAC In Extra Dimension SkinFinish in Oh, Darling
$59, from MAC counters
A beautiful gold highlighter to add a warm glow to the skin, it is best used in the evening.
8. Cle De Peau Beaute Collection Bal Masque Body Powder
$145, from Cle De Peau Beaute counters
This shimmering gold powder can be used on your decolletage, lids and cheekbones.
9. Chanel Illusion D'Ombre Long Wear Luminuos Eyeshadow in 857 Rouge Noir
$52, from Chanel counters
Use this versatile sparkly plum shadow to line your eyes or blend it on lids for a unique make-up look.

This article was first published on November 26, 2015.
Get a copy of The Straits Times or go to straitstimes.com for more stories.