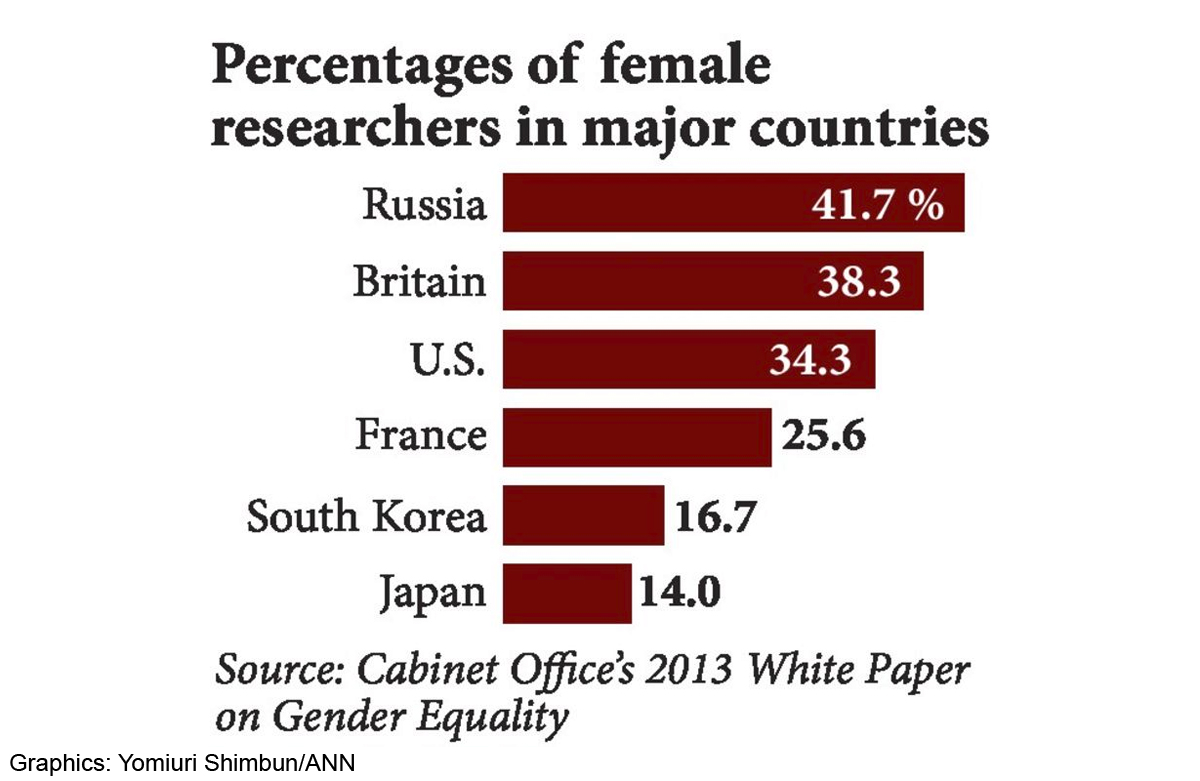 JAPAN - Haruko Obokata's achievements in the production of stimulus-triggered acquisition of pluripotency (STAP) cells have helped shed light on the need to improve conditions for female researchers and university students in the sciences.
Obokata, 30, a research unit leader at the Riken Center for Developmental Biology in Kobe, surprised scientists all over the world by succeeding in the development of a new kind of pluripotent cell that can grow into various tissues and organs.
The government expects women throughout society to follow suit, as the government regards women's success as a pillar of its economic growth strategy.
But there have been calls for improvements in the circumstances for female researchers and university students, dubbed "rikejo" in Japanese. The word is a shortened form of "rikei joshi," meaning female scholars of science and engineering.
Prime Minister Shinzo Abe commended Obokata's remarkable accomplishment at a session of the House of Representatives' Budget Committee on Friday.
"We are now implementing policy measures for women as part of the economic growth strategy," Abe said. "I'll do my best to make Japan a country where the women are the brightest in the world."
The percentage of Japanese researchers who are women is 14 per cent, the lowest figure among industrialized countries.
The government's Basic Plan for Science and Technology contains a goal to raise the percentage of women among newly hired natural science researchers to 30 per cent.
It maintains the view that the empowerment of women is essential to gather diverse viewpoints and revitalize research activities.
The research findings will be applied to a wide range of fields including medicine and industrial production, directly resulting in expanding overseas markets.
In recent years in Japan, more female students have been enrolling in schools and faculties related to the sciences. The trend is not limited to university faculties of medicine and pharmacy, where a large number of women have already been studying.
The percentage of female first-year students in faculties of science, engineering and agriculture rose from 9.3 per cent in fiscal 1990 to 19.7 per cent in fiscal 2013, according to Education, Culture, Sports, Science and Technology Ministry data.
At Ohyu Gakuen Girls' Senior High School, one of Tokyo's most prestigious private high schools, among graduates who continued on to higher education, about 40 of about 260 graduates in spring last year enrolled in science or engineering faculties of state-run, local government-run or private universities.
This year, for the first time in the school's history, the number of homeroom classes comprising second-year students who plan to major in the sciences and engineering has reached four. There are three homeroom classes for students who intend to pursue the liberal arts.
Madoka Ouchi, a 49-year-old chemistry teacher at the school, said: "Nowadays, our students are getting the sense that women are inevitably going to have long careers. It looks like one of their future career choices is becoming researchers at universities and companies."
Misato Narihiro, 22, a neuroscience student at Waseda University, Obokata's alma mater, aims to enroll in the university's graduate school in April.
"I was vacillating until the last moment on whether I should enroll in grad school or get a job. But after I heard the news about Ms. Obokata, my desire to become a researcher grew stronger."
Despite such enthusiasm among young people, working conditions are tough for female researchers.
The average annual income of women aged 30 to 34 working at research institutes is ¥3.91 million, which is at least ¥600,000 lower than that of men in the same age group, according to survey results released in 2013 by the Japan Inter-Society Liaison Association Committee for Promoting Equal Participation of Men and Women in Science and Engineering (EPMEWSE).
EPMEWSE attributes the gap to the fact that the percentage of female researchers who are employed under limited-term contracts without stable worker status, despite holding doctorates, is higher than the corresponding percentage of men.
Universities and research institutes have made drastic reforms. For example, some have independently established job offer quotas for women, and others have allocated larger research budgets to faculties that employ women.
But young researchers have struggled with a dire shortage of posts in general, and some male researchers have voiced discontent that women are given excessive preferential treatment.
Obokata's achievement was greatly assisted by well-known researchers.
Prof. Reiko Kuroda of Tokyo University of Science, a 1993 recipient of the Saruhashi Award established to support female researchers, said, "There are a large number of talented and motivated young women."
Kuroda, who is also a member of the UN Advisory Board on Scientific Studies, said, "To enable them to continue research activities over the long term, it's necessary to improve assistance systems for child-rearing."
Yuko Harayama, a former Tohoku University professor who serves as an expert on the government's Council for Science and Technology Policy, said, "To bring out the abilities of young people, including women, it's important to make them believe that they can achieve their goals."
Harayama said it is necessary to come up with a policy that can lead to similar results with Obokata's success as a model case.