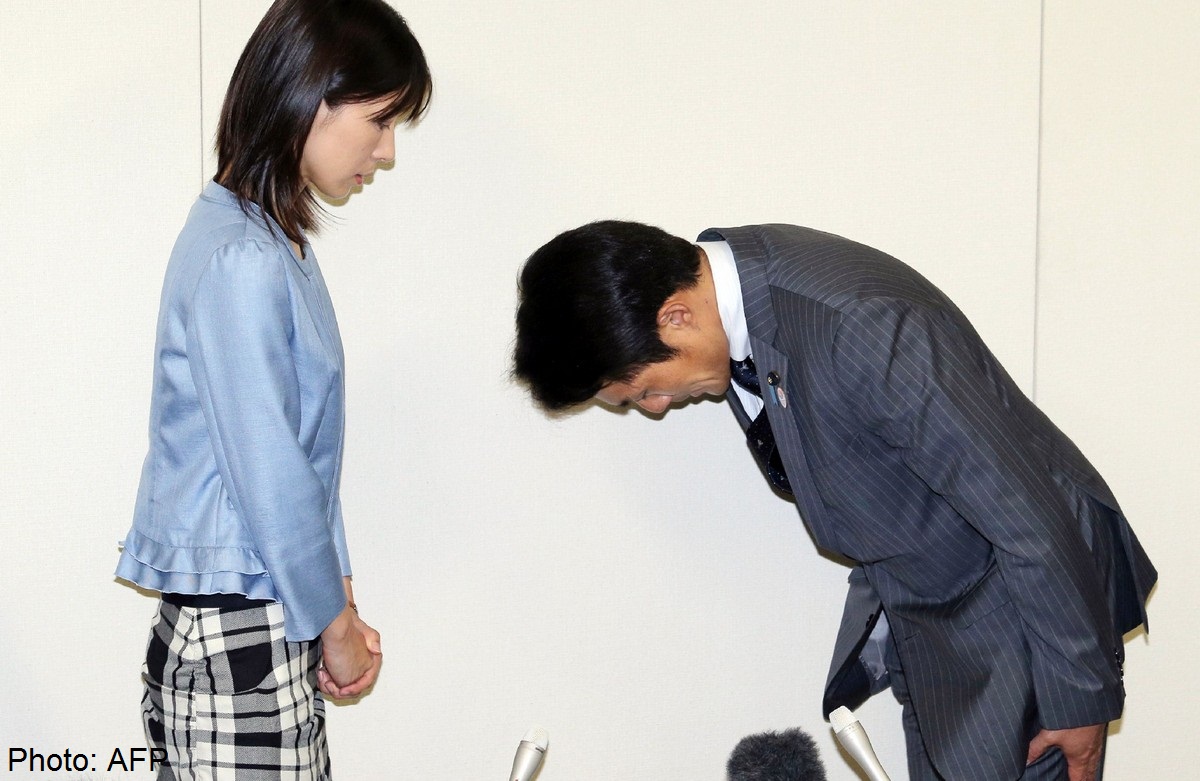 TOKYO - Japanese Prime Minister Shinzo Abe broke a nearly week-long silence Tuesday and apologised for sexist taunts shouted by a party member at a young Tokyo assemblywoman.
The apology, issued to the male head of the woman's opposition party, came hours after Abe published a blog on the importance of improving the low rate of female workplace participation in Japan.
In the post, the prime minister called for women to "shine" but made no mention of the episode.
Tokyo assemblyman Akihiro Suzuki, 51, on Monday admitted he had yelled "Why don't you get married?" at Ayaka Shiomura, 35, when she was speaking in the chamber last week during a debate on motherhood.
After days of denials, Suzuki said he was responsible and apologised to Shiomura as he resigned his membership of Abe's ruling Liberal Democratic Party (LDP).
Hours after Suzuki's apology his office was pelted with eggs and his Facebook page was flooded with comments critical of his behaviour. He was also vilified on Twitter.
Shiomura was questioning senior figures in the Tokyo city administration on plans to help current and future mothers, when abuse erupted from seats occupied by LDP members.
Suzuki's shout was captured on tape, while some of those in the chamber said they had also heard laughter and taunts such as "Are you not able to have a baby?" Shiomura told foreign reporters in Tokyo on Tuesday that other assembly members had also joined in the jeering in a chamber that she said did not actively support women.
"I believe the assembly could successfully implement policies by increasing the number of female lawmakers and listening to their voices," she said.
Japan has one of the lowest rates of female workforce participation in the developed world, and most economists agree it badly needs to boost the number of working women.
But a lack of childcare facilities, poor career support and deeply entrenched sexism are blamed for keeping women at home.
Abe has made great play of his desire to level the gender playing field, making numerous speeches on the subject over recent months.
In his blog post, published Tuesday, he wrote: "The government will actively support women, regardless of whether they are currently at work or home, to play more active roles." His apology, delivered Tuesday to Your Party leader Keiichiro Asao, did not directly address the nature of the incident.
"Sorry for the inconvenience at the Tokyo assembly," he told Asao during a round of greetings to each party leader at the end of the parliamentary session.
Several hours later, Shiomura said she had not been told of the prime minister's intervention.
"I would like to hear his opinion," she told reporters.