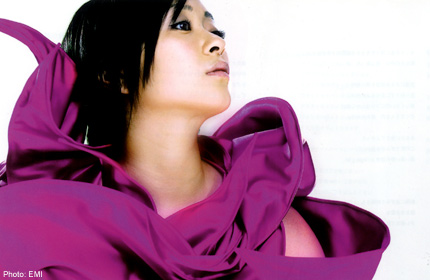 TOKYO - Songstress Hikaru Utada is to tie the knot, she announced on her website, with Japanese media saying her intended is an Italian barman eight years her junior.
Utada, whose 1999 multi-million-selling debut record, First Love, is one of Japan's biggest-ever hits, reportedly met her new beau in London.
In a message posted on her website, the 31-year-old said: "I'm getting married soon... This is unexpected even for me and makes me chuckle a bit but my partner is an Italian man."
Utada, who was born in the United States and speaks fluent English, did not reveal her fiance's name, which she asked be kept under wraps by Japan's voracious tabloid press, saying he "couldn't be more of an ordinary man."
"My partner is a sincere, nice man loved by many friends," she told fans.
The couple are expected to exchange vows in an Italian seaside town on May 23, Japanese media reported.
Utada's first marriage, to Japanese photographer Kazuaki Kiriya, ended in 2007, with the couple citing differences in future vision and communication problems.
Utada said she decided to go ahead with the wedding despite her mother's death last year in a fall from her 13th storey Tokyo apartment.
"When I talked about him in my last conversation with my mother, she was so glad, that I thought 'I've not seen my mother this cheerful in many years.'"
Utada, who records in English and Japanese has achieved commercial success in Taiwan, the Philippines and Thailand, as well as in Britain, France, Germany and North America.