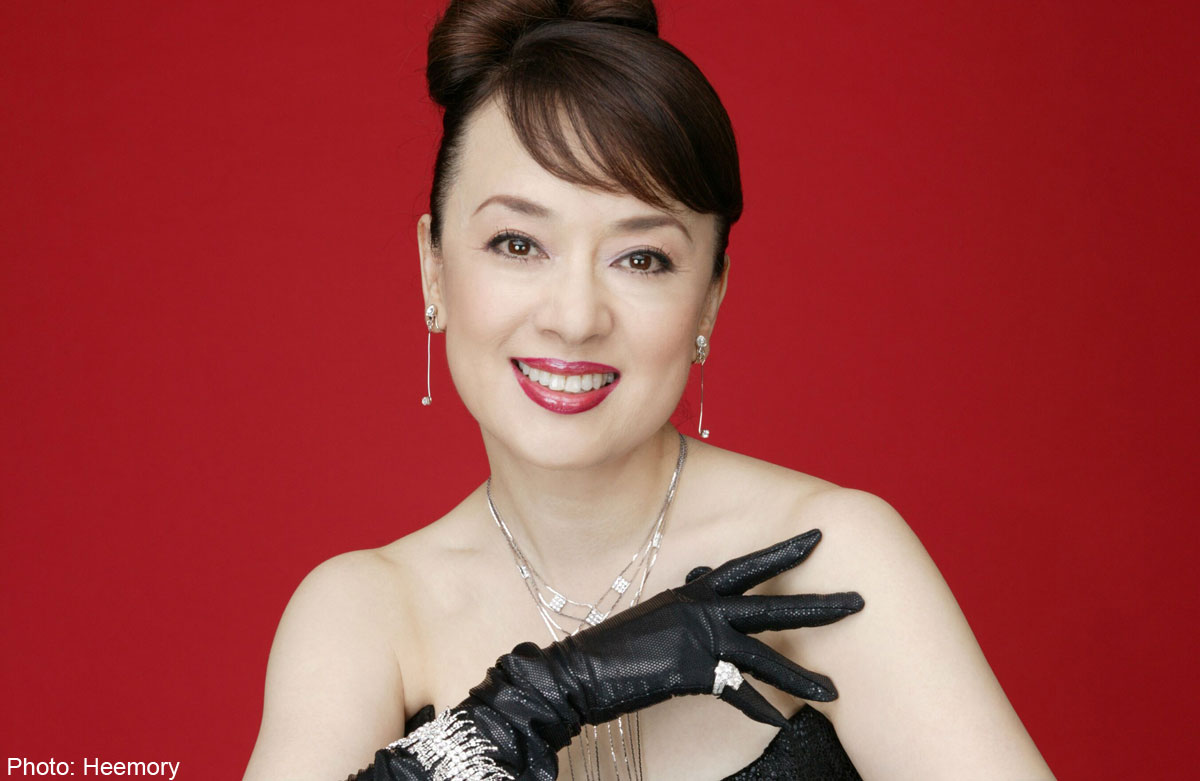 Veteran Taiwanese entertainer Judy Ongg may not have children, but she has a good companion in her pet dog, a 10-month-old Westie.
"When I get engrossed in my painting and do that for three hours straight, my dog will come and paw me as a way to tell 'mummy' to rest," said the 1970s pop singer and actress, who is based in Japan.
The 64-year-old is doing her part to pay tribute to mothers. She lent her soothing vocals at the inaugural Community Chest-Singapore Chinese Orchestra Mother's Day Charity Concert last night.
She serenaded the 700-strong crowd with her classics, such as Pray and Warm Humanity, accompanied by the Singapore Chinese Orchestra (SCO). It was held at the SCO Concert Hall at the Singapore Conference Hall in Shenton Way.
The multi-talented crooner also donated her painting of two irises, called Sensations Of Spring, for auction at the concert. In total, organisers expect to raise about $850,000, including corporate donations, and the money will be channelled to more than 40 Community Chest programmes that help families in need.
During an interview in Mandarin with the Singapore media on Wednesday evening, Ongg, who divorced her Japanese art-dealer husband in 1997 after a six-year marriage, said: "I want to take the chance to thank mothers around the world. There are mothers out there who don't have it easy. I'm honoured to be able to help them."
She has not forgotten her own mother - she treated the 86-year-old to a meal last week. She also bought her mum an outfit which she saw her eyeing in a department store.
Exuding a regal air at the interview, the poised Ongg has fond memories of her mother's spunky spirit.
"When she was a young girl, she would tell her mother she was going out to learn flower arrangement. Instead, she would go horse-riding," said Ong, the younger of two siblings. Her older brother is an architect.
Taiwan-born Ongg moved to Tokyo with her parents at the age of two and grew up there.
Her mother and her 94-year-old father are living in Kaohsiung in Taiwan. Her father, who was in the TV broadcast business, penned the lyrics to many of her songs, including Pray and Warm Humanity.
Ongg said: "My mother is a modern woman. When we were young, she would drive us around with manicured nails and sunglasses. Women rarely drove then in Japan. She loved trying the newest things and challenges."
Ongg's show business career began at the age of nine, when she was talent-spotted to join a Japanese children's theatre as she is multilingual. She is fluent in Mandarin, Japanese and English.
She went on to have an illustrious career and won a Golden Horse Award for Best Leading Actress in 1972 for the movie The Heiress And The Imposter.
She has released songs in Japanese, Mandarin and Cantonese.
She struck gold with the Japanese single Miserarete (1979), which sold more than two million copies.
Her popularity peaked in the early 1970s with the classic movie Love Begins Here (1972), which showcased her acting and singing abilities. She played the lead role of a cancer-stricken music teacher and sang the film's theme song Seagull.
Ongg, it seems, has inherited her mother's zest for life. Besides painting, she is still active in show business.
She holds exhibitions that showcase her paintings and woodblock prints, and will begin filming a Japanese drama at the end of this month. In it, she plays a career woman who has invested loads of money in a flagging baseball team.
In March, she released a Mandarin single titled Good Companion.
Asked if she has any suitors, she replied playfully: "I have no idea. If I'm aware of the presence of suitors, I'll turn around and take a look. Maybe they don't want to let me know."
Her ideal companion is someone whom she can respect, and is knowledgeable and has a sense of humour, she says.
As for her secret to staying young, she said: "Don't give yourself too much stress. When people ask me about my setbacks in life, I can't really recall them. I just forget them."
This article was published on May 3 in The Straits Times.


Get a copy of The Straits Times or go to straitstimes.com for more stories.