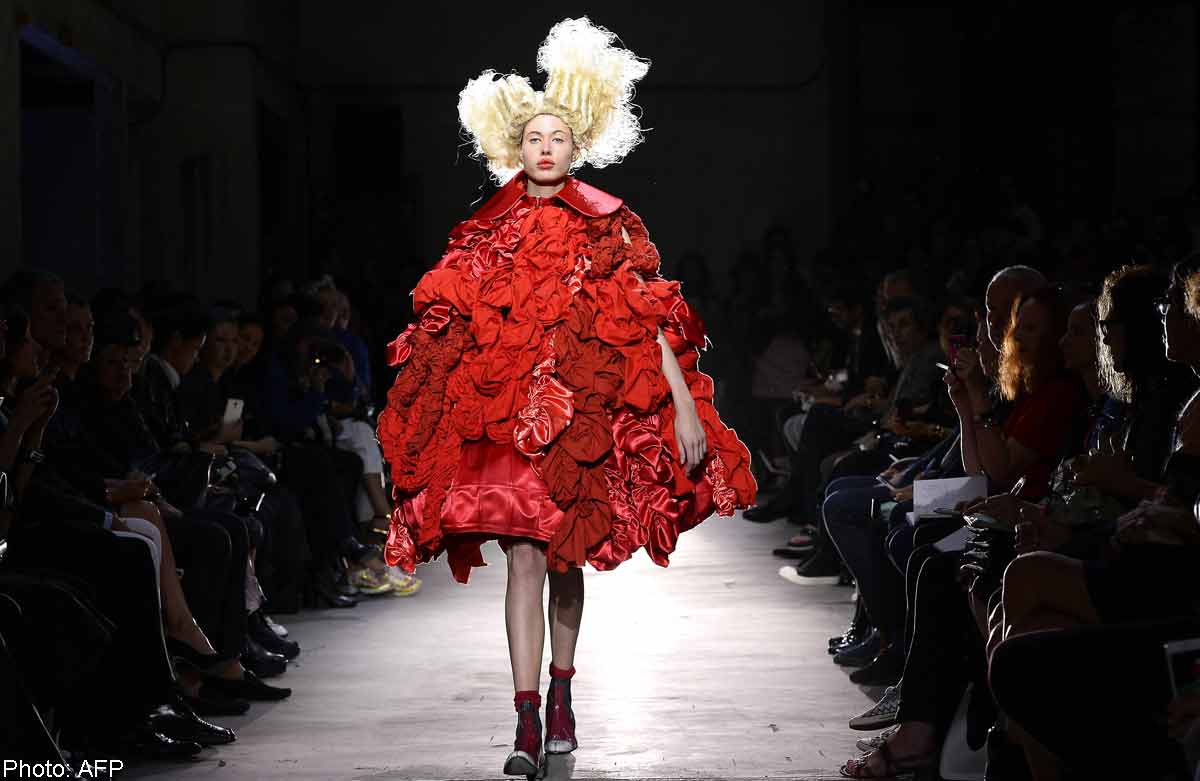 On a grey spring morning in Paris, behind the facade of an 18th-century building on the Place Vendome, a flying insect has somehow made its way through an arched doorway, past a limestone courtyard and into the headquarters of Comme des Garcons International, where it is now buzzing around the head of chief executive officer Adrian Joffe.
As Joffe sits at a glass table in his office, calmly discussing the relationship between artistic integrity and profit, he suddenly raises his right arm and executes a rapid swatting motion reminiscent of an Andy Roddick first serve.
In a split second, the fly is gone and Joffe continues speaking, making no acknowledgment of the interruption, aside from a barely perceptible grin.
To those who are not familiar with Joffe - a seemingly mild-mannered executive with a background in Zen Buddhism and linguistics - this matter-of-fact extermination of another living being might seem surprising.
However, as Bloomberg Pursuits magazine reports in its Autumn 2014 issue, those who know him well would recognise one of his most-marked qualities: not a killer instinct exactly but, rather, a clean efficiency, a knack for swiftly removing distractions so as to focus on what is important.
Comme des Garcons, founded in Tokyo 45 years ago by reclusive designer Rei Kawakubo - Joffe's wife since 1992 - is perhaps the most enduringly innovative fashion brand of modern times.
From the start, Kawakubo's goal has been to rise above market forces to freely create new things, whether they are jackets with three sleeves or androgynous, abstract garments which upend standard notions of clothing, gender and beauty.
Despite its renegade bona fides, Comme, as its devotees call it, is also a business, and it is up to Joffe to help keep it profitable.
At a time when the art-commerce balancing act is a daunting challenge for many creative companies, Joffe, who has no formal training in either art or commerce, has become an unlikely master of juggling both.
His ideas often seem uncopyable - until they are widely copied. Such was the case with Comme's guerilla stores - one-off, limited-run boutiques which served as the prototypes for today's ubiquitous pop-up shops.
American rapper Pharrell Williams - whose new unisex scent with Comme puts him in an esteemed club of fragrance collaborators that includes design firm Artek and London's Serpentine Gallery - says creativity remains Joffe's top priority, with commerce running a very close second.
"Money doesn't make ideas; ideas make money," Williams observes. He describes Comme des Garcons as a kind of brilliant biosphere, with Joffe as the curator who gives Kawakubo's creations their essential context.
"If Comme is like a snow globe, Adrian is the water," Williams says.
Joffe certainly does not fit the standard profile of a 61-year-old CEO - and not just because he dresses in head-to-toe black, often with a pair of graffitied Doc Martens on his feet.
The shoes are a limited-edition Comme collaboration adorned with slogans by his wife, including, significantly, "My energy comes from my freedom".
One of Joffe's many tasks at the company is to act as interpreter and gatekeeper for the resolutely private Kawakubo, who speaks little English and shows no interest in making herself understood to the outside world.
"That's the worst part of my job," Joffe says. "It's hard to explain her and I don't really want to. However, I am somewhat of a realist and, for business, you have to try."
A CONCEPT AND A FASHION LABEL
Given its commitment to perpetual innovation, Comme des Garcons ("Like Boys" in French) is seen as a concept as much as a clothing label, but its essence is "almost impossible to put into words", says Ronnie Cooke Newhouse, a London-based creative director who has collaborated with Joffe and Kawakubo since the 1990s.
"It's like an unspoken language. You never learn the language; you just know it."
Joffe's role at the US$230 million (S$294 million) company is equally hard to define, as Kawakubo remains the brand's designer and guru-in-chief.
(She still helms the Japanese part of the business from its headquarters in Tokyo, where she lives.) However, in addition to overseeing worldwide retail operations, Joffe is in charge of Comme's acclaimed Dover Street Market, a deconstructed department store with branches in London, New York and Tokyo, as well as the company's pioneering fragrance arm, which has launched 77 scents to date.
Joffe got into the business by accident. Born in South Africa and raised in Britain, he studied Japanese and Tibetan culture at the University of London before moving to Japan without a job in 1977.
In Osaka, he perfected his Japanese, deepened his Zen meditation practice and gave serious consideration to a career as a monk while washing dishes at a bar called the Pasadena Inn.
After returning to London to start his PhD on Tibetan and Zen Buddhism, Joffe began helping his sister, Rose (later the co-founder of Paris' celebrated Rose Bakery), with a fledgling fashion business until Comme des Garcons hired him in 1987 as a commercial director based in Paris.
It was around then that Joffe first met Kawakubo, who, as usual, did not say much, but did not need to. Joffe remembers being instantly struck by the "very intense aura" others had told him about.
"She walks into a room and the air seems to change," he says. "There's no one I know like that."
The two became personally involved in 1991 and got married within a year at Paris' Hotel de Ville.
(Kawakubo does not discuss Joffe or her private life in the press and would not be interviewed for this or any article about her husband.)
By 1993, Joffe was president of the company and looking for new ways to apply Comme's rule-breaking philosophy to the business side.
Kawakubo, who Joffe says has an acute business mind herself, had never been interested in fragrance, but at Joffe's urging, they began to explore the possibility, while, of course, ignoring the established rules of the beauty industry.
"In Japan, there's no culture of perfume," Joffe says. "Rei didn't like the idea of putting on a perfume to seduce somebody.
So, our thinking was, 'What's a fragrance for?'" One answer came with the launch in 1998 of Odeur 53, an "anti-perfume", which had notes of "flaming rock", "flash of metal" and "wash drying in the wind".
GUERILLA STORES A GAME CHANGER
One of Joffe's most game-changing inventions dates to 2004, when he began opening Comme des Garcons' first guerilla stores - raw retail spaces in outlying areas of Berlin and other cities which closed by design after a year.
He has also worked with Kawakubo to strategise on the label's many offshoot lines such as Black and Play, the somewhat more wearable and affordable alternatives to the main collections shown on Paris' runways.
However, the duo's retail vision reaches its fullest and most delirious expression at Dover Street Market, their multi-brand mecca which is part fashion emporium, part group art installation and part Pee-wee's Playhouse.
Indeed, both Miuccia Prada and Louis Vuitton's creative director Nicolas Ghesquiere personally created their own dramatic spaces for the store.
Prada even designed an exclusive mini-collection for it. Joffe says these megabrands are surprisingly willing to adapt to the quirks of the Comme world.
"Elsewhere, they're used to getting exactly what they want - the biggest, the highest, the widest," he says.
"But they know we're as strong as they are, so they get the rare chance to engage in a real dialogue and be more free in their corporate structure."
On opening day last year, 3,000 fashion-obsessed fans showed up at the New York store.
A review on Style.com called the place a "wake-up call for the retail industry", citing the store's ability to provoke surprise and delight, rare qualities in a shopping era dominated by Amazon Prime.
In these matters and others, Joffe's Buddhist training comes in handy. Although he dropped his daily meditation practice shortly after leaving Japan, the philosophy, with its emphasis on impermanence and lack of attachment, still guides him.
Evidently, life inside the busy Comme des Garcons biosphere does not leave a lot of time for hedonistic pleasures.
Joffe sees Kawakubo about once a month, during her trips to Paris and his visits to Tokyo, but otherwise lives by himself.
While off duty, he does a lot of walking and a little boxing, attempting to stave off what he calls "the horror of getting fat and old at the same time".
A pressing question in the fashion world is how long their unique way of living and working can go on.
Kawakubo just turned 72 on Oct 11 and her self-imposed ban on copying anyone - including herself - is getting more constricting every season.
"It's really torture for her now," Joffe says. "Not because of her age, but because she's done so many new things every six months for 45 years. You can imagine the weight of experience."
Will there be a Comme des Garcons after Kawakubo?
"It's a very difficult question," Joffe says. "It's inconceivable that anyone else could design Comme des Garcons, the line."
However, he says he could imagine partnering "someone else with a vision", who could retain the spirit of the brand in some other way. "No decisions have been made," he says.
"I think we've got five years. There's no hurry, but I'm kind of pushing to sort it out and create a strategy."
~ BLOOMBERG

This article was first published on Oct 17, 2014.
Get a copy of Urban, The Straits Times or go to straitstimes.com for more stories.