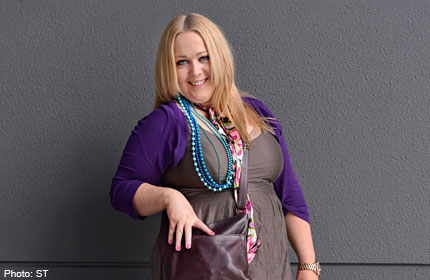 SINGAPORE - In London-based make-up artist-cum- hairstylist Lisa Hilton's opinion, all men should use skincare and even a little make-up - including British Prime Minister David Cameron.
Once a month, she grooms him before he appears on British political talkshow The Agenda.
The 35-year-old always uses "quite a bit of foundation to tone down his pink complexion". The Australian founder of men's skincare brand +Rehab London also uses her Calm Balm serum ($27.95) to "take away the redness of his skin" and Revive Survive moisturiser ($42.95) to perk it up.
Ms Hilton's brand is carried at Beauty Horizon and Beauty By Nature stores here and at www.rehablondonsg.com.
A 19-year veteran of the industry, she apprenticed at a beauty salon in Australia after her A levels. Halfway through her four-year apprenticeship in 1998, she scored a one-year internship at the make-up department of the British Broadcasting Corporation (BBC) in London, where she learnt about prosthetics and wigs.
Once her apprenticeship in Australia was up, she boarded a plane for London to embark on her career as a hairstylist and make-up artist. She has lived there since.
"Initially, I had just planned to work in London for two years but stayed on for 15," she says.
Over the years, Ms Hilton has racked up an impressive resume.
In 2010, she worked on the set of Madonna's film directorial debut W.E. In recent years, she has also done the hair and make-up for the British period drama Downton Abbey and British reality shows Strictly Come Dancing and X Factor.
Occasionally, she grooms politicians, such as Mr Cameron and former United States Vice-president Al Gore, for public appearances. On how she ended up with so many high-profile gigs, she says: "My BBC stint opened a lot of doors."
Ms Hilton started +Rehab London in 2009 after realising that there was a gap in the market for men who often have oily and sensitive skin.
She first noticed this while working on the film set of the 2007 fantasy film Stardust, which starred Robert De Niro.
"For weeks, the actors had to shave their skin raw, then put on prosthetics for up to 18 hours a day. Their skin became sensitive and produced more oil, but they had no solution for their skin issues," recalls Ms Hilton, who is married with no children.
She mentioned her observations to a scientist friend, who came up with a formula for a cleanser that used coconut emulsifier as a foaming agent instead of the usual sodium laureth sulfate. The latter is a commonly used detergent in skincare products that Ms Hilton says is too harsh for the skin.
To start her business, Ms Hilton used £15,000 (S$29,800) from her own savings on top of a £25,000 loan.
There are six items in the range, which are made with Hawaiian water algae, bamboo extracts and the volcanic sands of Tahiti. They do not contain parabens and silicones.
Ms Hilton says her business broke even in its first year and is now sold in more than 10 markets including Mexico, Russia and South Korea. Its annual turnover for the 2011 financial year was £150,000; this has since grown to £350,000 in the last year.
She also gives her products to celebrities to "keep the story on the brand going" and says fans include actor Robert Pattinson and singer Robbie Williams.
+Rehab London also sponsors the skincare for Downton Abbey's male actors.
Her bag
I bought this at the John Lewis department store in London. I always travel with this bag because I can just sling it on and keep my hands free. I also have it in fluorescent pink, yellow and orange. I use those bags in winter to brighten up my outfits.
7 things in her bag
1) Trilogy Rosehip Oil
I use this as a night moisturiser. It has a high concentration of rose hip extract and my skin absorbs it quickly. It leaves my skin calm and free of redness when I wake up the next morning, even when I don't sleep well.
2) Tangle Teezer brush
Every hairdresser I know uses this because it is gentle on the hair. It is particularly useful when I have to deal with my customers' long extensions; other brushes will rip them but this will not.
3) +Rehab London Men's Scrub Up Daily Detox
After I remove my make-up, I use this scrub with crushed bamboo and pumpkin seed oil to get rid of the remaining grime on my face. It is gentle enough for women.
4) St Tropez Self Tan Bronzing Mousse
I am quite pale and this gives me a light colour and a glow. I apply it before I go to bed and the next morning, I have a nice tan. This is a bestseller in London.
5) Expertise Salt Spray
This gives my hair a matte texture and soft waves; it makes me look like I was at the beach. I just spray it on my hair and scrunch it in.
6) Sportsgirl Necklace
I bought this in Australia. I love accessorising with beads and a scarf, so I always have a few in my bag to dress up my outfit.
7) Tatcha Blotters in Evening Aburatorigami
This facial oil blotting rice paper is dusted with gold and diamond powder. Use a piece on your face and you will look flawless and shine-free.
Get a copy of Urban, The Straits Times or go to straitstimes.com for more stories.