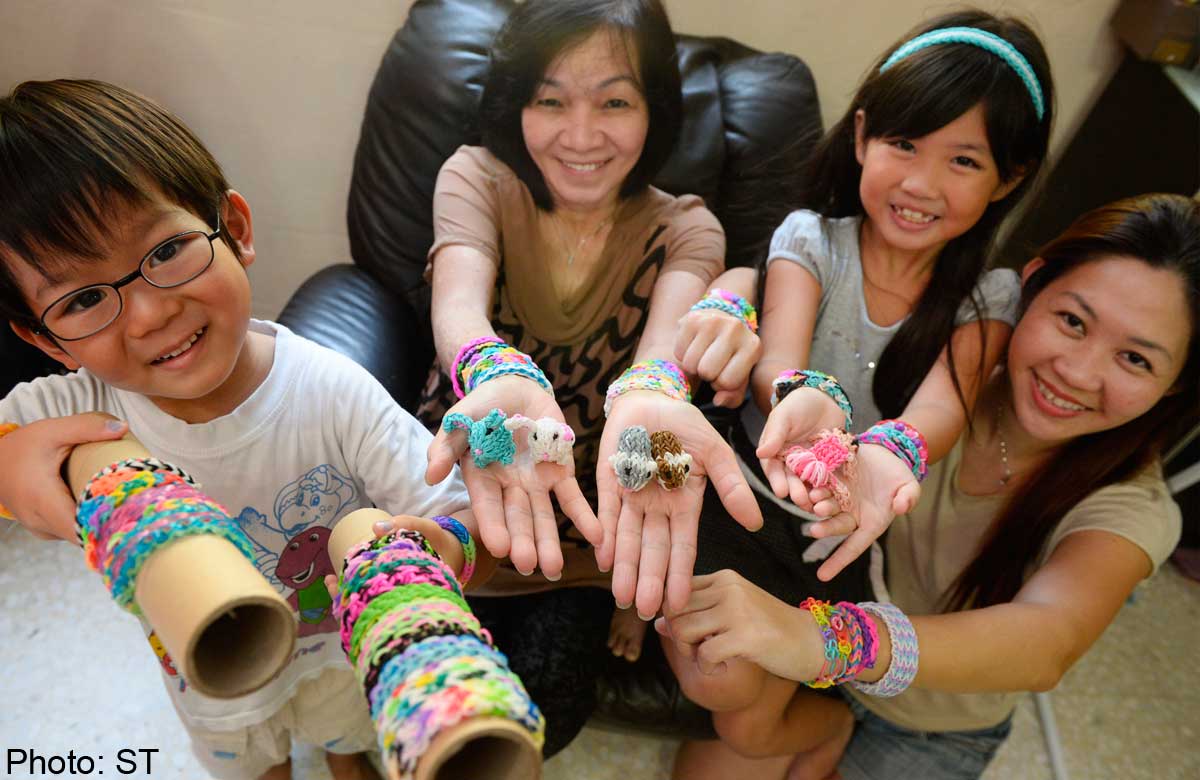 It is a kid's craft craze that has swept countries such as Australia, Britain, the United States and now Singapore. But the appeal of Rainbow Loom, a craft kit that lets you fashion bracelets out of small, colourful rubber bands, extends beyond kids.
Adults, too, are making and wearing the wrist candy du jour. Superstar footballer David Beckham and Catherine Middleton, the Duchess of Cambridge, are among the famous faces who have been seen sporting one of these multi-coloured fashion statements. The rubber bands can even be used to form fashion accessories, ornaments, dolls and jewellery.
Loom mania has hit fever pitch, with a dress made out of 20,000 loom bands sold on eBay for £170,100 (S$361,300) a few days ago. Rainbow Loom bracelets - this generation's answer to the woven friendship band of the 1980s - first gained popularity in the US in 2012. The kit is the brainchild of Mr Ng Cheong Choon, 45, a Malaysian engineer who moved to the US when he was in his 20s (see facing page).
The fad found its way here last year, thanks to toy distributor Lin Daoyang, 34, now the sole distributor of Rainbow Loom here.
The Singaporean found out about the product through a friend living in the US and contacted Mr Ng last November.
"It was close to Christmas season so his company was very busy and had no stock for us, save for 300 kits," Mr Lin recalls.
Within a week, the $29.90 kits were snapped up through his network of retailers and online forums.
Mr Lin then asked for more kits but could not get his hands on them until late February.
"Since then, demand has just exploded," he says.
Sales of the kits here so far total a five- figure sum and he now supplies them to more than 20 retailers, including MPH bookstores and OG department stores.
Sales soared during the June school holidays.
"We would arrive at our retailers and these little girls would trail behind us, so eager to get their hands on the colour bands that they would help our delivery guys unpack," Mr Lin says.
Retailer Jumana Munir, 29, who owns My Toy Shop in Holland Road with her husband, recalls: "On delivery days last month, we had kids and their parents waiting outside our shop at least 30 minutes before our opening time.
"Suppliers have been calling me to ask why I haven't ordered their items but the truth is, their products are just sitting on my shelves. I have demand for only Rainbow Loom."
She has sold about 7,000 packets of rubber bands and about 800 loom kits since late February, when her store started carrying Rainbow Loom.
The hype has spawned many imitations of loom kits and bands and sales of these copycat products have also been brisk.
At the Clementi Mall outlet of gifts and lifestyle chain store Mini Toons, at least five versions of kits modelled after Rainbow Loom are being sold, together with looming paraphernalia such as hooks, beads and bands.
A female sales assistant, who declines to be named, says the shop sold more than 200 kits every day during the June school holidays. Sales have since slowed to about 100 kits or fewer daily, but she says they remain the shop's best-selling items.
Imitation kits, which are priced from about $7 to $30, are now commonly seen and sold in places such as school bookshops and neighbourhood shops.
The popularity of looming as a hobby has also led to demand for workshops, where instructors - who could be children as young as 10 years old - teach participants to make more complicated bracelet designs.
Ms Debbie Leung, 35, marketing manager of Playhao, a children's toy store at Forum The Shopping Mall, organised such a workshop last month. All eight sessions, which could take four participants each and cost up to $12 a person, were fully booked.
She says the product is a commercial hit for many reasons.
"You can make many designs from a single loom, some of which are very challenging. You can give your creation as a gift to someone or you can make your items in a group. People can also come up with their own designs," she explains.
Indeed, many loomers have gone beyond just bracelets to make hairbands, rings, pencil grips, figurines, keychain charms and more.
Mr Lin's wife Daphne, 34, who helps out in the business, says social media has helped to drum up more publicity for the product.
"People take pictures of the creations they have made and post them online and, in doing so, bring more attention to looming because others want to make what they have made too," she says.
Administrative executive April Tan, 30, who picked up looming two months ago, finds it very fulfilling.
"You need creativity to visualise a particular design and find ways to make it happen. Looming also makes you more patient as you need to be gentle with the bands lest they break and be willing to start from scratch should you make a mistake. A good sense of colour coordination is important for the design to turn out visually appealing too," she says.
A quick search online yields numerous looming tutorials, and there are specific names given to certain bracelet patterns such as Fishtail, Starburst, Taffy Twist and so on. Only those in the know can identify the bracelet patterns by sight.
While Mr Lin knows the excitement over looming will die down at some point, he does not foresee the interest "going down a cliff".
"This is not a toy which you are tired of after you discover all there is to it," he says. "With Rainbow Loom, you are limited only by your own imagination."
Teacher Rozana Abdul Razak, 33, agrees: "The possibilities are endless. You wonder, how many ways can you loom something? Apparently, many, many ways."
Activity of the family
After seven-year-old Estelle Chan picked up looming from a friend, she went on to teach not only her mother, but also her grandmother. Now, looming is an activity that the three of them do together on weekends.
Mrs Serene Chan, 39, Estelle's mother, recalls how her only child came home one afternoon during the June school holidays raving about a new skill that she had picked up during a break at her dance class.
"She said something about bracelets and looms but I had no idea what she was referring to," says the financial service consultant. She is married to financial planner Edmond Chan, 40.
But she chanced upon a looming kit that cost about $30 at a shopping mall a few days later and bought it, much to Estelle's delight. Soon, mother and daughter were making bracelets together. They have made about 30 to date, and Mrs Chan has also made a hairband for Estelle.
"It's easy to pick up looming with the help of YouTube tutorials. I know many mothers who got hooked on looming because of their children," says Mrs Chan.
Estelle, who has given some of the bracelets she made to her friends, chimes in: "I like doing this because I can make a lot of designs and in different colours."
A few days after her mother bought the looming kit, an excited Estelle took it along when she visited her maternal grandmother and she taught the 60-year-old how to use it.
Interestingly, Madam Tam Kam Lam says she has seen people selling other versions of the kit at the market and has been tempted to buy one.
"I've always been interested in craft and beadwork," says Madam Tam, whose four-room HDB flat in Clementi is filled with her beadwork creations.
"I picked up looming quickly because I'm familiar with crocheting and knitting and the skills needed for looming are similar."
The day Estelle taught her to loom, the pair succeeded in creating bracelets and rings made of almost 600 rubber bands in a single afternoon.
Mrs Chan recalls: "When I arrived to pick Estelle up, I was surprised at how quickly they had progressed."
Mother and daughter are also impressed by how deft Madam Tam is with her fingers.
She has surpassed them with her range of creations, which includes figurines, such as Princess Elsa from Disney's Frozen movie and a ballerina, as well as pencil grips and animal charms.
"I make these items for my grandchildren and it's nice to see how much they like them," says Madam Tam, who has five grandchildren aged three to 13.
The trio use discarded kitchen roll spines to hold their collection of bracelets.
"It's a form of bonding for us and it's a much more meaningful activity than playing with electronic gadgets all day long," says Mrs Chan.
Adults can be more obsessive 
After her two children go to bed at about 10pm each night, teacher Rozana Abdul Razak takes out her stash of small, multi-coloured rubber bands and starts looming.
At times, the 33-year-old stays up to 2am to complete a design, which she learns to make by watching YouTube tutorials.
"I think I have an obsessive-compulsive disorder when it comes to this," she says jokingly. "I just can't stop until I finish the item."
She bought a Rainbow Loom kit just before the June school holidays for her seven-year-old daughter after hearing about the product.
"My plan was to let her play with it during the school holidays but I hijacked my own plan and now I don't allow my daughter to touch the bands, lest she messes them up," she says. "It's now my hobby."
Her husband Brandon McHenry, 34, has no complaints about her latest hobby. He has even made two bracelets.
"I think it's quite fun and interesting," says the IT professional.
Ms Rozana owns two looms and about 50 coloured bands of various types - opaque, jelly and silicone - which she keeps in a large box.
She also has an inventory of the items, complete with their code numbers and other details, so she does not end up buying the same coloured band twice.
She owns many colours from a special Persian Collection of bands, which are dual-layered and not available in stores here.
"I went to the Rainbow Loom web store, saw those bands, started clicking and soon bought 20 packs of different coloured bands," she says a little sheepishly.
With all these bands, she has made many bracelets and charms. The charms come in the form of objects such as cars, pencils, football balls, animals and food items such as cupcakes, pizza slices, burgers and pineapples.
She derives great satisfaction from the looming process.
"It's fascinating to see how the items are created. When the bands are on the loom, you can't quite see how they are going to turn out. But at the end, they magically come together."
A simple charm takes her about 30 minutes to finish, while her most complicated bracelet to date took her seven hours to complete.
Besides making items for fun, she has also created loom figurines of The Little Mermaid and Sleeping Beauty for her daughter and a Batman figurine for a colleague.
She keeps her charm creations in a tin but wears her bracelets to school.
"My students all get very envious because they want to wear them too but they are not allowed to in school," she says, laughing.
She already has her next project in mind - a broccoli vegetable charm.
The only thing that has kept her from executing the idea is the sheer number of bands involved - more than 500, based on the YouTube videos she has viewed.
"All the looming work is going to be crazy," she says.
She estimates that she has spent more than $500 on her hobby.
"It's really not just a toy for kids. To call it that is to underestimate the market. The creators should look at supplying Rainbow Loom products to adults, who can be more obssessive about it than children," she says.
"I know many friends who claim they are buying the kits for their children but are secretly making items for themselves."
brynasim@sph.com.sg
This article was first published on July 20, 2014. Get a copy of The Straits Times or go to straitstimes.com for more stories.