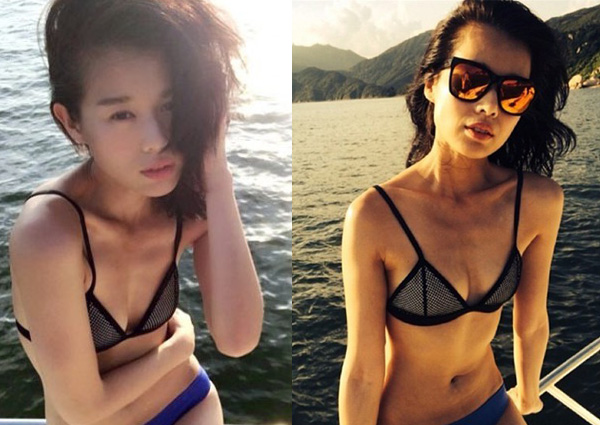 How did Hong Kong actress Myolie Wu's relationship with businessman boyfriend Philip Lee begin?
According to Myolie herself, it was 'love at first sight' for both of them, though not at the same time.
Recently, the actress went on a Chinese variety show and shared how the pair got together.
According to entertainment site iHKTV.com, Myolie was out on a yachting trip with fellow actresses and good friends Nancy Wu and Paisley Wu.
The 35-year-old posted many bikini photos on her Facebook account, one which was shared by a friend, who is also a friend of Lee.
The photo caught Lee's eye, and he immediately asked the mutual friend to introduce them because he thought Myolie was 'hot'.
But even though Myolie found Lee handsome on his Facebook profile photo, she rejected the friend's attempt to match them up.
Three months later, however, opportunity struck when the pair met at the mutual friend's birthday dinner.
The friend had secretly messaged Lee to come by when Myolie arrived.
Myolie recalled, "I saw him walk in as soon as I lifted my head - it was kind of like love at first sight."
Myolie also revealed that Lee is 42 years old, and they have been dating for almost 9 months.
She shared that he gives her a sense of security, and says: "No matter what happens, he won't leave me and he tells me I'm his pride and joy."
Myolie added that he does little things for her to show he cares, such as helping her to pack medicine into her luggage when she is sick, and helping her to blowdry her hair before she sleeps.
Although she had previously refuted rumours that she will be holding a wedding ceremony in England this December, Myolie simply said: "I don't know," when asked if she would be getting married this year.
candicec@sph.com.sg