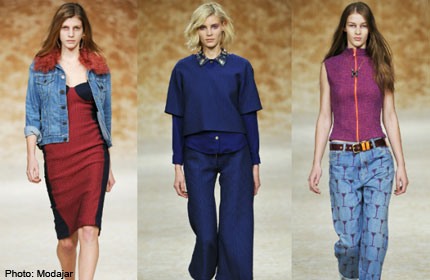 SINGAPORE - If you're looking for fashion and accessories that are a little different from the norm, then check out the newly launched Modajar.com, a Singapore-based online multi-label boutique that offers less well-known, or less easily accessible, men's and women's fashion and accessory labels.
Fashion brands like House of Holland (pictured above), Patrizia Pepe, Industrial Jewellery, Horiyoshi The Third, LIE by Lie Sang Bong (pictured below), Robert Friedman and Hartford will be available on Modajar.com, as well as emerging labels like Mauro Gasperi and Demoo Parkchoonmoo.
There are also a heap of interesting new accessories brands, including Industrial Jewellery, Lerock, Azumi & David, MrsDesign and Origami Jewellery; and shoes from Bagllerina (pictured below).
"Modajar was conceived with the idea of catering to fashion-forward women and men who are creative, bold and in search of distinctive fashion and lifestyle products to express themselves and their individuality," says Bryan Tan, CEO & co-founder of Modajar. "The type of consumers who don't want to wear what the masses are wearing and who truly treasure fashion as a form of self expression."
So you can expect the pieces on offer to be a little less "high street" and a little more "fashion-forward" at Modajar.com.
Modajar.com ships internationally; shipping in Singapore is free and you can also collect your buys from the site's office at Duxton Road if you prefer. Prices for items range from $49 - $559 for jewellery; from $229 - $559 for dresses (although they're currently on sale from $139); skirts and pants range from $179 to $489 (with leggings on sale from $99); jackets from $429 to $525 (on sale from $219) and bags and small leather goods range from $139 to $699. You can follow the website on Facebook at www.facebook.com/Modajar.
Go to herworldPLUS for more stories.