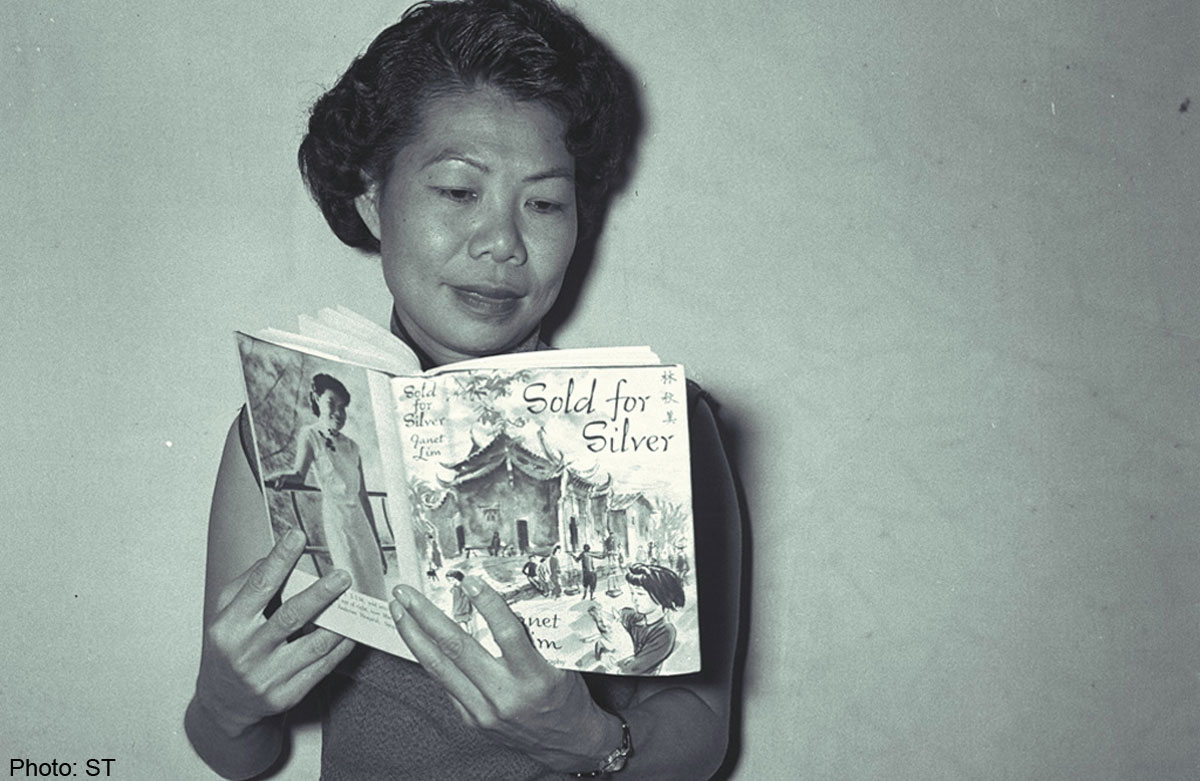 Janet Lim's life story would make for a gripping television melodrama.
Although she was born into a well-to-do family in southern China, life took a dark turn after her sinseh father died when she was eight years old.
Her mother - who lost her father's estate to an uncle - and stepfather sold her as a mui tsai (little sister) or child slave and she was trafficked to Singapore in 1930.
She managed to escape a life of servitude, get an education, become the first local hospital matron and marry an Australian doctor.
Now 90, she wrote a book, Sold For Silver, about her tumultuous life, in 1958. The book was reprinted about 10 years ago.
On the phone from Brisbane in Australia, where she has lived for the last 45 years, she sounds sprightly.
Madam Lim, who has three children and six grandchildren, is hard of hearing so her daughter-in-law, Mrs Eleisha Strang, 50, helped her answer questions during the phone interview.
She says that she does not harbour bitter feelings towards her mother.
"I've always loved my mother in spite of what she did. She did not have any choice, she was that poor," says the eldest of four children. Her two sisters died in their infancy; her brother died when he was four years old.
The couple who bought her from her mother in Ampo, a town near Shantou in China, trafficked her to Singapore where a towkay and his second wife bought her for $250.
The businessman made her life a living hell by always trying to molest her.
In 1932, the British colonial powers banned the import of mui tsai and required the registration of existing ones.
The law saved her. Madam Lim ran away and convinced the Chinese Protectorate Office that she was being ill-treated by the towkay.
She was placed in an orphanage in York Hill and later sent to the Church of England Zenana Missionary School, where she received an education.
After leaving school, she worked as a nurse at St Andrew's Mission Hospital.
But her life was thrown into turmoil again when World War II broke out and the Japanese invaded Singapore.
She tried to flee to India on a ship but the ship sank after it was bombed by the Japanese. She was rescued by a fisherman and taken to Sumatra only to be captured by the Japanese.
For three years, she was tortured and beaten, and was nearly made a comfort woman.
"My faith helped me through my darkest periods," says the Anglican.
After the war, she helped comfort women at the Social Hygiene Hospital before returning to work at St Andrew's.
In the late 1940s, she became the first nurse from Singapore to study nursing in Britain. Two years after she returned in 1952, she became the first Asian nurse to be appointed hospital matron at St Andrew's.
In 1959, she married an Australian doctor, Errol Strang. The couple moved to Australia in the late 1960s after working stints in Kuala Lumpur and Hong Kong.
Writing and publishing Sold For Silver took several years.
"I wrote quickly but had to stop many times because it was very emotionally draining. I was always crying," she recalls.
Of all the upheavals in her life, she says being lied to by her mother was the most traumatic.
"She lied to me and told me we were going away and we would be happy. I trusted her but she took me away to be sold instead."
Madam Lim devoted her life to raising her three children after settling down in Australia. Her husband died in 2002, but she kept herself busy with Bible study classes and gardening. A fall last year has slowed her down.
Mrs Eleisha Strang, who works as a bookkeeper, says her mother-in-law - who will be attending the launch of the Singapore Women's Hall of Fame on Friday - is a remarkable woman."She's extremely resilient. If I had experienced what she did, I know I would never live to 90 without being resentful and bitter.
"She has a lot of strength, and it has allowed her to forgive the people who have wronged her."

Get a copy of The Straits Times or go to straitstimes.com for more stories.