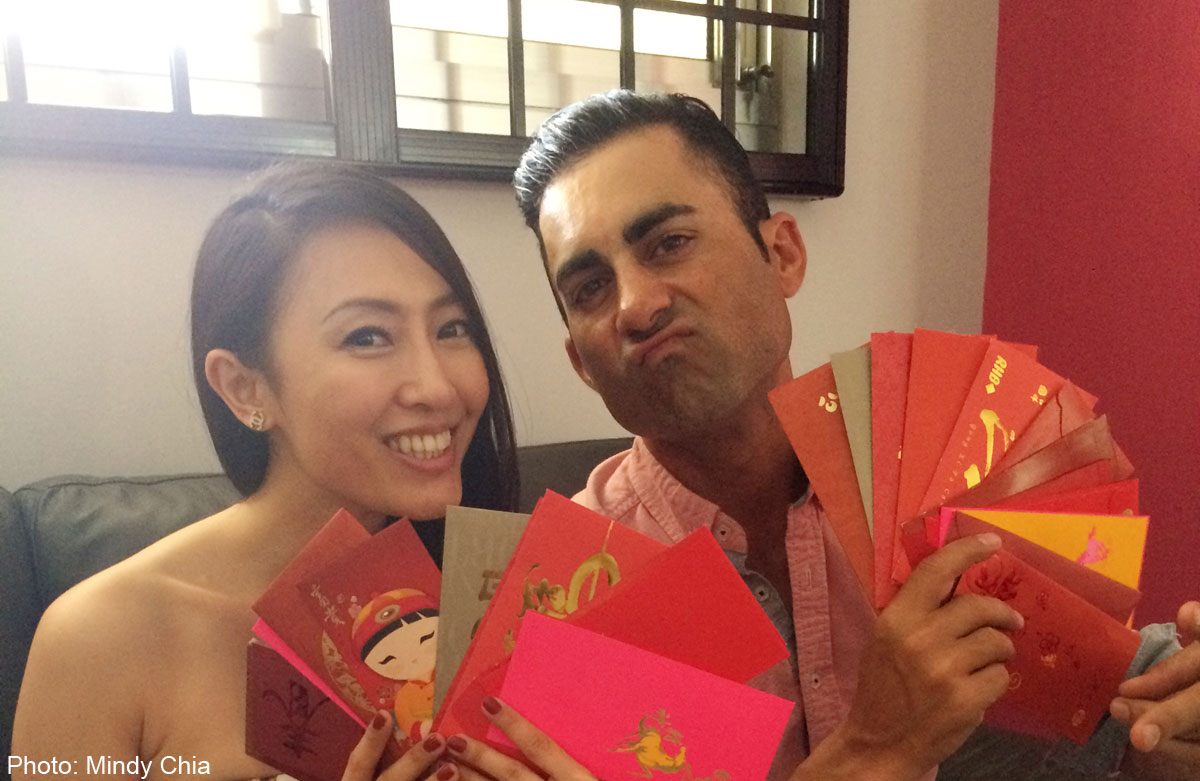 SINGAPORE - It's only through the bad times that one realises if love is sincere.
Today marks the first anniversary for the couple we brought together, affectionately dubbed Mike & Mindy.
Last year, US-born Class 95FM DJ Mike Kasem was one of our bachelors for The New Paper date-a-celeb series, where we invited single women to write in and win a Valentine's Day date with him.
He picked Miss Mindy Chia out of the seven women he went on a group date with for a Valentine's Day dinner.
The couple started dating shortly after and are now living together in his Bishan home.
What sealed the relationship for Kasem, 40, was how Miss Chia, 33, stuck by him during one of the toughest moments of his life.
He told The New Paper: "We're now enjoying each other's company. Mindy has such a positive energy that keeps me in good spirits."
Last October, Kasem and his two sisters were involved in a legal battle with their stepmum Jean Kasem, after she had denied them access to their father, veteran radio personality Casey Kasem, who lived with her in a mansion near Hollywood.
This was heart-breaking for the younger Kasem since his father was stricken with Parkinson's disease.
The older Kasem, 82, was a DJ and voice actor who hosted the famous American Top 40 radio show.
Last December, Kasem took Miss Chia to the US to celebrate Christmas with his family, which included his mum, stepdad, sisters and nieces.
It was the first time she was meeting Kasem's family, who live in Los Angeles.
During the trip, Kasem had to go to court often to continue the fight to see his biological dad.
He said: "Mindy was my rock. She was there with me in court every day. It was a very stressful trip with all the legal battles going on.
"In the end, I took the deal that was offered to me and I got to see my dad for 20 minutes in the hospital.
"It's very tough seeing him like this. He's unable to speak so I told him how much I loved him. I can't tell you how but he understood what I said."
He added: "Mindy couldn't meet my dad and just waited at the hospital for me. She had my back in tough times when she could have stayed home."
But it wasn't all anxiety and tears as the couple also found time to enjoy the Christmas holiday with Kasem's family.
They stayed at Kasem's old house in Encino, the same neighbourhood that late Michael Jackson lived in.
MEETING THE FAMILY
Said Kasem: "My mum had a huge Christmas party where Mindy met all my relatives and friends..
"Mindy has since asked me to move back to LA so we can stay there as she loves it over there.
"She was shocked when I showed her what property (house with four bedrooms and a pool) we could get for $800,000 which in Singapore could only probably get you a small condominium unit."
During the Christmas dinner, Kasem's family was intrigued by Miss Chia and asked her about her Asian roots.
But one question that would always make her blush is when people ask how they met, he said.
Kasem said that Miss Chia, who is in the service industry, often gets recognised at her workplace by people who ask her if she's the "The New Paper Valentine's Day girl". He has also spoken about her on his radio shows, for example, cheekily outing her pranks.
Said Kasem: "Mindy told me that during Chinese New Year, a boyfriend must give his girlfriend a hongbao for good luck. "So I asked around and found that this is not true."
He may have called her out on her mischief but he still left a $500 hongbao, oranges and flowers on the living room table.
When Miss Chia got home, she was touched by his thoughtfulness. She said: "He knew I was lying, but he still did it to make me happy. That's what I like about Mike, he's a really sweet guy.
She recalled how fate had intervened last year - she had written in for the dating series because for the first time in her adult life, she wasn't travelling for work on Valentine's Day.
She almost missed the group date because of work.
Said Miss Chia: "I'm glad I changed my mind and turned up in the end. Because this year, like every other year except the last, I'm working on Valentine's Day again and I'll be in Germany.
"But the difference is that I'll be looking forward to when I get back on Sunday to celebrate Valentine's Day with Mike."

Get The New Paper for more stories.