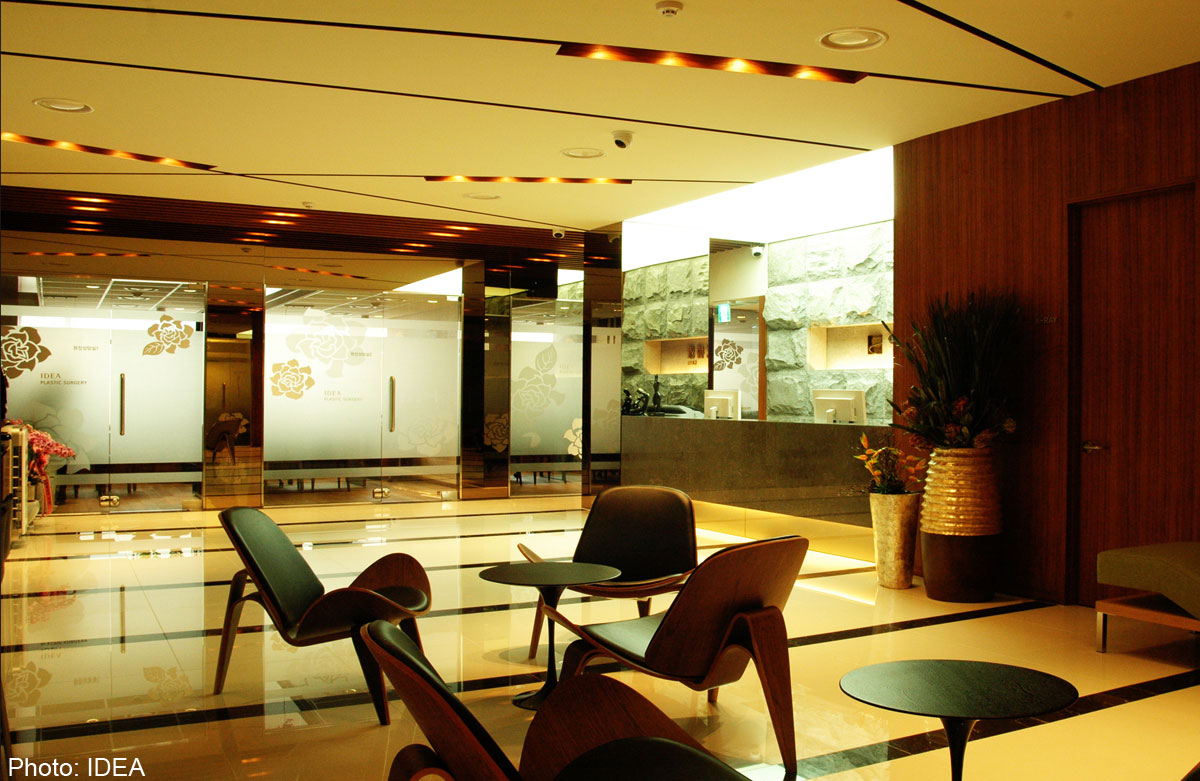 When Ms Desiree K wanted to increase her cup size from a small B to a full C last year, she headed for Seoul with two friends who were keen on getting their noses fixed too.
The 47-year-old Indonesian housewife, who has lived in Singapore for the last six years, forked out $10,000 for the surgery at Gates Plastic Surgery in the Gangnam area.
The mother of three said she paid at least 50 per cent less than what it would have cost to have the same thing done in Singapore. To further sweeten the deal, the doctor threw in free Botox-like shots to make her face slimmer.
It was the second time Ms K, who declined to reveal her full name, had cosmetic surgery in South Korea. In 2009, at a friend's introduction, she had eyelid and eyebag operations at BK Plastic Surgery Hospital, also in Gangnam, Seoul's plastic surgery hub.
"I returned to Seoul because I was satisfied with the results of my first operation. Now that I'm happy with my new, natural-looking breasts, I'm considering getting liposuction done there too," she says.
She cites the lower costs - 50 per cent cheaper than in Singapore - and her positive impression of South Korean doctors as the main draw.
Ms K notes: "I think the doctors there are good at what they do because they perform so many procedures every day. Practice makes perfect."
She is part of a growing number of women and men here choosing Seoul for plastic surgery and non-invasive aesthetic treatments - partly a corollary of the immense popularity of all things Korean.
BANKING ON REGIONAL DEMAND
Ms Caitrin Moh, the meetings, incentives, conventions and exhibitions manager at the Korea Tourism Organisation here, says the number of Singaporeans making inquiries about plastic surgery in Seoul has grown in the last three years, from one to two phone calls every six months, to at least one inquiry a month now.
While callers used to be in their late 40s or older and "spoke in hushed tones when asking about general plastic surgery services", she says it is now women in their 20s and 30s seeking information.
"Many of them come in person with a friend and they have no qualms about asking specific questions, such as the costs and recovery period, loudly in a roomful of people."
Generally, 90 per cent of the Asians who travel to South Korea as medical tourists are there to get cosmetic surgery, says Ms Moh. The rest go there for related reasons - non-invasive aesthetic procedures - or traditional medicine.
Procedures popular with overseas patients at five hospitals Urban spoke to - Bumrungrad International Hospital of Bangkok; and Idea Plastic Surgery Clinic, BK Plastic Surgery Hospital, Regen Medical Group and Wonjin Beauty Medical Group in Seoul - include eyelid and nose surgery, breast implants, liposuction and fat-grafting.
At BK Plastic Surgery Hospital, one of the largest cosmetic surgery outfits in Seoul, the number of patients from Singapore has grown by 20 per cent year-on-year in the last six years.
Dr Kim Byung Gun, the director and founder of BK, says: "Singaporeans are interested in beauty and willing to invest in their looks. And the average person in Singapore is rich enough to afford plastic surgery."
To bank on the regional demand for plastic surgery with the South Korean touch, Dream International Holdings (DIH) opened Dream Plastic Surgery here in February. It is the first plastic surgery clinic with a South Korean affiliation to open in Singapore. Dream Medical Group (DMG), a subsidiary of DIH, is one of the top plastic surgery conglomerates in Seoul.
The 2,700 sq ft clinic at Paragon Medical boasts two operating theatres, four treatment rooms and offers plastic surgery and non- invasive aesthetic services. It is helmed by Dr Vincent Yeow (below), the former head of the Department of Plastic, Reconstructive & Aesthetic Surgery, and former director of the Cleft and Craniofacial Centre at KK Women's and Children Hospital.
He was approached by Dr Park Yang Soo, the chief executive and chief surgeon of Dream Medical Group, about a year ago.
To pick up techniques from his counterparts in Seoul, he visited DMG four times over a year, staying between two days and a week each time to observe operations there.
The "South Korean" touch he provides? "Incremental and gradual changes that help you maintain a natural look," he says.
Dr Yeow is the only Singaporean in the group's pool of eight surgeons, with the rest being South Koreans based in Seoul. He declined to reveal how many patients he has seen at Dream so far, except to say they have come from Malaysia, Vietnam, Indonesia, Russia, France, Australia, India, the United States and Japan. He has also seen South Koreans who are based in Singapore or the region.
PROACTIVE PUSH
Before Seoul became the trendy cosmetic surgery destination, most Singaporeans would head to Bangkok for their nips and tucks. In fact, they still do.
Plastic surgeons here say their peers in both Thailand and Seoul are proving to be real competition for their practices here.
Dr Tan Ying Chien, consultant plastic surgeon at The Sloane Clinic Plastic Surgery Centre at Novena Medical Center, says to a certain extent, local plastic surgeons may be losing both foreign and local patients to those countries, "just some more than others, myself included".
He says: "Certain patients will seek treatments in these countries either due to cost or the perception that the services provided there are better.
"Thailand has been a popular destination for patients who are cost-conscious and it seems to remain so."
He adds: "Cosmetic surgery in South Korea is definitely becoming popular in recent years as K-pop and K-dramas have exposed more to South Korean aesthetics, services and products; and because many South Korean surgeons venture out of Korea to get business as competition in Seoul is fierce."
Indeed, the South Koreans appear a lot more proactive in pushing their services overseas. While only one out of three hospitals in Bangkok responded to queries from Urban, the four in Seoul were quick to reply.
There are online services that put foreigners in touch with plastic surgery clinics in South Korea, such as Seoul TouchUp, a government- approved South Korean medical tourism agency, and DocDoc.kr, a Singapore-based medical portal.
Some South Korean hospitals have representatives in Singapore, such as Item Plastic Surgery, which has an office at Orchard Plaza.
According to an Item representative that Urban spoke to, representatives here help to schedule appointments with doctors in Seoul for Singaporeans who are flying over for consultations.
Based on Ministry of Health (MOH) rules, these representative offices in Singapore, while not required to be licensed, are not allowed to provide diagnostic, therapeutic or medical consultation services. They also cannot publicise or project themselves as offering medical services.
Dr Kim of BK offers potential local patients video consultations through the BK website while he is based in Seoul. They can do it at home or at his representative office in Far East Shopping Centre.
An MOH spokesman says: "Information on the blogs or sites of overseas entities should used with caution."
According to MOH rules, foreign doctors who have consultations with patients in Singapore have to register with the Singapore Medical Council and be issued with a practising certificate before they are allowed to practise, typically under the supervision of a fully registered doctor.
Those who engage in such consultations without a valid practising certificate may be prosecuted for contravening the Medical Registration Act. On the first offence, unregistered persons who practise medicine, or wilfully and falsely pretend to be registered doctors, can be fined up to $100,000, or jailed for up to 12 months or to both.
Patients who seek treatment overseas do so at their own risk.
As MOH does not have jurisdiction over overseas health-care institutions, patients would have to seek their own legal recourse in the country where the procedure was performed in the case of unexpected outcomes.
KOREAN LOOK V THAI LOOK
The average cost of a cosmetic procedure in both Bangkok and Seoul is similar, and both could be at least 50 per cent cheaper than in Singapore.
For instance, simple eyelid surgery in Singapore could cost up to $6,000, inclusive of tax, consultation and use of the operating theatre.
A similar operation would cost from US$1,500 (S$1,880) - inclusive of the cost of the operating theatre and other miscellaneous items - in South Korea, says Mr Yuan Sng, a 43-year-old make-up artist. He has had at least 30 operations done in Singapore, Malaysia, Thailand and South Korea.
However, top surgeons in Thailand and South Korea charge just as much as the ones in Singapore, local doctors tell Urban.
So if prices are comparable, or even more when one factors in airfare and accommodation costs (recovery can take five days to two weeks), why do some Singaporeans still choose to go to these two cities? It boils down to popular perceptions of cultural norms of beauty.
For instance, Thai surgeons are said to favour sharper and more Caucasian features.
Dr Andrew Khoo of the Aesthetic & Reconstructive Centre at Mount Elizabeth notes: "It is natural for surgeons to create what is aesthetically desirable for their culture. The Thai ideal is influenced by the Caucasian one and also reflects the unique mix of Southern and Northern Thai facial characteristics. For instance, the Southern Thais have prominent eyelid creases."
On the other hand, the South Korean doctors are known for their light touch in enhancing Asian features.
"The ideal beauty in South Korea is one who has soft, Asian features - a small oval face and a small mouth, a slightly sharper nose and cheekbones that are not prominent - because most Koreans have wide cheeks and square jaws," says Dr Yeow of Dream Plastic Surgery.
These perceptions are widely held, it seems.
Ms Hong Qiu Ting, a 26-year-old blogger, says: "I will not get my double eyelids done in South Korea because they prefer natural- looking ones. I prefer the high parallel creases that the Thai surgeons do to create a more deep-set look."
Last year, she got a $15,000 nose job and full-face fat-grafting procedure sponsored by medical service portal DocDoc.com and Regen Medical Group of Seoul, in return for her blogging about her experience.
"When it comes to nose jobs, nowhere beats South Korea. I love my nose bridge because it is natural-looking. There is a gentle slope and a nice cute tip," she says.
Mr Sng says: "Visit Thailand for plastic surgery if you want Caucasian-looking features. For natural-looking Asian ones, go to Seoul."
He would know. Between 1992 and this year, he went to Bangkok for two nose jobs, two lid operations and a liposuction procedure; and to Seoul for four nose reconstructions, three lid operations, a session of liposuction, fat-graft procedures and forehead enhancement.
He says he prefers doctors in Seoul because they are well-equipped and well-trained. Likewise, Ms Hong finds that doctors in Seoul are "a lot more detailed-oriented".
According to Mr Sng, there is also less downtime with operations done there.
"I've also realised that I heal faster and bruise less because the doctors there work really quickly. I can get eye surgery done in 20 minutes or less there, while it usually takes up to an hour in Singapore, Malaysia and Thailand."
However, communicating what you want to a foreign doctor can be tricky.
Dr Khoo of the Aesthetic & Reconstructive Centre says: "In cosmetic surgery, the surgeon tries to give the patient the result she desires and expects. This is sometimes difficult even with local patients and the problem is compounded when differing language and cultural norms of beauty are thrown into the mix."
CORRECTIVE SURGERIES UP
Now that more people are travelling to Seoul for surgery, Dr Tan of The Sloane Clinic Plastic Surgery Centre says he has seen more patients in the last year who need corrections after getting work done there, up from one every three months to one every three weeks.
Add to that the risk of infections and having to make return trips for follow-ups and corrections, and it is no wonder why some Singaporeans such as Ms C. Chen would never consider going abroad for surgery.
"I picked my local plastic surgeon only because he was referred to me by a trusted aesthetics doctor," says the 30-year-old housewife, who declined to give her full name.
She has spent more than $50,000 in the last five years on Botox injections and breast implants that were all done locally at the Sloane Clinic Plastic Surgery Centre and Nu.Reflections Medical Aesthetics.
"I'm more assured by our local medical regulations than the ones overseas which I'm not familiar with," she adds.
This article was published on April 11 in Urban, The Straits Times.


Get a copy of Urban, The Straits Times or go to straitstimes.com for more stories.