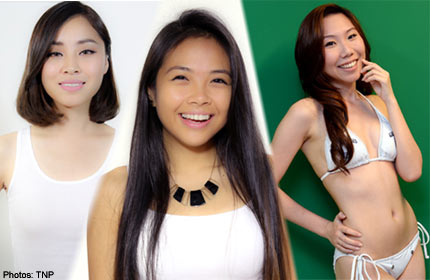 Miss Krizzia Sayson was devastated when she was told at her audition in February that she couldn't win Miss World Singapore 2013.
As a Permanent Resident (PR), the Filipino actress can only be placed as a runner-up at best, according to the terms and conditions in the contract.
Having lived here since she was three, she had argued with the organisers that she was "extremely Singaporean".
Miss Sayson, 20, who got her first acting break in February on the Channel 5 docu-drama Unnatural, told The New Paper: "I was really upset when I found out that PRs are allowed to join but can't win.
"I'll be applying for Singapore citizenship next year when I'm 21.
"The organisers said that they would try to appeal my case for me, but there was a slim chance of it being approved.
"I want to take part this year because I feel that this is my year, and it would be good exposure if I want to further my acting career."
China-born Kikyo Pan, 21, who works as a customer relations officer for a company that sells helicopters, said that she had joined Miss World Singapore 2013 so that she could have a bigger say on issues such as care for the elderly in Singapore.
Miss Pan's family moved here from Xi'an when she was nine because her mother had preferred Singapore's education system.
She said: "Even though I can't win, being in the finals has added personal value to me.
"My voice can be (metaphorically) louder and it can be heard now when I talk about helping the needy."
Apart from Miss Sayson and Miss Pan, China-born Bai Xue, a 20-year-old Ngee Ann Polytechnic student , rounds up the three PRs in this year's pageant.
When contacted, Miss World Singapore licensee Raymund Ooi said: "This is Miss World Singapore, so only Singaporeans are allowed to win... (but I also think it's) a good platform for these PRs to train themselves for future pageants.
"We accept contestants who are applying for citizenship in the near future, so these girls could be citizens when they join their next pageant.
"With these girls from other countries joining the pageant, it also provides healthy competition for the local girls.
"At the end of the day, what we're looking for hasn't changed.
"Striking a good balance between having beauty, intelligence and compassion is key to doing well in Miss World."