2015 was a crazy year for me and my resolution of eating healthy and keeping an early-to-bed lifestyle was cleanly forgotten as January rolled by.
With a busy job and irregular working schedule, I don't often feed my body with adequate nutrition and with the daily medications that I am on for an autoimmune condition - I feel like my body is ageing way faster than I'd like it to.
One obvious sign is my skin. As I head into my 30s, I notice my skin especially around my face, arms and legs are dryer and can get quite scaly - even slapping on moisturiser and creams does little to help unless I religiously apply them daily.
When I heard about this detoxification and contouring treatment, I was dead excited to try it out - especially after reading that it was suitable for people with skin conditions and rheumatic diseases.
Located at the third level of Palais Renaissance, Phoenix La Beaute salon is the only place in Singapore offering the Universal Contour Wrap (UCW).
Ms Fion Ng, a therapist at Phoenix, said the UCW was launched about two to three years ago and is not a water weight-loss treatment.
She said the detoxification treatment uses clay and four kinds of salts from the Dead Sea in the Middle East.
The ingredients are rich in iron, aluminium, potassium and calcium, and are also natural and hypoallergenic, so they are unlikely to cause any averse reactions.
According to Ms Ng, the UCW is also suitable for people with skin conditions like psoriasis, eczema and acne, and ease the effects of rheumatic diseases as toxins which are accumulated in the body are drawn out.
For those who might have saggy skin due to weight changes or pregnancy, the contouring treatment can help to shape and tighten skin as the body will be wrapped with stretchy bandages which have been soaked in the five types of clay and salts. The clay contains a mixture of compounds like Magnesium sulphate, Zinc Oxide and Sodium Chloride.
What to expect during the UCW treatment
1. After changing out of your clothes, you will be led into the shower rooms to rinse off any sweat, dirt or lotions which have been applied earlier. The skin needs to be as clean as possible so it can absorb the Dead Sea ingredients.
2. Then, you will head for a 10-minute stay inside the "sauna" room equipped with the m-Pulse machine which emits infra-red and spectrum light to dry up the body. The little room is styled like a small hut with magazines for you to read.
3. A full body measurement will be taken - try not to feel shy as this will take a few naked moments.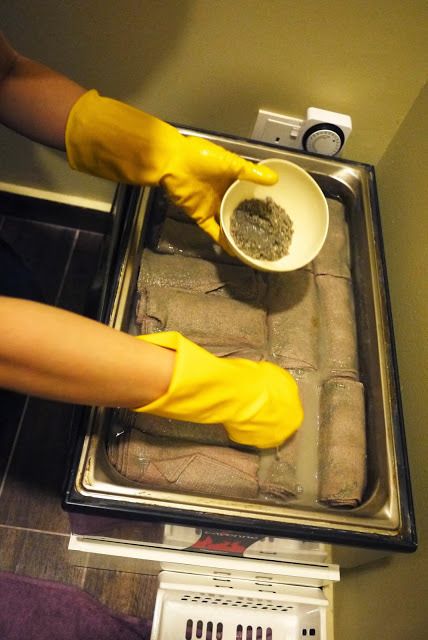 4. Bandages soaked in clay and sea salts will be applied to the body. The bandages are soaked in a heated solution since the morning and can be quite warm. Be sure to alert the therapist if they are too hot for you to handle.
5. Wrapped snugly like a dumpling (excluding the face and feet), you will be led to a room to lie down for an hour.
6. After the hour is up, the wraps are removed and a full body measurement is taken again for comparison.
Immediate effects of the UCW treatment
After the treatment, I lost 6.2 inches off my entire body. That evening, I noticed my skin on my body felt softer and fairer.
According to Ms Ng, as the ingredients will reside in our body after the treatment for the next three to four days, it is essential to eat a clean diet and drink at least 2.5 litres of water to flush out the toxins.
It is best to avoid junk food, caffeine and foods high in sugar, salt or fats. When showering, she advised not to rub the skin too hard so as not to wash away the absorbed nutrients.
The first day after treatment, the most improved sign was my face - my uneven and blotchy skin tone was gone. My skin felt soft and fair.
When woke up, I felt bright and awake and didn't need to hit the snooze button. However, I had a mild headache which lasted throughout the day.
On the second day after treatment, the headache went away and my skin still looked good.
I wasn't able to keep away from coffee and sweets, and indulged in quite a few chocolate-covered digestive biscuits, nor did I drink the recommended amount of water.
On the third day, my face suffered a breakout of pimples, but which went away quickly. According to Ms Ng, this is normal as the body is in the process of flushing out the toxins, resulting in breakouts on the face and fatigue.
By the fourth day, I was more or less back to my normal self but without the usual fatigue.
If you are looking for a clean slate in 2016, skincare-wise, this detoxifying treatment is something to consider. Kick-start a wellness regime or a way to revitalise tired-looking skin - it is, afterall, the largest organ in our body so don't forget to give it some nourishment and pampering.
Photos and graphic provided by Phoenix La Beaute.
The UWC treatment was sponsored by Phoenix La Beaute, located at #03-01 Palais Renaissance, 390 Orchard Road, Tel: 6733 0088. The usual price for the treatment is $438, but first-time customers can go for a trial treatment at $98+.
Note: The Universal Contour Wrap is not suitable for pregnant ladies (at any stage), but can be performed post-natal, six weeks after vaginal birth or 12 weeks after Caesarean section.
wjeanne@sph.com.sg