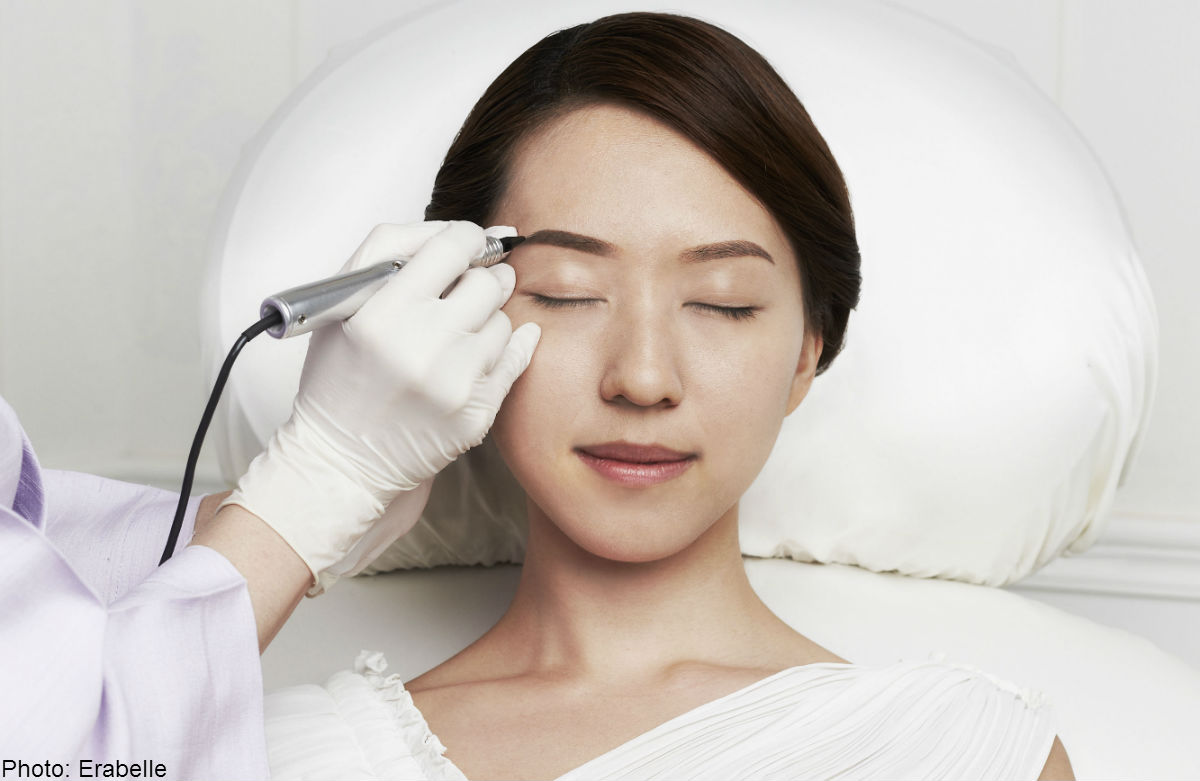 Forget the five-minute face. Recent research by US morning TV programme The Today Show and mass media corporation AOL found that the average woman spends 55 minutes on her appearance every day - or two weeks in a year.
But if a similar study were to be made on women here, those numbers may take a big dip. Today, minutes could be shaved off one's beauty routine thanks to a slew of lasting beauty treatments - from hair straightening sessions that don't leave tresses looking totally limp, to natural-looking brows that mimic Cara Delevingne's voluminous arches.
Homegrown semi-permanent make-up chain Erabelle has seen a 24 per cent increase in annual revenue from its eyebrow embroidery packages last year; while Strip, another local beauty chain initially known for its waxing services, notes that over 70 per cent of customers now opt for permanent Intense Pulsed Light (IPL) hair removal treatments. Half the customers at nail salon chain Manicurious also choose gel manicures over regular polishes. The earlier procedure lasts an average of two to three weeks, compared to mere days for old-school manis.
"Such spikes (in eyebrow embroidery) could well be attributed to the fact that more people realise how well-groomed brows can make a great difference to their appearance," says general manager and founder of Erabelle, Esther Kerk. "Unkempt brows can easily downplay one's tidiness. And such a procedure makes it convenient for clients to look fresh from the moment they wake up in the morning, without spending additional time trying to balance their eyebrows or groom them."
State-of-the-art brows
Corporate finance executive Linda Lee, for example, has opted for laser hair removal and semi-permanent brow and eyeliner make-up in recent years. "It is mainly out of convenience, I am just lazy, quite simply put," says Ms Lee, who would return to the salon for touch-ups on a yearly basis.
The latest breed of lasting beauty fixes is a far cry from the damaging treatments of yore, which often yielded unsightly results. Gone are the days of blue-tinted tattooed brows, for example, or nail extensions that destroy your digits. Instead, the focus is on looking naturally accentuated without wrecking one's God-given assets. "If you are comparing the earlier generations of embroidery and now, the colour pigment quality is definitely higher, and geared towards looking natural in the skin," explains Ms Kerk.
The brow embroidery chain employs European-made machines and pigments as it claims the continent is an innovator when it comes to medical tattooing. Procedures include areola re-pigmentation for patients who have undergone mastectomy; camouflaging burns and surgical scars with flesh-coloured pigment. The current needle-based technique by the centre is said to offer greater control to its brow artists and help create subtler eyebrows, and costs from S$1,314 for four sessions, for customers who have not had eyebrow embroidery done previously. The downside: Such techniques require touch-ups every three to six months, depending on one's lifestyle and skin condition.
However, this means greater flexibility for clients. In countries such as Hong Kong, customers may opt to tweak their brows according to the seasons, trends and their hair colour, says Erabelle's spokesman. Similarly at Browhaus, a wide range of colour pigments is available to match one's tresses. Its selection of 100 per cent vegetable dyes are also safe and don't fade out into unsatisfactory hues - like a reddish undertone often associated with brown-based dyes. Technicians wield a flexible carving tool to manually create three-dimensional-looking brows, and "Brow Resurrection" services range from S$963 to S$2,140.
But while such treatments have caught up with the times, not all semi-permanent procedures are made the same. With a huge variance in pricing also comes a wide range in hygiene and safety levels. Since such treatments have long-term effects, there is also a higher level of risk involved.
Gel manicures, for example, may be the holy grail of nails but they run the gamut from hard gels to gel polishes. While "true gel" nails are cured to a hard, long-lasting finish, a hybrid variant - the gel polish, is cheaper and dries faster, but could contain noxious ingredients.
"A certain ingredient found in most gel polishes, and not gel nails, is BHA (butylated hydroxyanisole), which is considered a cancer-causing agent," says Shawn Tan, co-owner of Manicurious, which offers the more nail-friendly "true gel" brand from Japan, Presto. "So, it is recommended to pay more for a reputable gel brand rather than choosing cheaper options."
And although recent studies have noted that there is a low chance of getting skin cancer from using traditional ultra-violet (UV) lamps to dry nail polish, Presto gels are cured with LED lamps instead, which emit lower levels of UV radiation and require a shorter curing time. The nail colours from the brand are also tailored to Asian skin tones. A normal non-gel manicure costs about S$30.
"With the right manicurist and company culture, much of the damage can be prevented," explains Mr Tan, who prices his gel manicures at S$85. "Although pricier, proper gel removers are a lot less harsh than the use of pure acetone to soak off gels, and if a manicurist is not rushed into scraping off the gel overlay because of waiting customers, obviously your nails will be healthier."
Likewise, while it appears that anyone with basic motor faculties could zap away a couple of stray follicles, the criteria for picking an IPL or laser hair removal centre should go beyond a low price. In lesser hands, IPL treatments may require numerous sessions before results can be seen, cause discomfort or even result in burns, says a spokesman for Strip, which also employs FDA-approved machines proprietary to the company. Prices start from about S$80 for the removal of fuzz from one area of the face, to just under S$2,000 to treat the legs of male clients.
"All our therapists are trained to identify skin issues such as dry and dehydrated skin, inflammation, rashes, eczema and rosacea on sight, and will advise you to treat your skin condition before returning for your IPL treatment," adds the spokesman. "Even if your skin issue could not be detected by the naked eye, the therapists are trained to be able to tell if you should continue with the IPL treatment based on the feel of the applicator as it glides on your skin."
Furthermore, hygiene should be of utmost importance for the professionals executing such beauty services, and at Browhaus, work areas and tools are sterilised with hospital-grade disinfectants, and new blades and needles are used for each session to prevent cross-contamination. Always held in private treatment rooms, rather than at an eyebrow artist's home or the atrium of a shopping mall, sanitation is also better managed.
"It is not cheap to undergo laser hair removal, but I do think that these treatments are worth investing in, especially for a lazy girl like myself," admits Ms Lee.
"I have not had any bad experiences, but I do hear of stories of girls going to less established salons to get their hair removal or eyebrows done, and end up with unsightly eyebrow shapes or adverse skin reactions."
Ultimately, such procedures may appeal to slothful sorts, but one has to put in the time and effort to track down the right treatments, or else possibly live with the undesirable results.

This article was first published on July 19, 2014.
Get The Business Times for more stories.