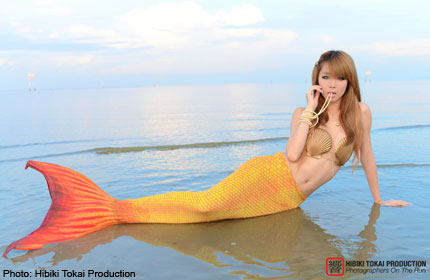 MALAYSIA - Fancy cosying up to a sexy mermaid at your next pool party?
You don't have to look that far to hire one.
Meet Malaysian model Felixia Yeap, whose latest business venture - involving the attachment of colourful fins, scales and a long tail to her body - has been raising eyebrows.
Yeap, 27, is no stranger to controversy.
In May 2011, she made headlines in Asia by becoming Malaysia's first and only Playboy Bunny when she was handpicked for a waitressing job at Macau's Playboy Club Macao, a swanky nightspot for high-rollers.
She was offered a full-time position by its manager via Facebook in September 2010, but she chose to do a one-month stint instead as she was bent on "returning to modelling" in her home country.
The club, located at Sands Macao Hotel, has since closed.
These days, the bosomy former kindergarten teacher who boasts enviable 32C assets is making waves literally - by swimming while dressed as a mermaid at parties.
In a phone interview with The New Paper from her home in Kuala Lumpur, Yeap said her decision to embark on her side career a year ago was born out of a "childhood dream".
"Since I was a kid, I've always been fascinated by mermaids. I love watching The Little Mermaid cartoon," she said.
"While I'm an average swimmer, I'm pretty good at free-diving. Being a mermaid allows me to indulge in my free-diving hobby. As a bonus, I can earn some money. It's a great opportunity."
The art of "mermaiding" might be relatively unheard of in Asia, but Yeap said it's a growing subculture in the West.
"I googled, did a lot of research and discovered that so many people are doing this in the US and Australia," she said.
Yeap, who is 1.74m tall and weighs 49kg, has three silicon and latex tails in her collection, including one she made herself.
She performs mostly at private parties and outdoor fashion shows, charging $1,600 for a "30 to 45-minute" performance. A typical gig involves "swimming around in the pool, smiling and posing for cameras, as well as chit-chatting with guests".
Yeap plans her shows with meticulous care.
"I try not to stay in the water for the full 45 minutes, as guests will feel bored. To liven things up, I do 'split sessions' - say five minutes in the pool, five minutes at the poolside."
You'd think "mermaiding" would fit right in with men's kinky fantasies, but Yeap said that "the take-up rate is slow".
"I do around one performance every two months. I don't know about Singaporean men, but it's certainly not a fetish for Malaysian men. If it were, I'd get hired more often, right?" she said.
Most men still view the idea of mermaids with incredulity, said Yeap.
"Even the most successful of men I've met have scoffed at me or brushed me off with 'nonsense' when I tell them I'm a mermaid," she said.
"And there will be some who'd ask me 'duh' questions like 'How do you breathe in the water?'
"Erm, I just hold my breath.
"The fact is, kids are actually more open to mermaids than grown men."
Yeap, who this year became an official ring girl of Asia's largest mixed martial arts organisation ONE Fighting Championship (FC), said she also has people "laughing out loud" at the mere mention of her job.
"It's still really new in Malaysia. I think that's why many still shy away from it."
She has performed in the open seas at Pulau Redang and Pulau Sapi for a couple of video shoots - experiences she remembers as nerve-racking ("I saw large eels up close") - but Yeap's big wish is to have overseas gigs, particularly in Singapore.
"I really want to perform at Singapore's new aquarium (referring to the S.E.A Aquarium at Resorts World Sentosa)," she said.
"The last time I was in Singapore, I visited the old aquarium. I hope to go to the new one next time.
Practising tricks
"I've been looking at videos and practising some underwater tricks, but in Malaysia, I can't put them to use as most shows I do are in swimming pools."
Local mixed martial arts (MMA) fans can catch Yeap up close at ONE FC's fight card event here in October.
On the night of the bouts, she will strut around the ring in a bikini, hoisting a placard that has the number of the next round.
"I'll be honest. Before I joined ONE FC, I was totally clueless about MMA, I didn't even know what the acronym stands for," she said.
"But like every one of my assignments, I will read up... MMA is a booming trend in Malaysia right now, it's the rage."
As much as she appreciates her voluptuous figure ("everything about me is natural, I'm not for plastic surgery," she stressed), Yeap said that at heart, she is a conservative girl.
When she posed for the July 2013 issue of Playboy Philippines, she wore a bikini.
"I don't think I'd ever do nude shoots. I'd rather keep that side of me private, just for myself," she said.

Get The New Paper for more stories.