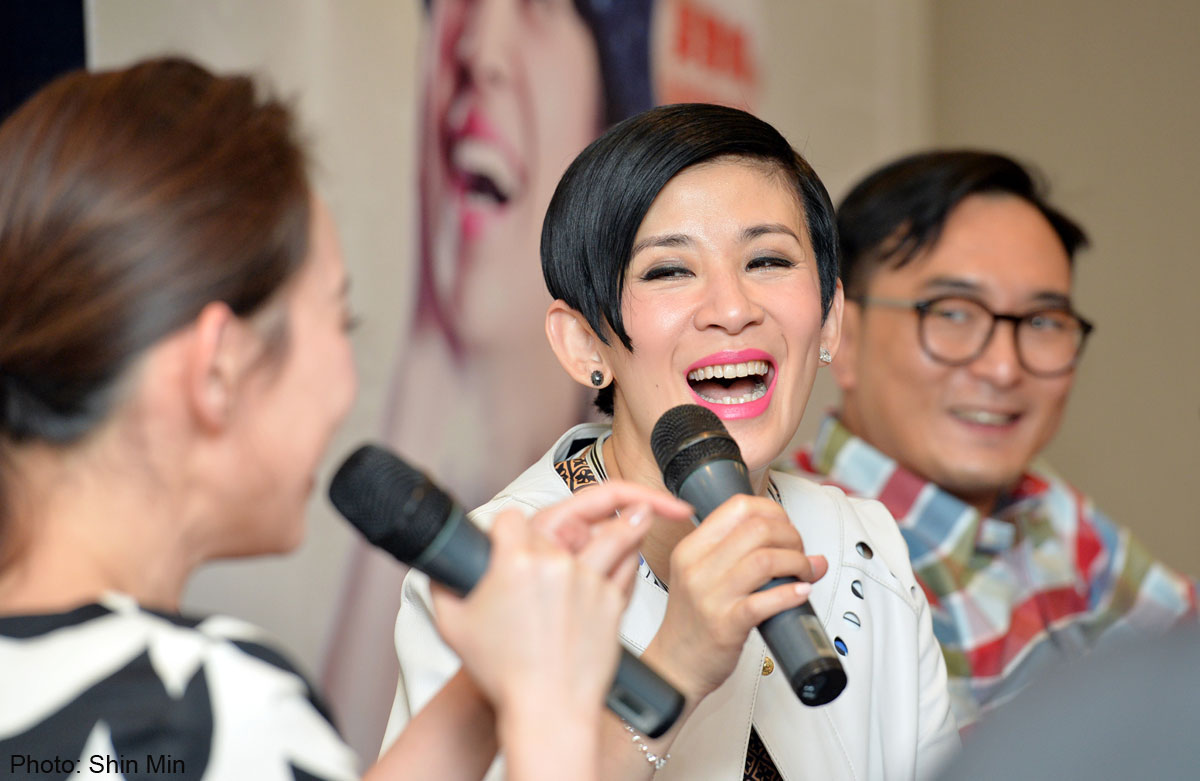 She loved her huge fake boobs so much that she wanted to wear them home, says Hong Kong actress Sandra Ng.
The 48-year-old is in town to promote her new film, Golden Chickensss. The third instalment of the comedy movie franchise opens on Thursday.
Ng, who plays a mama-san in high-end night clubs, sports a size-38G bust in the movie.
She says: "I thought since the movie is done, I can just bring the boobs home for my family to 'play with'.
"I didn't have to remove them at all."
But Ng did not explain why she changed her mind.
She says it took two hours to prepare her fake bust every day.
"Someone would make sure the skin tones were right. In the end, it looked so realistic, so beautiful - it was a work of art."
Whenever the boobs were put on, only the special effects and make-up assistants, and her manager, were in the room with Ng. She says: "Once, I invited others in just when we were about done. Every single man blushed."
At home, even her family teased her. Her seven-year-old daughter Jillian gave Ng the nickname "Big Boobs Mum".
Jillian's father, film director Peter Chan, also had a laugh.
Ng jokes: "Of course, he had the chance to 'enjoy' the boobs. Once, after we finished filming at the beach, he took a photo of 'my boobs' using his mobile phone!
"We occasionally still look at those photos to 'appreciate' them."
Sounds like she could not bear to say goodbye? She says with a laugh: "No, it's just that it takes 30 to 45 minutes to remove all those layers."
Of course, if audiences get tired of looking at Ng's boobs, they can always feast their eyes on her 19 male co-stars. They include big names like Louis Koo, Donnie Yen, Tony Leung Ka-Fai, Nick Cheung, Eason Chen and Shawn Yue.
Ng also reveals that she had personally called on each of them to be part of the movie.
"They all agreed at once. I guess it's because we've know each other for many years and worked together numerous times," she says. "Eventually, I gave each of them a thank you card and a hongbao out of courtesy."
But it was not just the men she focused on.
Ng also approached Hong Kong singer, Ivana Wong, for the latter's first movie role. Ng had previously seen her in a theatre production.
Wong, 34, who plays a prostitute in the film, says: "I've always looked up to Sandra. When I saw it was she who was calling, I knew I would agree to whatever her request was.
"Even after I discovered what I had to do, I was still happy because I know the film will bring people joy this festive season." The film is directed and written by Matt Chow, who has directed films like The Attractive One and Itchy Heart.
The first Golden Chicken film, made in 2002, was a huge critical and commercial success. It even won Ng the Best Actress prize at the Golden Horse Awards.
The second film, which also starred Ng, came a year later. But after that, the franchise went on hiatus for 11 years.
In a behind-the-scenes video, Chow said it all started when Ng sent him an SMS some time ago. She had said: "Everytime I re-watch the Golden Chicken movies, I think they are great. Why wasn't there a third segment?"
Chow says: "I replied that since she wants to do it, so we will."

Get The New Paper for more stories.