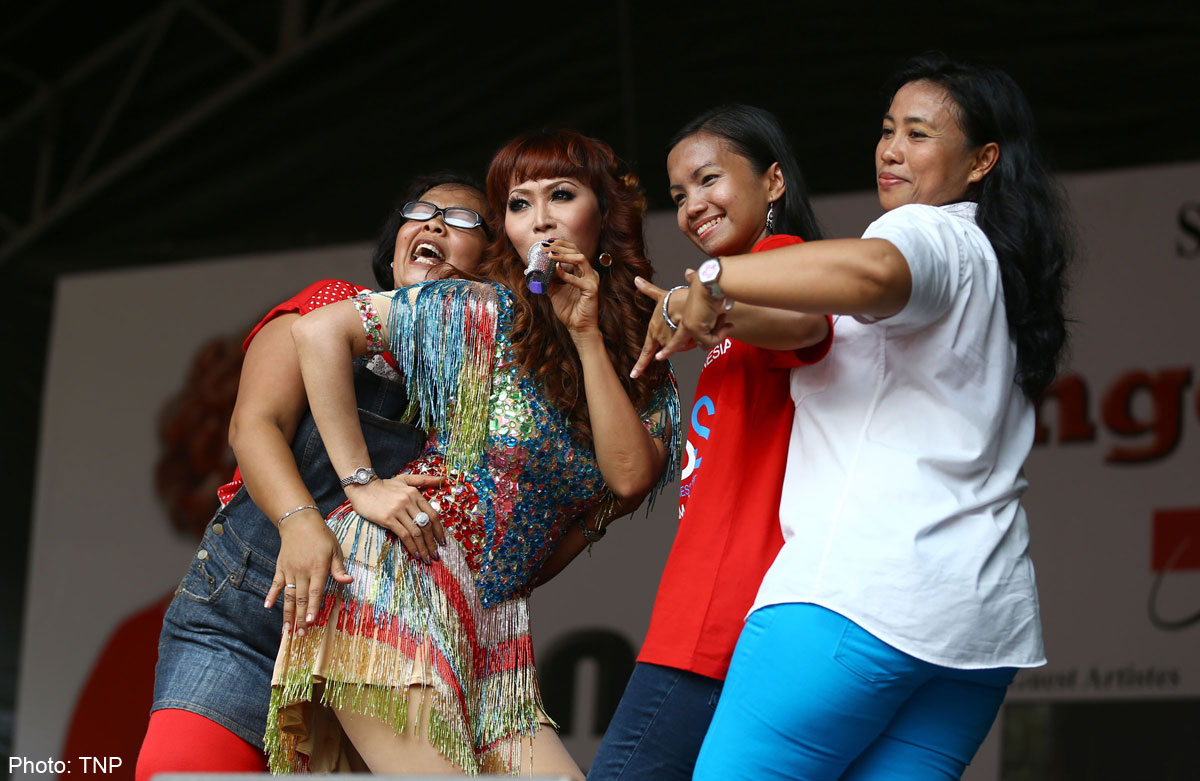 She may have been crowned the Dangdut Queen a decade ago, but she was also known as the Queen of Controversy then.
The titillating hip gyrations of Indonesian star Inul Daratista's dangdut dance was condemned by conservative Muslim groups in Indonesia.
Then, the "King of Dangdut", Rhoma Irama, accused her of corrupting the genre.
Ten years on, the 35-year-old, who is married with one son, said she has completely moved past her controversies and remade herself as a businesswoman, with a chain of karaoke outlets.
In town over the weekend for the Pop & Dangdut Festival at Fort Canning yesterday, she spoke to The New Paper about life after the hoopla, her business and her family.
What have you learnt from the controversies you were embroiled in?
I prefer to take care of my presentation and not get involved in sensational things. Getting involved in sensational things is a big minus for artists... I would rather give the public and my fans positive experiences.
How is it like between yourself and Rhoma?
We haven't met each other in a long time. I would prefer to have the dangdut community in Indonesia work together.
Your karaoke business Inul Vizta now has more than 100 outlets all over Indonesia. Why do you think you've had so much success in this line?
Of course when I first started, the business had to have my name because I wanted to attract people to it. But now, I think the business attracts people because of its quality. If the outlets are clean, professional, safe and people who visit are happy, and there's a huge variety of songs, then I'm glad.
Now, I think the business depends more on its quality than my name and I'm happy if people think that I can run a good business.
Would you ever expand it to Singapore?
I'm discussing with a few businessmen in Singapore to do a "barter" of karaoke songs.
You have a four-year-old son with your husband Adam Suseno. Would you like him to follow in your footsteps?
He likes to sing and dance. I don't really want him to go into singing. I would prefer him to go into business or be a doctor or pilot. I don't want him to be an artiste because it's hard being an artiste.
What do you like best about being in Singapore?
I love to eat. At night, after shopping, I love to sit in public, eat ice cream and observe people. Here, I can sit any way I want and just walk around, because I can't do that back home.

Get The New Paper for more stories.