Yuling and Anders
WE MET THROUGH WORK (WELL, KINDA!)
I'd volunteered to do a scuba diving course in May 2011 for a writing assignment. Anders and I met the day the dive team departed for Pulau Tioman, Malaysia, where I logged my first open-water dive and got certified. He was one of four dive master trainees assisting my instructor.
ON BENDED KNEE IN TOKYO
He popped the question three years after our first date on Sept 26, 2014. It was the first day of our annual birthday trip to Japan. We're both September babies and had just finished dinner. I was in a food coma when Anders started talking about what a wonderful time we've had together as a couple. Before I knew it, he was down on bended knee and asking me to marry him with those large, earnest eyes of his and a ring.
My response was pretty anti-climatic. The restaurant was crowded and the attention we were attracting made me very shy. I didn't try on the ring until later.
WE DID IT TWICE!
We celebrated our nuptials in Singapore, and then again in Umea, Sweden, where Anders spent many of his adult years. At home here, we had the traditional gatecrashing, fetching of the bride, and the tea ceremony.
Checklist-
VENUE
Solemnisation and dinner reception in Singapore: Skyve Wine Bistro (6225-6690); marriage blessing and dinner in Umea, Sweden: Helena Elisabeth Kyrka (info@vbm.se) and Restaurang Savargarden (www.savargarden.se).
WARDROBE
Gowns and suit: Ted Wu (6327-1241); bridesmaids' dresses (Singapore): Inc by Jamie (8383-2211); bridesmaid's dress (Sweden): Zalora.
HAIR & MAKEUP
Jasmine Tiong in Singapore (9669-1076); Maria Petterssen (for hair in Sweden).
PHOTOGRAPHY
Sandra Viklund Fine Art Photography in Sweden (info@sandraviklund.com), and Richard Tan (Yuling's brother-in-law) for Sweden and Singapore.
VIDEOGRAPHY
Rekord Haus (Edwina and Jude, 8197-8355).
DECOR
Bouquet and corsages here: Green Point Flowers (Shellen Lee, 6352-9060); table flowers, decor and bouquet photo: Petite Petale (Cheryl Zhuo, 9365-5046); bouquet in Sweden: Lofgrens Blommor (Evelina Johansson, www.lofgrensblommor.se).
CAKE & DESSERTS
Wedding cake: Lynn Lee (www.lynnlly.com); cupcakes: Get Baked (Alisa Chopard, www.getbakedsg.com).
SPECIAL THANKS TO
Our families and friends in Singapore and Sweden for the love and support. Big hugs to the "brothers", "sisters" and musicians (Mathilda, Joel, Estelle, Miak Aw, Emma, Ratish, Alisa, Slabang and Emma) for being so awesome!
Then we celebrated with a Western dinner for 98 of our closest friends and family at Skyve, which is cosy and laid-back. A hotel celebration would have been too stuffy, formal and formatted for us.
ON TO SWEDEN
One month later, we had our union blessed in a late afternoon ceremony at the Helena Elisabeth Church in Umea, and then it was on to dinner at Restaurang Savargarden, where I sampled my first Swedish Christmas smorgasbord in the winter of 2012. We had 46 guests, including seven from Singapore - my two sisters and their husbands, my best friend, and a college buddy and her boyfriend. The remaining guests were Anders' family and closest friends.
MEMORIES FOR LIFE
Both days were filled with so many wonderful memories, it's hard to say which day was better.
The solemnisation was quite emotional. We chose to read from scripts instead of memorising our vows, and I started bawling halfway through. The moment we signedour wedding certificate was also another highlight. It added a certain finality and formality to our commitment to each other.
That, plus having our loved ones witness and celebrate our love. The speeches by friends and family were also so heartfelt. In Sweden, the marriage blessing meant a lot to me. Stepping out of the church was a close second.
Maureen (blogger Miss TamChiak) and Chuan Kai
A FRENCH PROPOSAL
He proposed at the Pont de Bir-Hakeim bridge, in front of the Eiffel Tower. That was in 2013, when we were travelling around Europe. We had hired a photographer to do a couple's shoot for us, but when he proposed, it somehow turned into an engagement shoot.
WE HAD TWO SEPARATE EVENTS ON THE WEDDING DAY
The lunch, which we held after the solemnisation ceremony, was a light-hearted, carnival-themed affair for our friends. Our priorities were great food, music and plenty of entertainment for the guests. We even played bingo and had a lucky draw with prizes which included vouchers for restaurant dining, shopping and red wine. The dinner banquet was a more traditional event for our families and relatives.
Again, food was the focus. We kept the event simple, with no stage games or any other activities like the usual champagne-pouring ceremony. Instead, it was like an extended family gathering, which was what I wanted.
DREAM WEDDING 
Everything was memorable! Lunch was my favourite part of the day – we invited all our local foodie friends to indulge in good food at a beautiful location. We also had the mascots from Line Singapore join us, as my husband and I are fans of Brown and Cony. The decorations and settings made everything look Pinterest-worthy, too, which was the cherry on top.
ALL IN THE FAMILY
My grandfather, who has taken care of me all my life, walked me down the aisle. When he gave me away to my husband, there was not a dry eye in the house. My husband and I walked down the rest of the aisle, which was lined with sword-bearers, to the solemnisation table.
TIP FOR BRIDES-TO-BE:
List your priorities when planning your wedding. This will be a guide for you, and keep you from busting your budget. It worked for us!
Checklist-
VENUE
Solemnisation and lunch: UNA @ 1 Rochester (www.onerochester.com); dinner: Royal Pavilion (www.royalpavilionguandi.com)
WARDROBE Gown:
Bridal Veil by Michelle Huimin (6738-6152); suit: The Men's Club (6738-6152); bridesmaids' dresses: The BMD Shop (www.thebmdshop.com)
HAIR AND MAKEUP
Alicia from Bridal Veil
PHOTOGRAPHY Day:
Multifolds (www.multifolds.com.sg); night: Stephen Chin Photography (www.stephenchinphotography.com); photo booth: Hello Forever (www.helloforever.com.sg)
DECOR Wedding stylist:
Styled Story (www.styledstory.com); props: Give Fun (www.givefun.com.sg); bouquet: Fiona Treadwell (www.fionatreadwell.com)
CAKE
Butter Studio (www.thebutterstudio.com)
WEDDING PLANNER
The Wedding Concepteur (enquiry@weddingconcepteur.com)
SPECIAL THANKS
TO Michael Trio (www.michaeltrio.com) for our wedding bands, Prettify Me (www.prettifyme.com.sg) for the bridal manicure, Volkswagen (www.volkswagen.com.sg) for the bridal car, Line Singapore (www.facebook.com/singapore.line) for the mascots, Phyllis from Pavo Hair Studio (www.pavohairstudio.com) for the bride's beautiful hair colour, our Justice of the Peace Chiang Heng Liang, Ramada Singapore at Zhongshan Park (6808-6888) for the lucky-draw gifts, and The St. Regis Singapore (6506-6888) for the lovely room!

Daphne and Chris
We wanted a wedding that reflected our laid-back personalities, and I am happy it turned out exactly that way.
MR & MRS HENG!
The highlights of the day were walking down the aisle to meet Chris, and exchanging our vows in front of loved ones. I had tons of butterflies in my tummy during the ceremony, but I was very happy to be finally married to him. Plus, it was wonderful to be able to share our joy with people we love and treasure.
Checklist-
VENUE
Halia at Singapore Botanic Gardens (Mazni Mohd and Joshua James, 6287-0711).
WARDROBE
Dress: Rico-A-Mona Bridal (Jessie Wong and Jessline Ong, 6221-3383); suit: tailored in Bangkok, Thailand.
HAIR & MAKEUP
Amanda Cheong Makeup Artist(9879-9329).
PHOTOGRAPHY
Alone - Together Photography (Xinning, ivantanweddings@gmail.com).
FLOWERS
Heaven in a Wild Flower (hello@heavenwildfleur.com).
INVITATIONS
Paper & Sort (www.etsy.com/shop/PaperNSort).
CAKE
Goobycakes (Wong Jie Hui, 9820-8605).
SPECIAL THANKS TO
All the kind souls whom I met while planning our wedding!
TIME FOR WORK AND PLAY
We met as colleagues and got to know each other by chatting in the office pantry. As things progressed, we exchanged notes via the company's instant messenger and text messages.
THERE WAS NO PROPOSAL!
Chris isn't the most romantic guy, but he treats me really well, and is my mentor. I only realised his intentions when he started talking about getting a house. The bonus: my dream celebration came true!
LUNCH WITH FRIENDS
Our wedding was casual with a rustic theme. We had a lunch reception, which allowed us to mingle with family and friends. We didn't have an emcee or the usual table-to-table photo sessions, but we had a roving photographer who took random shots during the celebration.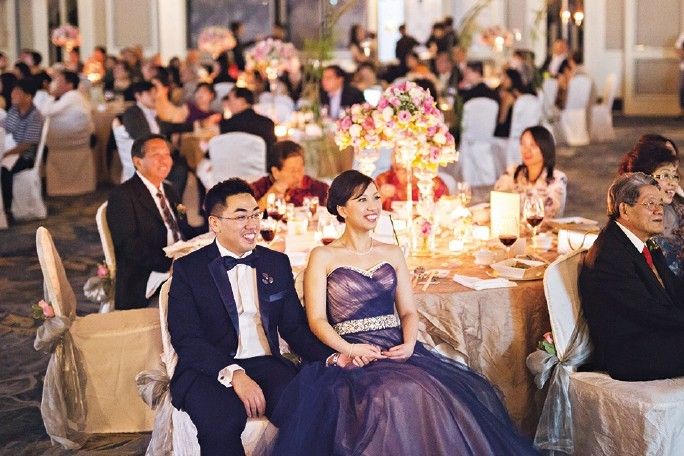 Cynthia and Evan
A COSY MEAL
After almost nine years of courtship, we made things official at Si Chuan Dou Hua, with a majestic view of Singapore's skyline, in February last year. We kept it intimate and had only 30 of our closest friends and relatives present.
10 MONTHS LATER...
We had the gatecrashing and tea ceremonies in the morning, and our wedding dinner at Shangri-La Hotel, Singapore. Before that, we saw the florist many times to get the perfect centrepiece. The gowns, suit and accessories were customised to perfection as well.
And, as we wanted our own perspectives of the day to be documented, Terry of One Eye Click, known for his journalistic style, tailed Evan from the morning, while Kai of Trouvre applied his signature romantic, dreamy feel to my pictures.
Everything went great.
Checklist-
VENUE
Si Chuan Dou Hua, UOB Plaza (6535-6006); Tower Ballroom, Shangri-La Hotel, Singapore (Vanessa Lee, 6737-3644).
WARDROBE
Made-to-measure gowns and tuxedo: Silhouette The Atelier (Rebecca Lee, 6733-7197); all accessories: Helan Tan of Gioielli (9363-1627).
HAIR & MAKEUP
Jasmine Tiong (9669-1076).
DECOR
JM Floral Creation (6285-0017).
BAND
Sparkle Live Band (Alfred Sim, Lee Ein Ein and Mavis Li, 9025-4092).
PHOTOGRAPHY
One Eye Click (Terry Ng, 6466-6744); Trouve (Kai, 92210133).
VIDEOGRAPHY
Rekord Haus (8197 8355).
CUPCAKES
Celebration Treats (www.celebrationtreats.com).
SPECIAL THANKS TO
Our parents and wedding entourage, especially bridesmaid Rui Qi and Xie Qiang, our best man, and our vendors, Helan, Rebecca, Vanessa and Jasmine, who made the day such a beautiful and memorable experience.
Kyler and Laurence
SWEET CELEBRATIONS
As we had guests from Europe, we did the solemnisation and lunch at Salt Grill and Sky Bar, which was decorated in rustic purple and gold. We served chocolate and vanilla cupcakes instead of a cake. The day ended on a high note with an after-party in a Singapore Resort and Spa Sentosa villa.
RELAXED AND FUN
We had piped-in music and casual games for guests. Being with friends and family was fantastic.
My best memory: When Laurence's friends threw him into the pool at the after-party!
BUDGET TIPS
We highly recommend The Gown Warehouse for its wide selection of quality gowns for hire at very affordable prices. And, instead of separate venues for the solemnisation and party, choose a venue with a solemnisation package to save money. Also discuss the waiver of corkage.
Checklist-
VENUE
Salt Grill and Sky Bar, Ion Orchard (6592-5118); Singapore Resort and Spa Sentosa (6275-0331)
WARDROBE
Gowns and suits: The Gown Warehouse (6734-3998)
HAIR & MAKEUP
Kacey Teh (9790-7990)
PHOTOGRAPHY
Sidexside Pictures (Jia Jun, yewjiajun@gmail.com)
CAKE & DESSERTS
Cupcakes: Shyna Manoharan, Totallyb8ked (totallyb8ked@gmail.com); after-party canapes: petrina.pri.m@gmail.com
SPECIAL THANKS TO
My family, especially my cousins for their help leading up to the wedding; we are immensely appreciative. Pandora Cruickshank and others who flew in from Europe to celebrate with us. Salt Grill and Sky Bar's Charmaine, Jackiera and team for their dedication and optimism, which made our reception a great success.
For the full story and more, the issue is on newsstands and in major bookstores. For more stories on real weddings, planning and all things wedding-related, you can also look to www.herworldplus.com/weddings