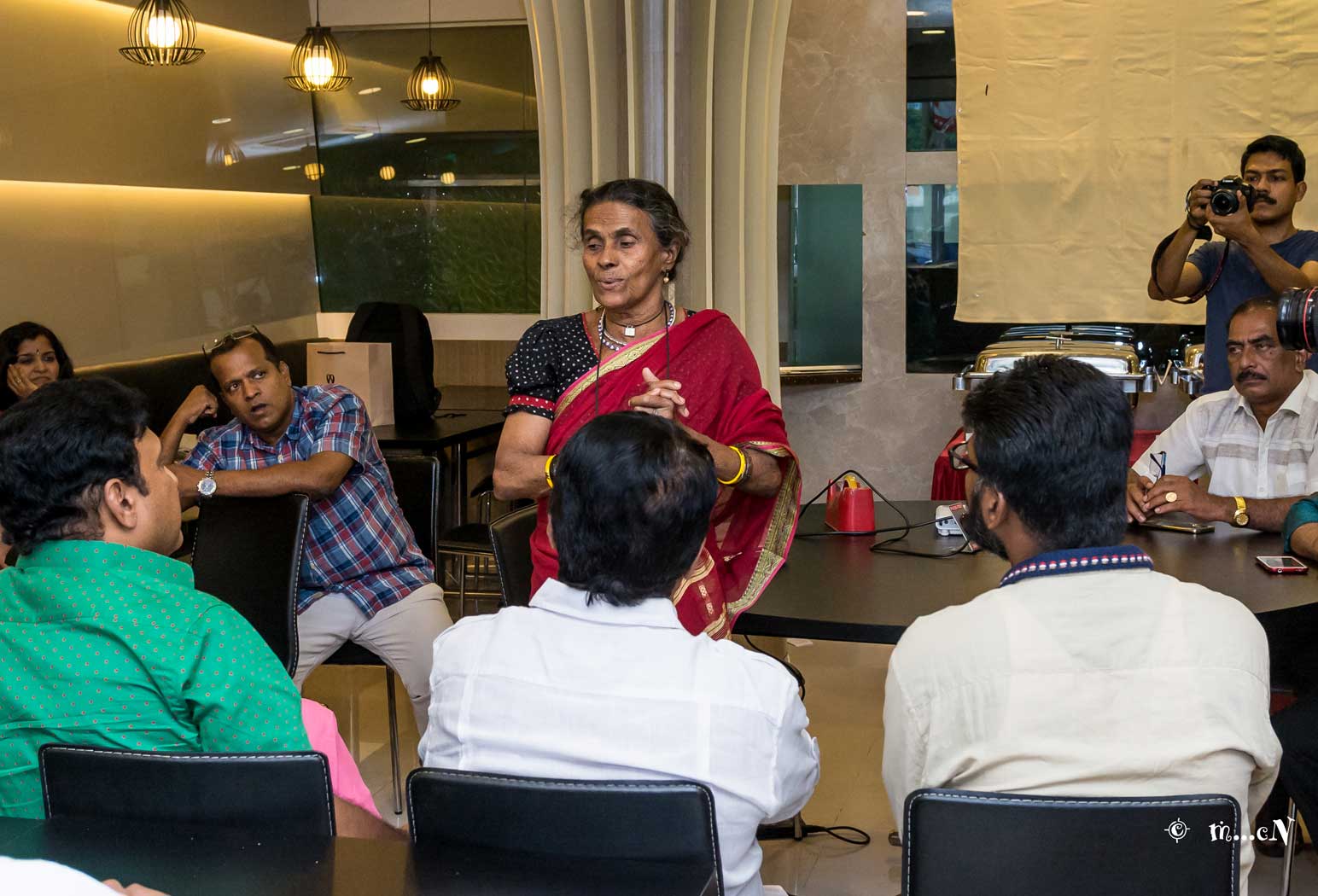 She had wanted to be a nun. But after she became a member of a convent in Bihar, she had a change of heart.
On leaving the convent, Mercy Mathew, who came from a well-to-do Catholic family in Kerala's Pala, headed to Kolkata to work in a refugee camp. It was 1971 and Bangladeshi refugees were streaming into India due to the war. Her experience in the camp brought her closer to human suffering.
Later, she went on to work in a few NGOs and even acquired a master's degree.
But she felt her vocation was in helping India's tribal community. So she headed to Barul, a remote village in Chhindwara district of Madhya Pradesh.
She adopted their way of life, including their food and clothing. She began to fight against those exploiting the tribes and also educating the villagers on their rights.
The rural folk, seeing her devotion to their welfare, soon gave her the name Daya Bai. Daya means mercy and Bai is a respectful term used by the tribal people.
But life was not easy for her. She had to face the wrath of those exploiting the tribes.
Daya Bai, 76, was in Singapore recently and narrated an instance of how she was once beaten up by a police officer.
She said: "He twisted my arms, punched me and hit my face against the wall. That's when I lost my teeth. He was going to push me into the cell. I clung to the wall.
"I was sure if he pushed me into the cell he would kick me with his huge boots and that would be the end of me and my work.
"So I used the one connection, my telephonic connection with Ooperwala (the one above, God) which I do in desperate times and as in all my previous experiences, the call was answered. People came rushing from nowhere, to help me out and I was saved in nick of time.
"I was being accused of proselytising. That complaint I have heard frequently but never have I done that," Daya Bai told a group of Singapore residents who had gathered at a Race Course restaurant to hear her speak.
Said Daya Bai: "When I was a little girl, my father, who was involved in India's freedom struggle, used to encourage me to visit the poor people around our place and sit with them and take part in their festivals and food. My compassion for them grew from then on."
Daya Bai said though the Indian government had funds in place for the tribal communities, it never reached them.
Due to their illiteracy and ignorance, they were exploited. That was what led her to fight for their rights.
She was able to get the Forest Department to pay the tribal people their wages on time. Daya Bai has worked in several tribal areas, including 16 years with the Gond tribe of Tinsai village in Madhya Pradesh.
She is against receiving foreign funding as she feels the work of NGOs are more project-oriented than people-oriented.
She does organic farming, rainwater harvesting and lives a simple life with her dogs, ponies, hens and a cat.
Street theatre
Daya Bai uses street theatre to create awareness among the tribes on various social issues and takes it from village to village. She also writes poems and uses her songs as a tool to teach and create awareness.
A documentary on her named Ottayal (One Woman-Alone) by Shiny Jacob Benjamin won a National Award in 2010.
Pachaviral (green fingers), an autobiography by Daya Bai, gives insight into her fascination with farming and her advocacy of setting up small check dams, saturating arid lands and cultivating indigenous crops that will replenish the soil and be a source of nutrition round the year.
She feels disheartened every time she sees the excessive use of plastic.
"Soil is a living thing. By throwing waste we are killing the soil. We should take care of the soil like taking care of a child. We should keep it clean, prevent environmental pollution and avoid dumping plastic bags," she said.
When the vice-chairman of IAEC Canberra CC Gangadharan Kunnon asked Daya Bai about the harassment she had recently faced in a public transport bus in Kerala, she replied: "I took the case up as I did not want the predicament and abuse I faced to happen to other hapless women. My dress and looks could have been the reason for their rude behaviour but the right to lead a decent life is not exclusive to the rich alone."
She was full of praise for Singapore.
"Singapore looks beautiful. It is as if they have made space for everything. It gladdens my heart to see they have retained the greenery alongside the buildings."
Daya Bai was here to receive an award for her work at the Pravasi Express Nite 2016.

Get a copy of tabla! for more stories.