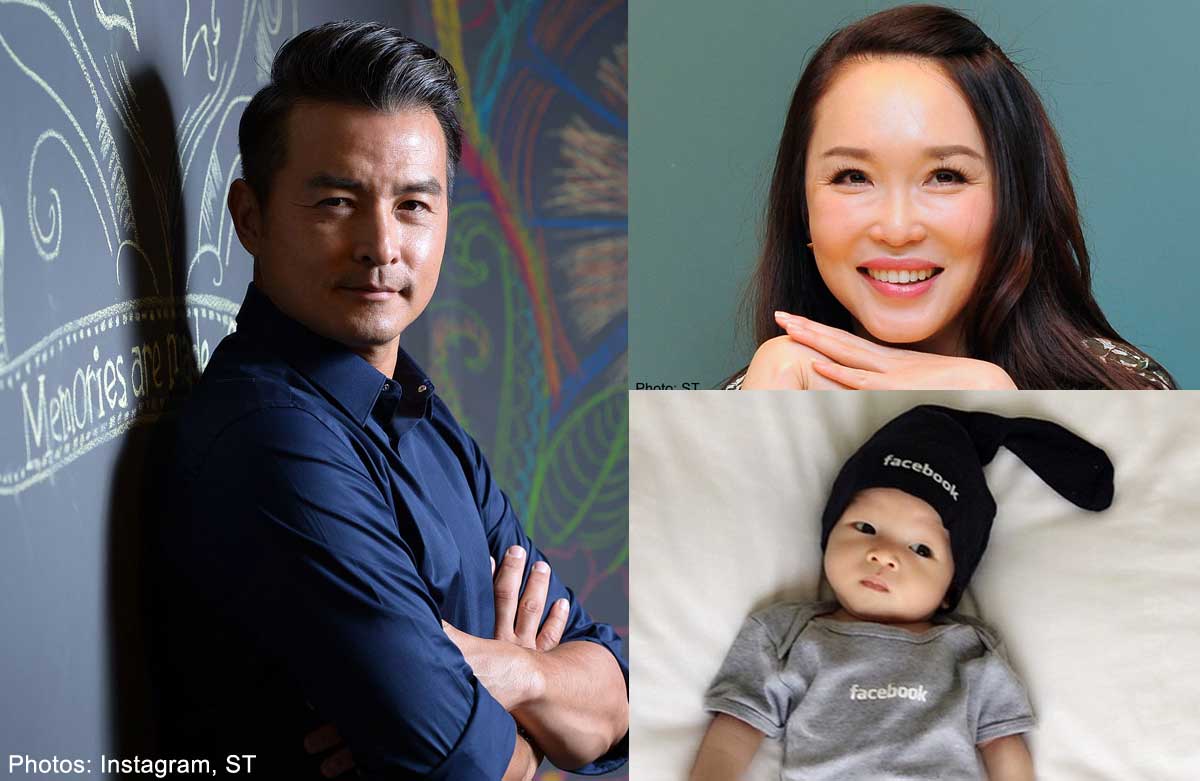 All eyes will be on whatever Christopher Lee chooses to do next, now that he is a Golden Bell award-winning actor.
If the 43-year-old is feeling any pressure about all the increased attention following his win at Taiwan's version of the Emmys, he certainly does not show it.
He tells Life! at an interview in a mixture of Mandarin and English last Saturday: "I know everyone will be following my every move closely to see which projects I take up, what roles I accept. But I'm going to be pretty relaxed about it and I'm not going to be too worried about what others say.
"I think that as long as I work hard in every role, audiences will be receptive."
The Malaysia-born, former MediaCorp actor, who is now based in Taipei, won the Best Actor award there last month for playing a workaholic husband trying to salvage his marriage in Taiwanese television drama A Good Wife.
Perhaps he does not feel the heat of the spotlight so often now that his three-month-old baby son Zed threatens to steal it. He says with a laugh: "Before he was born, everyone referred to him as 'Chris junior'. Now, not only do they not call him 'Chris junior' but they call me 'Old Zed' instead."
He adds that he is in discussions on roles in a number of TV dramas, but is unable to give details.
Until his next big project comes around, he certainly hopes audiences will be just as receptive to his new TV drama Mr Right Wanted, which he filmed before winning his award.
In the romantic drama, which premieres on Channel U on Sunday, he plays a rich bachelor who is instantly smitten with a publisher played by Taiwanese actress Sonia Sui.
He says: "The show was so much fun to work on and who wouldn't want to work with Sonia? All my male buddies have been sounding very jealous whenever they talk to me. They even ask me to arrange photo opportunities with her for them."
Model-turned-actress Sui, 34, nicknamed "the people's goddess", is one of Taiwan's most popular female TV stars.
He adds: "Now that I've worked with her, though, I realise she's quite different from the way she's portrayed in the media. People are, of course, very taken by her beauty, but they tend to find her a bit distant.
"But I think she is actually a very genuine and down-to-earth girl who just wants to live a normal life."
Sitting beside him all this while is Sui herself, who grins and nods enthusiastically. She pipes up that her impression of Lee has also changed greatly after working with him.
She says in Mandarin: "Everyone in Taiwan has seen him in A Good Wife and is in love with his steadfast, stylish, gentlemanly way.
"But after working with him, I realise his personality is more like a kid's. He's so playful, it's as if he were only 18 years old. But that's also what makes working with him so easy and fun."
On one topic, however, he is all seriousness and that is to push her into getting married as soon as possible.
The actress says with a chuckle: "He's always showing me pictures of his baby and telling me how happy he is. Then he'll tell me to get married so I can feel the same bliss that he feels with his wife and baby."
Lee laughs and says: "That is because I know you are dating someone, so I want to help you push it along a little. If you were single, I wouldn't keep doing that - that would be cruel."
Sui has publicly admitted to being in a longdistance relationship with a Los Angeles-based finance executive named Tony for the past couple of months. It is the first man she has confessed to dating since splitting from actor Yao Yuan-hao three years ago.
She says: "I feel right about going public with this relationship because in the past, I've felt the heavy burden of having to keep romances secret. I just feel a lot lighter as a person, being able to talk to everyone about him so openly."
She adds shyly that she is "very happy with him" and has yet to spot a single flaw in him. "I never used to believe in long-distance relationships, but that flew out of the window when I met him. Sometimes, you just know that the feelings between two people are so right that whatever rules you used to have don't matter anymore."
Equally gushy over his significant other is Lee, who lights up whenever he talks of actress-wife Fann Wong.
In an interview last week, Fann, 43, told Life! she does not harbour any ambition to snag an acting award to match up to Lee's, given that the only award she wants to get is for Best Mummy.
Without so much as a pause, Lee declares that she is "deserving of that award long ago, even when she was pregnant".
He says: "Fann is the most amazing mother. She insists on breastfeeding Zed no matter how busy or tired she is. Even when I tell her she doesn't have to, she is adamant about it because she thinks it's important for our son. She says it's her responsibility as a mother and I admire her so much for that."
As Fann has joked with Life! that she should not have to work anymore and will ask her husband why he does not take over as sole breadwinner, this reporter poses the question to him directly.
He bursts out laughing and says in jest: "I'm sorry, my dear wife, I'm going to have to trouble you to work a little longer because I'm just not doing well enough for all three of us."
All jokes aside, he says: "Actually, Fann truly loves to work and act, so who am I to stop her from doing what she loves?"
yipwy@sph.com.sg
Mr Right Wanted premieres on Channel U on Sunday at 7pm.
This article was first published on Nov 17, 2014. Get a copy of The Straits Times or go to straitstimes.com for more stories.