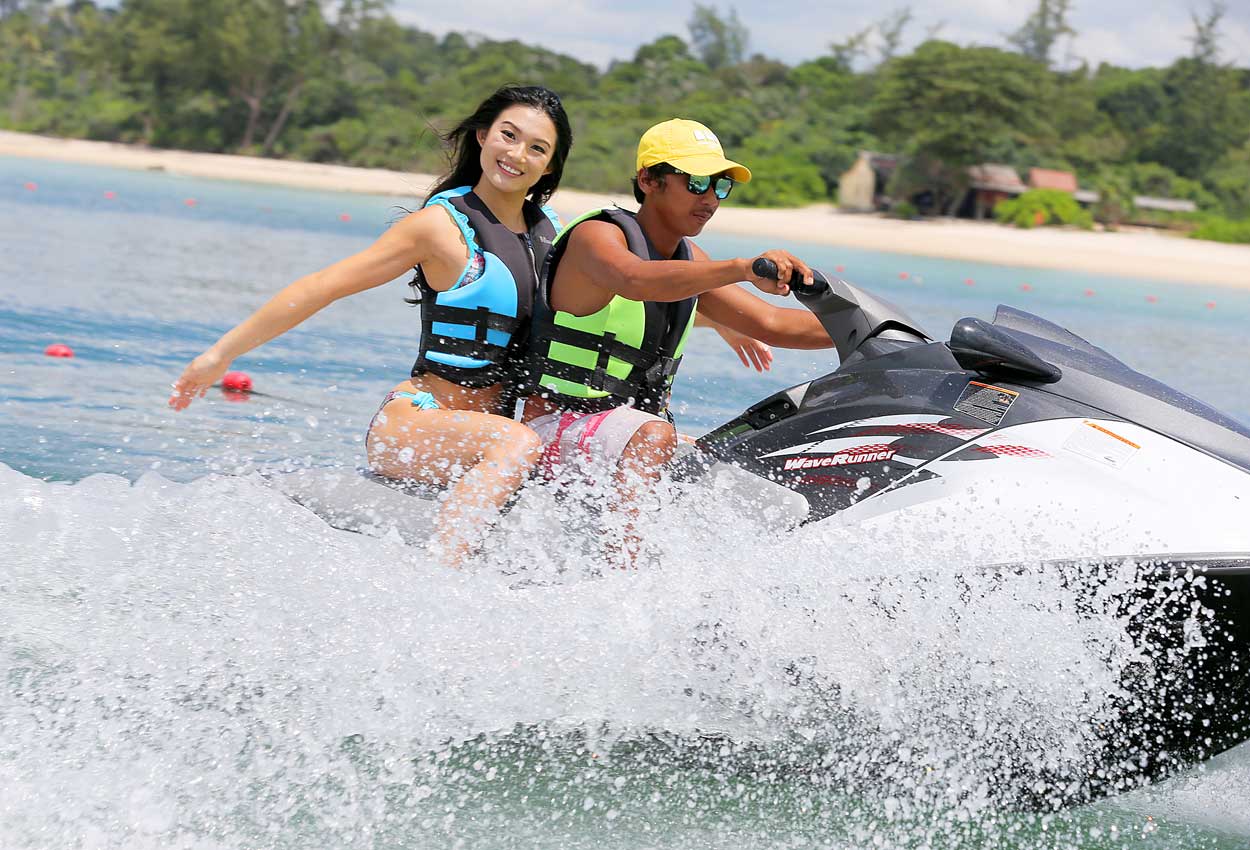 For some of the top 15 finalists of Miss Universe Singapore (MUS) 2016, it was their first time doing an overseas bikini photo shoot.
They were whisked away to the Indonesian island of Bintan for The New Paper assignment at Bintan Lagoon Resort last week.
Cheryl Chou, who was making a splash on a jet ski out at sea, told TNP: "That was definitely the most memorable experience of the trip, because who gets to have a bikini shoot on a jet ski in Bintan?"
She was not afraid of being on it, as she had done it twice last December during a holiday in Phuket.
The 20-year-old LASALLE College of the Arts student added: "The only thing I was scared of was falling into the sea and ruining the hair and make-up because it took so long to put on. It would have been a big hassle for the team to fix it again."
Though being on a jet ski might have limited the ways she could pose, Chou said: "I had a lot of help from (TNP) photographer Jonathan (Choo), who gave me clear instructions on what to do. It came naturally to me because I was really quite comfortable being on the jet ski."
Sonya Branson had the best time goofing around in the water and frolicking on the beach with fellow finalists Shanice Hedger and Nutan Rai.
The 25-year-old full-time model said: "It was really hot, so after the shoot was done, we ran to the sea and threw ourselves in to cool off. We were trying to do a 'slow run' out of the water for the behind-the-scenes footage - that was probably the most fun we had."
She added: "I also got to know Shanice and Nutan better through this trip, and I realised that they are really nice, kind and generous people."
Sonya's photoshoot was done on the rocks by the beach.
She said: "I had to climb up and balance myself. I was scared of falling off, but every time I wobbled, the hair and make-up team would rush to me just in case I fell."
Hazel Tay, one of the four finalists who stayed overnight at Bintan Lagoon Resort, got to experience a scrumptious BBQ buffet dinner prepared by its staff.
The 25-year-old data analyst said: "They really went all out in terms of the (table decor) and the food, and the service was really good.
"The dinner was just outside the villa (we stayed in), so it was really convenient and private. I definitely felt very special and I really appreciate the effort that they put in for us."
Bintan Lagoon Resort is the official resort partner of MUS 2016.
It is the largest integrated resort on the island and the only one with a direct ferry service from Singapore.
It has also undergone a landscape change to make it more scenic and picturesque. In May, the resort launched its new restaurant Fiesta - the 14th dining and entertainment option at the resort - to cater to its international guests.
The massive complex can seat over 650 people and features live bands playing every lunch and dinner as well as comedians, magicians, cultural dancers and a bevy of other acts.
MISS UNIVERSE SINGAPORE
The 15 finalists of Miss Universe Singapore 2016 will be vying for the coveted crown at the grand final on Oct 16.
Co-organised by The New Paper and Miss Universe Singapore Organisation, this year's pageant is presented by Singapore Turf Club.
It is supported by official imaging partner Canon Singapore, official car BMW, official wellness partner Beaute Hub, venue partner The Grand Copthorne Waterfront Hotel, official resort partner Bintan Lagoon Resort, official make-up Cosmoprof Academy and other sponsors like BodyBurn Fitness, Indiba Technologies, Orchard Scotts Dental and Amber Lounge.

This article was first published on September 23, 2016.
Get The New Paper for more stories.