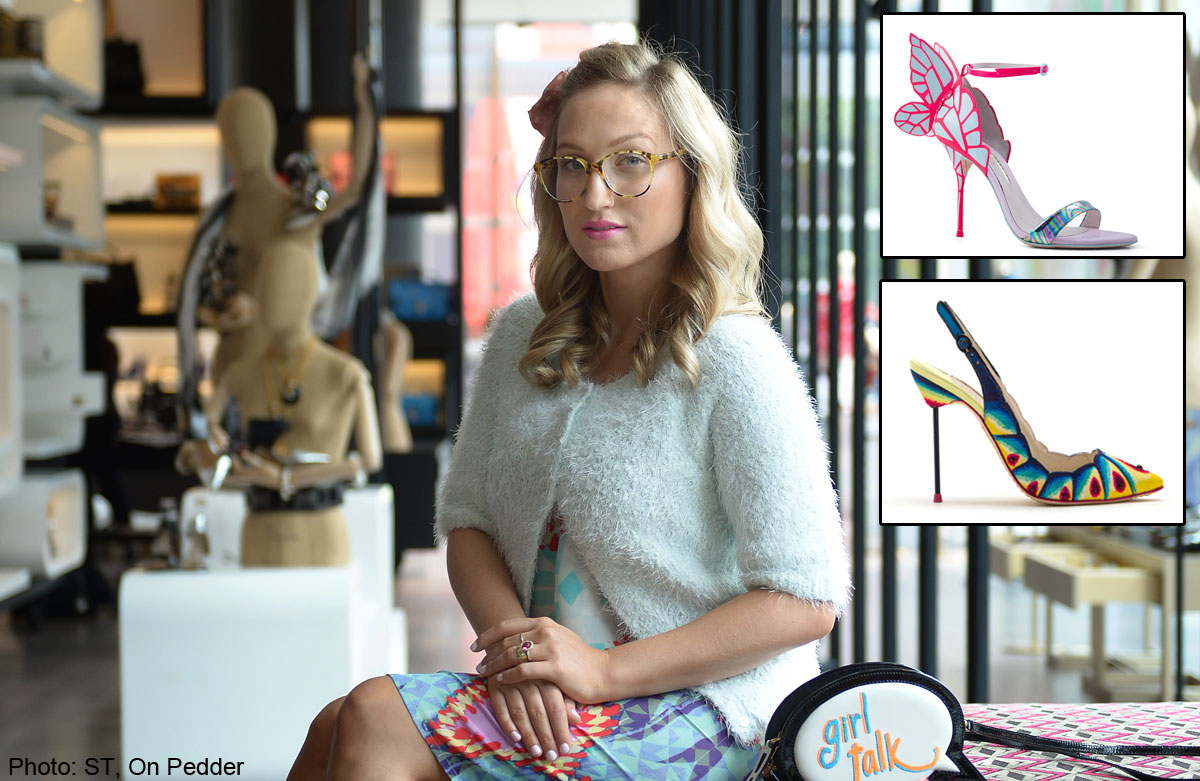 British shoe designer Sophia Webster's creations are the stuff of sweet dreams.
Stiletto heels studded with pastel beaded hearts, sandals encrusted with brightly coloured crystals and pumps emblazoned with butterflies - all conjuring up images of candy shops.
The 29-year-old designer says her vibrant shoes are created for women "who love having fun, colour and shoes that express their personalities".
In person, Webster seems the opposite of her exuberant target market.
In town last week to launch her spring/summer 2014 collection, she was soft-spoken and modest during the 20-minute interview. Any eye contact was fleeting.
There is no doubt Webster loves colour. Her wardrobe choice was a multi-hued dress by British label Lulu & Co. and Scottish designer Louise Gray, and a mint green cardigan by British online retailer Asos.
"I do wear monochrome, but never just black. I think I would be really depressed," she says.
Her current collection is only her third since she started her eponymous label in 2012, but she is poised to become a celebrated name in the world of shoes. The year she launched, Conde Nast Footwear News named her its Footwear Emerging Designer.
Her debut spring/summer 2013 collection was picked up by key retailers, including Harvey Nichols, Bergdorf Goodman and Saks Fifth Avenue. She also won the British Fashion Award for Emerging Accessories Designer last year.
And among the fashion-savvy public, her stock is soaring. Her latest collection, titled Super Dupa Fly, went on the shelves at On Pedder Scotts Square last Tuesday and by midday, many sizes were out of stock.
Not too shabby, considering that prices range from $370 for a pair of wedges to $1,220 for heels. The On Pedder spokesman says that stocks have since been replenished.
But Webster knows she has barely begun. "I don't sit back and think about success," says the London-based designer.
"I'll finish a season and move on to the next. I'll keep trying to evolve and make things better."
SOLE ATTRACTION
Growing up in Kent with a father who was a deejay, a mother who was a teacher, and an older sister, now a television producer, Webster did not see shoe design in her future.
As a student at the Camberwell College of Arts in London, where she was doing a foundation programme in fine art, she found herself drawn in a different direction. "Life drawing classes are normally with a nude model, but during one class there was a fashion model wearing different outfits and shoes. I was more interested in drawing her shoes than anything else," says Webster.
After completing her foundation programme, she enrolled in the prestigious Cordwainers College at the London College of Fashion, where she completed her bachelor's degree in footwear. From there, she moved on to the Royal College of Art for a master's programme in her craft.
Webster showed great promise right from the start. She won a London College of Fashion award of excellence in 2008 and a shoe award in 2010 from the multi-label boutique Browns.
Her graduation collection was snapped up by the London-based boutique. This boosted her confidence and gave her the courage to create her own label.
But shoe designer Nicholas Kirkwood, then a rising star, and his business partner, Christopher Suarez, convinced her otherwise.
Both had served as judges in the two competitions she had entered.
Kirkwood encouraged her to first learn more about running a shoe company, rather than rush into starting one, and offered her a job as his design assistant.
Webster says she is glad she cut her teeth at Nicholas Kirkwood.
"The thing about Nick is that he will not let the technicalities get in the way of his creativity," she says. Now, she adopts the same "never say die" attitude with her label.
"The factory usually says I'm crazy when I show them the components I want to use, but we always find a way to make things work in the end," she says. For instance, the Chiara heels (see below, right), which have a set of butterfly wings on the back of each shoe, was initially dismissed by the factory as impossible to make, but she found a way to make it work in the end.
Her agreement with Kirkwood was to work with him for two years. At the end of the stint, he helped with her label's launch by providing production facilities.
"There's a lot more to running a shoe company than just designing. I need to make samples, find buyers and get them shipped to various parts of the world in time. Designing is probably only 5 per cent of what I have to do," says Webster. She currently has a team of nine people working with her.
Her husband, Mr Bobby Stockley, 34, a former electrical engineer, is the managing director of her company. The couple are expecting a baby girl in about four months.
When asked if motherhood would influence her designs, Webster answered "yes" without hesitation.
"I draw inspiration from my everyday world. My shoes and presentations are inspired by universal female experiences, as well as movies, books and toys that would resonate with most women," says Webster, who believes this is a reason for her popularity.
In fact, she added girls' shoes to her portfolio - four sandal designs for those aged three months to two years old - and plans on expanding the line.
SPARKS OF INSPIRATION
Webster designs around her interests and for her upcoming autumn/winter 2014 collection, she found inspiration in the 1995 film Clueless, in which Cher, the confident and fashionable lead character played by Alicia Silverstone, wears a lot of plaid skirts.
"She inspired the tartan prints for the collection. Cher will always be my dream wearer," she says.
The butterfly, too, is a prominent motif in the Super Dupa Fly Collection, as Webster has a great fascination for lepidoptera.
"If you zoom in on a butterfly wing, there are lots of hidden details. It's really interesting," she explains.
For her first presentation at London Fashion Week, she put models in giant doll boxes - a nod to every girl's doll playing days.
"As a female shoe designer, it also helps that I know what a woman will put up with," she says.
She never designs heels which are higher than 10cm and recently introduced more comfortable styles, such as wedges and flats.
She adds: "I would be lying if I say I wear heels all day. I'll always have a pair of flats in my bag."
Indeed, her shoes seem to appeal to women of all ages. Ms Angie Chen, 23, a buyer at online vintage store The Fifth Collection, finds Webster's shoes "whimsical and happy".
"They're feminine, but not too much such that there is lace everywhere. Her shoes have attitude as well," says Ms Chen, who owns three pairs of Webster's creations.
Events planner Ms Olga Iserlis, 50, who works with luxury fashion brands, says that Webster's style is unique.
"They're very original, you won't mistake them for shoes from someone else," says Ms Iserlis, who has three pairs of shoes from the designer.
"When I look at them, I'm reminded of youth," she adds.
Not only is Webster humble about her achievements, she is also cautious about charting any grand plans for her brand. She wants to concentrate on what she does best - creating shoes that women can identify with.
"I want to move into different product categories in the long term, but right now, I'm just focusing on the shoes - getting production right and running really smoothly," says Webster, who also has clutches in her repertoire.
She has plans to open a flagship store in London, but she declines to provide details.
It remains to be seen how Webster will juggle her career and motherhood, but it is something that she is looking forward to.
One thing is for sure though. "She'll grow up with lots of shoes," she quips.
Sophia Webster picks her favourite designs from the Super Dupa Fly collection.
LEAH, $680
"The iridescent bows are made out of vinyl and they remind me of a beetle."
YUMI, $700
"This was inspired by a ladybug. I used to keep ladybugs in matchboxes."
LYLA, $790
"The prints on this pair are all hand-drawn. I like to hand draw as it makes things unique."
MARIPOSA, $530
"When you put your feet together, there is the full image of a butterfly."
CHIARA, $710
"I did laser cut butterfly shoes for my graduation collection. I loved them so much that I brought them back."
Urban picks its favourites from the Super Dupa Fly collection
LULA, $690
This pair of heels will put you in the mood for all things retro.
LEILOU, $840
A canvas lace up pair of heels that is classic Webster. We love the graphic zig-zag detail.
HIGH FLYER, $640
Her speech bubble clutches, with cute phrases such as "Hold me" and "Touch my clutch", sell out fast and have spawned knockoffs.
LUCA, $690
The confetti-like detail on the back screams party.
This article was published on April 25 in Urban, The Straits Times.
Get a copy of Urban, The Straits Times or go to straitstimes.com for more stories.