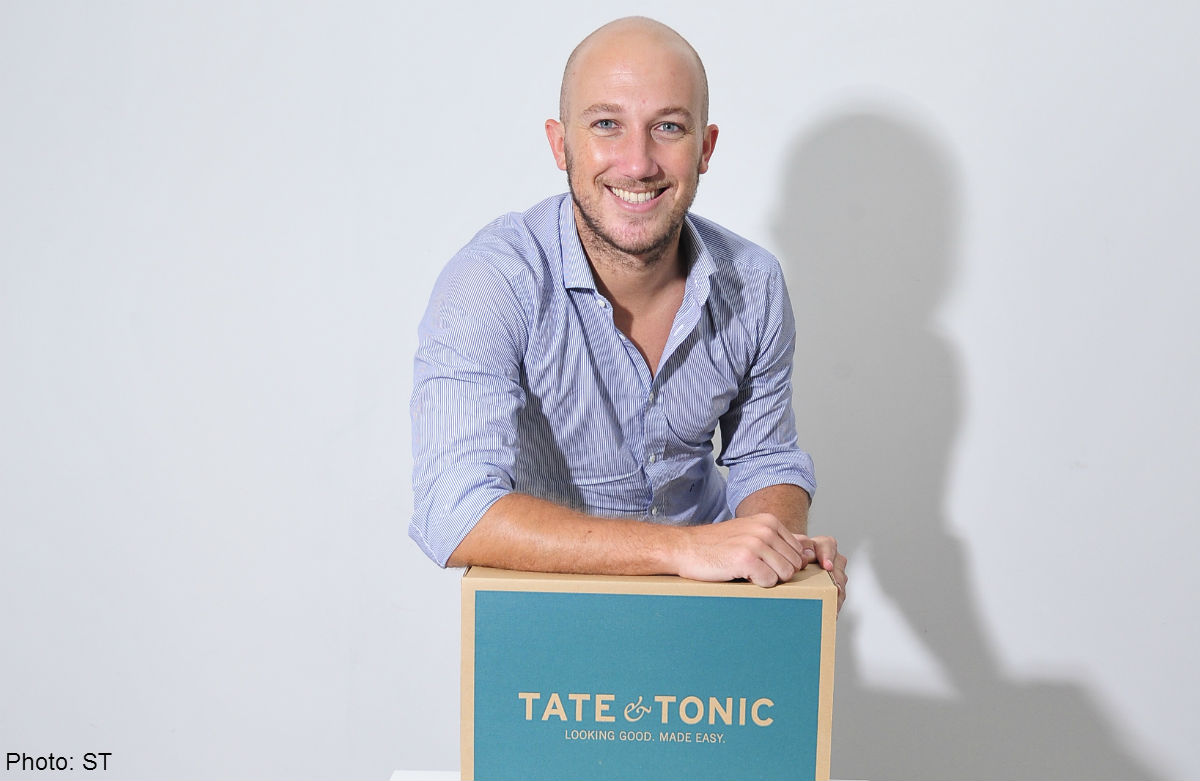 Lazy men who hate to shop now have one fewer excuse not to look good.
Local start-up Tate & Tonic has come up with a service that does the work for you. All you have to do is fill up a questionnaire about your style preferences, which includes questions about your work wardrobe and favourite type of shoes.
A Tate & Tonic stylist will then select a few items, including clothes and accessories, which will be sent to your home. You can return the items that you do not want at no cost, within four days, and pay for those you decide to keep.
Shoppers can choose to receive between six and 10 items and prices can range from $400 to $1,000 in total.
Shirts, trousers and belts start from $50; shoes from $60; and jackets from $100.
Tate & Tonic founder Matteo Sutto, an Italian based in Singapore for the last two years, says: "In general, men are less fashion savvy than women; we like a little guidance.
"I think most guys would agree that shopping is quite time-consuming. Personally, if I have the weekend off, I'm not going to spend the whole afternoon along Orchard Road trying clothes."
Not for women
Tate & Tonic is the first service of its kind in Singapore, but similar online concierge clothing services are available in the United States.
The 30-year-old entrepreneur, who was previously a marketing director at online multi-label retailer Zalora here, co-founded the business in April last year with his older brother Ludo, 35, who is based in London.
They hope to introduce a different side of online shopping - one where all the browsing and trawling through pages of merchandise is done away with.
"The problem online is that there are just way too many options. Sometimes, I would find myself with 30 different tabs open and have no idea what to get," says the younger Mr Sutto.
A typical box would contain at least two shirts, two pairs of trousers, a pair of shoes and a belt. There are three stylists within Tate & Tonic's eight-man team, who pick out the items and pen notes with style tips for clients.
Mr Sutto declined to reveal what percentage of the overall cost of the service goes to styling fees.
Clients have the option of customising what goes into the box, say requesting for more shoes and fewer shirts.
The company stocks mostly emerging and high-street brands, such as Danish casualwear brand Minimum, Italian shoe label Velasca and British label BellField, which are not widely available in Singapore. The prices are what one would find in brick-and-mortar stores.
"We have women asking us when we will offer a similar service for them, but we have no plans for that in the short term," says Mr Sutto, who is also the company's chief executive.
There are plans to offer more mid-range European brands.
"In Singapore, you find the same brands everywhere. All the major European luxury brands are here, but there aren't many mid-tier ones which also offer good quality," he says, citing Velasca, which offers Italy-made handcrafted shoes. A pair of leather loafers from the brand would cost about $249.
The business, which is funded by local and international angel investors, has yet to break even, but its chief executive says that things look promising.
"I don't think this business would do as well in Italy; the average Italian is way savvier in fashion than people elsewhere and they enjoy picking out their own items," says Mr Sutto, who grew up in Milan.
Tracking preferences
Since its launch, Tate & Tonic has hit 5,000 customers, with the majority falling between the ages of 25 and 35. More than 80 per cent of them are Singaporeans.
Out of this number, at least half have purchased more than one box.
Mr Sutto, who used to run a digital marketing agency in Milan, declined to reveal how many items on average are returned by clients. "Most of the time when a customer doesn't keep anything in the first box, he would request for a second one. We get to know them a little better each time," he says.
The company uses an algorithm to track a customer's preferences based on what they keep and return.
Mr Sutto says it helps when people send in their photographs or photos of stylish celebrities they admire, which would help the stylist better gauge their tastes.
Engineer Ronnie Lim, 34, bought a box of eight items in February, which cost him $900. He kept everything in it: trousers from Lee, Minimum, D-Struct and :Chocoolate; shirts from River Island and French Connection; and shoes from Ted Baker and Selected. He says the service allows him to try on new items with pieces that he already owns.
"I don't have a lot of time to shop and when I do, I'll buy things that are within my comfort zone. I never thought that I would look good in prints, until I tried a paisley polo T-shirt from them."
staceyc@sph.com.sg

This article was first published on July 18, 2014.
Get a copy of Urban, The Straits Times or go to straitstimes.com for more stories.