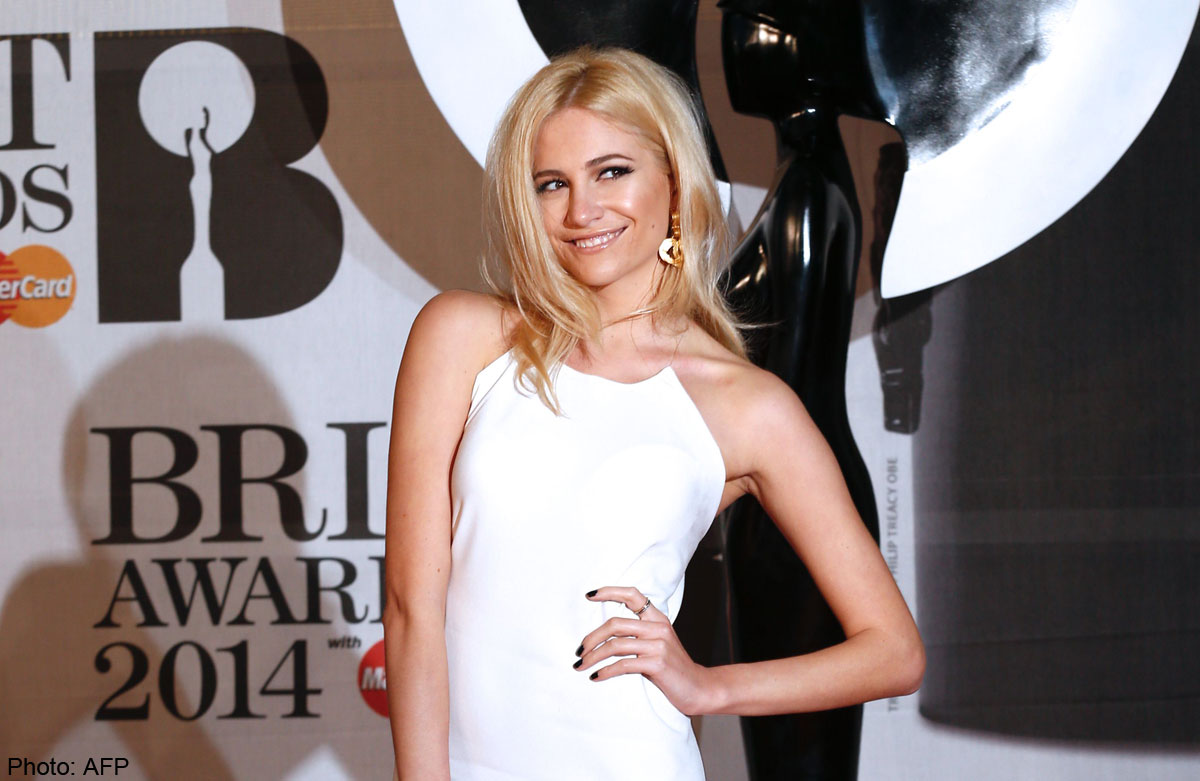 Her upcoming single may be called Nasty, but British singer Pixie Lott is nowhere near nasty - or even naughty.
Or so she claims.
The 23-year-old, whose new track will be released next month, giggled like a little girl when asked about the nastiest thing she has ever done.
Speaking to M over the phone from London, Lott said in her signature husky voice: "The song is called Nasty, but it doesn't mean nasty in a mean way. It's more tongue-in-cheek and fun."
She added: "Everyone has their cheeky moments, but I can't think of any right now."
In the music video for Nasty, Lott is seen strutting around in a bra and mini-skirt while dirty dancing with random men in a club.
In some scenes, the blonde appears topless with only a pastel pink Chanel handbag strategically covering her svelte frame as she looks alluringly into the camera.
She said: "People keep telling me that it's my raunchiest video to date, but I don't think so.
"I think the video is a way of portraying the character and conveying the lyrics of my song.
"That's what people expect the video to be when they hear a certain song, and I have to make a video that portrays the song."
Lott credits regular dancing for her taut bod in her latest clip.
She said: "I had many dance rehearsals when preparing for the video and that got me into shape.
"Recently, I haven't had any workout regimen as I've been busy but my favourite way to work out is dancing. It's fun. I'll probably start dancing a lot again when I go on tour."
It would seem like Lott is jumping on the sexy video bandwagon, hot on the heels of other young female singers such as Miley Cyrus and Rihanna.
Even though she admits that it is becoming a trend these days, Lott denies using Nasty to gain more hits or attention.
She said: "It really depends on what the song requires. If it's a slow emotional ballad, then the video will be completely different."
Lott broke into the music scene in 2009 when she was only 18 with successful debut album Turn It Up, which spawned two chart- topping hits Mama Do and Boys And Girls.
Her second album Young Foolish Happy (2011) also saw her lead single All About Tonight claiming the top spot on the UK charts. However, Lott's past success has given her upcoming self-titled studio album quite a bit to live up to.
'STRESSED'
She said: "Every single I have done to date has gone to Number 1, so I feel a little stressed, but I don't want to put too much pressure on myself.
"I feel that I've been lucky in the past, and I would be very lucky if that happens again.
"I have no clue how the song (Nasty) is going to do, and I'm just hoping that as many people can hear it as possible."
Lott's last album focused on collaborations, which saw her working with artists such as Stevie Wonder, Pusha T and John Legend.
For her new album, Lott deliberately chose to make it a one-woman show, saying: "I wanted to make a statement by coming back with a new sound and not featuring anyone. I think collaborations are fun though."
She added: "I really like (US singer) Bruno Mars, so it would be great to work with him in the future."
Get The New Paper for more stories.