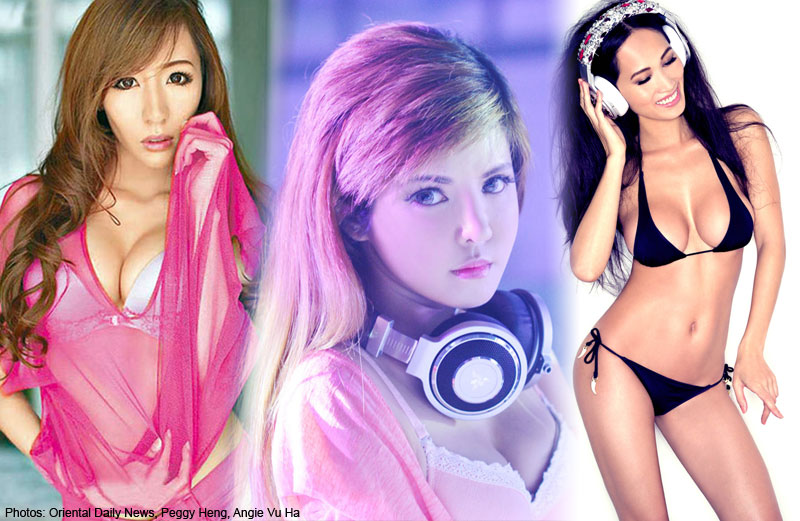 It started last week with an online spat between two high-profile female model-DJs, over a gig.
Singapore bombshell Tenashar, 27, accused Malaysian Leng Yein, 29, of sabotaging her console at a concert at Sunway Lagoon in Kuala Lumpur on Feb 15.
In a Facebook post which has since been removed, Tenashar, whose real name is Debbie Valerie Long, also said that Leng had "tried to copy me in so many ways" and that she (Tenashar) is a "good person so I won't take any revenge".
Leng, a former beauty queen, retaliated by writing a post on her Facebook, defending herself, saying that Tenashar was "pointing her finger at someone who clearly outperformed her" and that Tenashar's set was fraught with technical errors and mistakes.
The New Paper's attempts to contact Tenashar were unsuccessful.
With the rising number of sexy model-DJs hitting the decks in nightclubs and at events across Asia, competition has been heating up. And it can get quite hostile when these console queens in skimpy outfits try to outdo each other.
Instead of banding together as a sisterhood to give their male counterparts a run for their money, there's infighting among this increasingly in-demand sub-group.
Model-DJs The New Paper spoke said they have experienced a catty encounter or two with their peers.
Singaporean Pearlyn Koh, also known as DJ Foxxxy K, said: "Come on, we're talking about girls here. Girls fall out on a daily basis over absolutely nothing. If you want to watch a catfight, just throw in fame and money, sit back, relax, and watch the drama unfold!"
Hate mail
The 27-year-old revealed that she had received hate mail from a prominent local model-DJ in the past.
Ms Koh said: "She used to send me anonymous hate mail, but she didn't know how to cover her tracks properly, so I just wrote her back and asked her to leave me alone. She left me alone after that, thank goodness."
Singaporean blogger Peggy Heng, whose stage name is DJ Dowager, has been dropping the beats on the decks for about a year now and recalls her own run-in with the same personality Ms Koh clashed with during a nightclub launch in Malaysia late last year, saying she was hostile and unprofessional.
Ms Heng, 24, recalled: "I was playing after her and it's an unspoken rule that she should play three more songs before I take over so that I have enough time to prep. However, when I informed her at the console that I am lined up after her, she told me I could spin right after her current song ended."
She added: "It was very rude because I hadn't even set up my equipment yet."
Even those who are the most senior on the scene have been named as culprits.
DJ Angie Vu Ha from Vietnam, who spins at regional events including ones in Singapore, claims that a pioneer model-DJ from Singapore had tried to sabotage her during her set at a gig overseas last year.
The 27-year-old FHM cover girl said: "She was playing before me and somehow, I couldn't get my equipment to work. One player was spoilt and no music was coming out of it for almost 15 minutes. I felt it was sabotage."
Having worked as a model as well as a DJ, Ms Vu Ha feels that deejaying is much tougher.
"In modelling, all the bitchy stuff happens backstage. In deejaying, people can criticise my music, my dressing and my events publicly. I not only have to compete with the male DJs, but now I also have to compete with these female model-DJs to be taken seriously," she said.
However, newcomers to the industry who have yet to encounter such catfights want to focus on their music rather than the petty politics.
Taiwanese DJ Xin Lee, 25, who now spins twice a week at Bianca Club in Singapore, said: "I am quite lucky in the sense that I haven't had anyone sabotage me when I am spinning. For now, I keep up with the competition by improving on my music and interacting regularly with my fans on social media."
Ms Nicole Chen, believed to be the Singaporean model-DJ who kickstarted the trend three years ago, is also not concerned about the infighting.
Said Ms Chen, who often travels abroad for gigs: "I've no competition though. My market is overseas."

Get The New Paper for more stories.