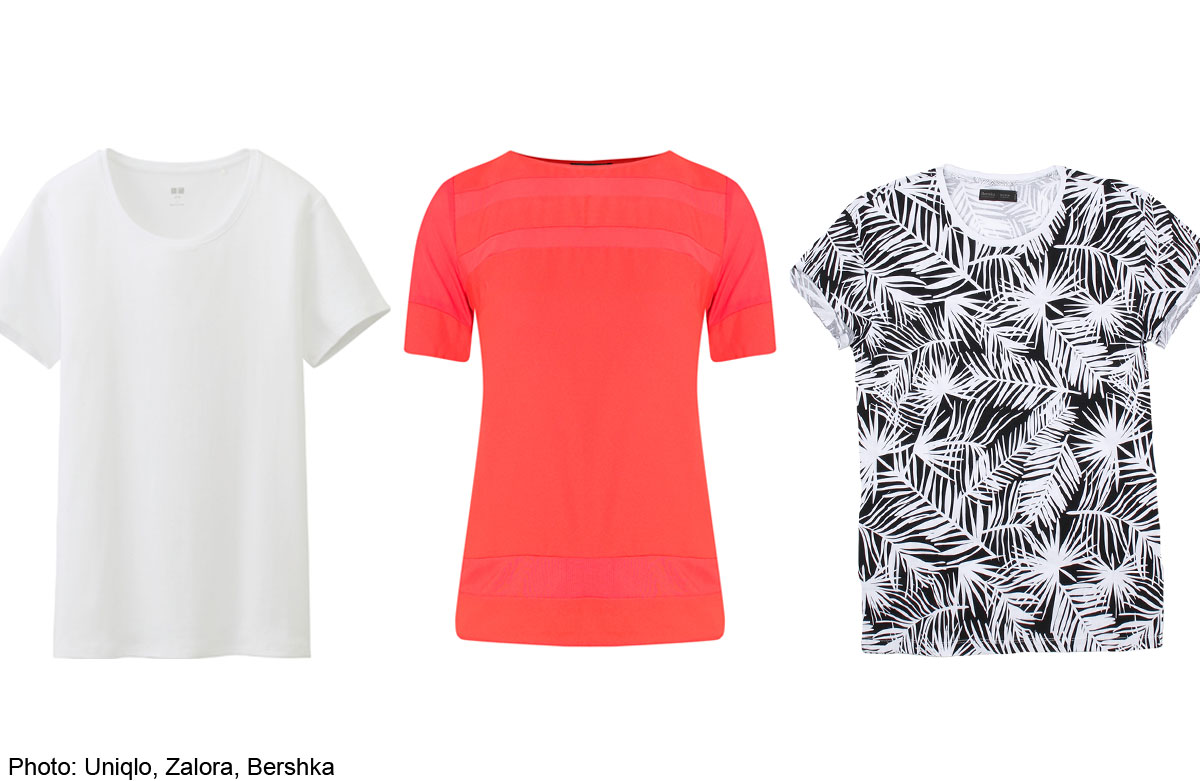 If you work in a very conservative office environment, T-shirts, which are inherently casual, may not fly with the dress code, no matter how hard you try to make the entire outfit look formal.
But if your office environment is less conservative, it is easy to incorporate T-shirts into the work look provided you stick to simple colours, crew-neck styles and nothing sheer.
Take a simple black or white T-shirt from Uniqlo ($14.90, from 03-27 313@somerset), or a red one from Ezra ($24, from www.zalora.sg).
The colours are classic and the fuss-free silhouettes make them great for tucking in, which instantly gives the look more formality.
Pair the T-shirt with a straight cut but interesting skirt like the Club Monaco two-toned skirt ($279, from B1-41 Takashimaya Shopping Centre) or a pair of mid- or high-waisted smart trousers from Topshop ($49, from www.topshop.com).
The byword is classic, so leave behind your scoop, V-neck or asymmetrical-neckline T-shirts, which would be too casual and may reveal too much skin for the workplace.
You should also avoid T-shirt dresses, graphic T-shirts or T-shirts with trendy elements such as frayed edges or cutouts, which all veer too much towards the weekend or party look to make the cut for the office.
The exception to the rule would be T-shirts with an all over print, such as the black and white version from Bershka with its sophisticated and uniform pattern ($25.90, from B2-09 Ion Orchard).
Other timeless prints like stripes, polka dots and floral may be acceptable for the office too, provided you dress up your outfit with an office-appropriate pair of heels and a chic blazer.
This article was published on April 25 in Urban, The Straits Times.


Get a copy of Urban, The Straits Times or go to straitstimes.com for more stories.