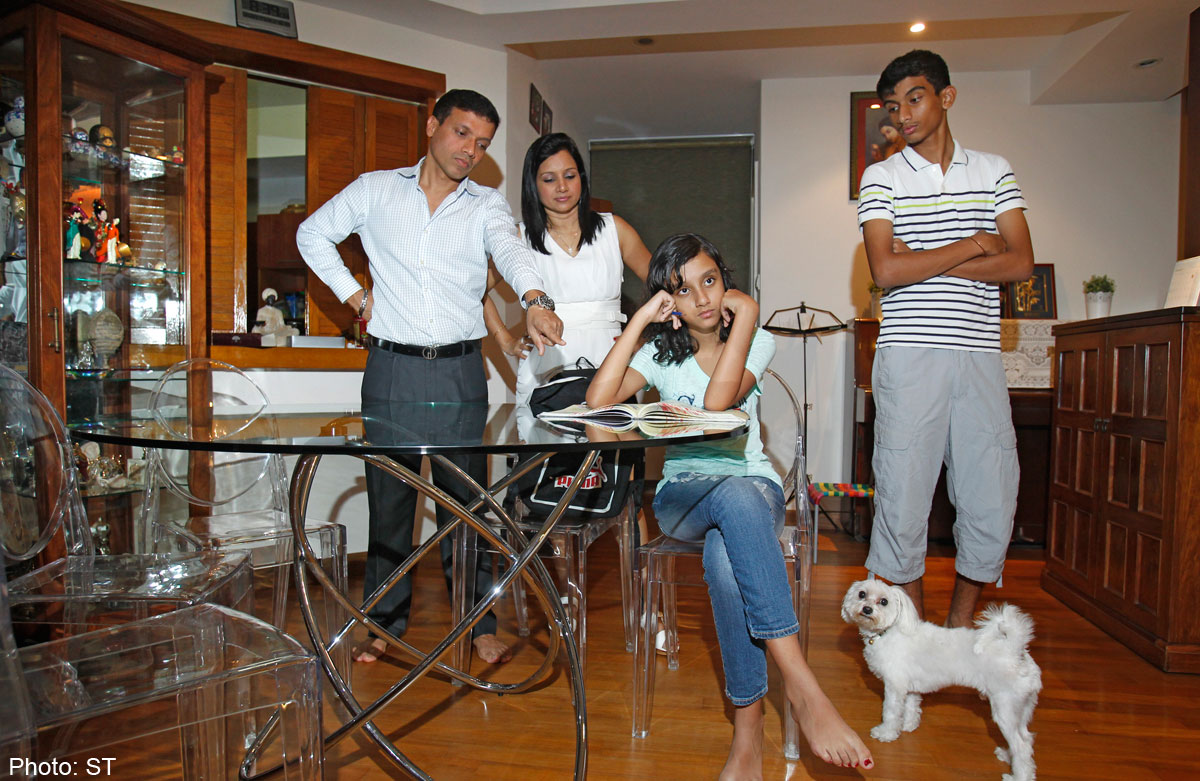 Stay-at-home mum Elita Thia does not understand why her happy princess suddenly became another creature last year.
"I couldn't accept it when she got moody and rude for no reason," says Ms Thia of the youngest of her three children, daughter Letasha Lim, who was then ten.
"When I sat on her bed to talk to her, she'd say, 'Go away'. She said this impatiently and sometimes she yelled," adds Ms Thia, of the outbursts that began in August last year.
They used to be close, with Letasha confiding in mummy about anything from teachers to friends.
At first, Ms Thia put it down to a carry- over effect of the frequent fights she had with her restaurateur husband over how to promote his then-fledgling Western restaurant.
"But even when things improved between my husband and me, her behaviour didn't improve," she says.
The couple, who live in a five-room HDB flat, have two older sons, aged 15 and 13, who were "not cranky" when they were Letasha's age.
Swopping notes with friends, Ms Thia learnt that she was not alone - her friends' children around her daughter's age, had also started displaying the kind of adolescent moodiness that used to be associated with teens.
Early puberty may be causing tweenies to act up like teenagers and giving their parents grief earlier than in years past.
Dr Kelly Loi, an obstetrician and gynaecologist, says: "It does appear that puberty is coming earlier to tweenies here."
Puberty usually begins between the ages of 10 and 13, but it may happen as early as eight years old in girls and nine in boys, says Dr Loi, medical director at Health & Fertility Centre for Women.
"The age at which puberty begins is affected by both genetic factors and by environmental factors, in particular, the nutritional state of the child," she explains, adding: "One of the key reasons for earlier puberty here is likely our improved socio- economic status and well-nourished - or sometimes over-nourished - diets."
As girls tend to mature faster, they may "experience cyclical fluctuations in their oestrogen and progesterone levels during their periods", according to Dr Loi.
With that comes pre-menstrual syndrome, or PMS, which causes mood swings.
Ms Frances Yeo, principal psychologist at Novena Medical Centre, however, feels tweenies acting up may be due to the fact that families these days are smaller.
"So parents have more time and energy to focus their attention - be it positive or negative attention - on their children," she says.
"Children do not change overnight to become cranky, sullen creatures. I feel that a lot of the changes in behaviour are a reaction to how their parents speak to them or parent them."
For instance, when a child says he does not feel like doing homework, "most parents react by dismissing the child's feelings, telling him what to do... giving a lecture" or punishing the child.
Over time, such a child could become "defensive and uncooperative".
Civil servant Alex Teo, 44, recalls a tumultuous period of about a year, "peaking" around September last year, when his wife and daughter, who is now 10 years old, clashed. The child was preparing for year-end examinations.
Mr Teo says his wife's "traditional" do-as-you-are-told approach meant the battles of wills could last up to an hour, with their only child calling him on the phone and crying, almost daily.
"It was a vicious circle. My girl said she's tired and didn't want to do homework or she wanted to do beadwork. My wife said she's recalcitrant," says Mr Teo.
"After they fought, my daughter said she felt terrible about saying words such as 'I hate you' to her mum but she said she didn't know how to control herself."
His 40-year-old wife Grace, a housewife, declined to be interviewed, but he says she decided to hone her parenting skills, turning to books such as Parenting The Strong-Willed Child (by child pyschology experts Dr Rex Forehand and Dr Nicholas Long) and attending parenting courses held by Henry Park Primary School, which Ariel attends.
"My wife has learnt to not take things personally, to know that it's not that our daughter is rebelling. But that she's going through a phase."
Mummy also cut daughter some slack.
For instance, instead of banning the child from watching YouTube movies, the pair watch crime investigation shows together, play badminton and, after work well done, mum takes daughter to her favourite craft shop to buy beads.
Mr Teo says that Ariel still acts up sometimes but the situation is "more manageable". Looking back, he says the parenting courses held at his daughter's school were helpful.
In the Chauhan home, the younger of two children has been acting up in a milder way.
Mrs Sharmila Chauhan, director of the Prabhudeva Dance Academy, 43, says Anusha, 10, used to immediately do as she was told. Now, she drags her feet to have her morning shower and to finish school work.
Says Mrs Chauhan: "She doesn't talk back but she tries to resist my instructions by delaying. I must repeat myself before she gets things done."
Anusha, a Grade 4 pupil at NPS International Singapore, an international school, explains: "I want to relax in front of the computer a bit and not do those things immediately."
So the homework that her mum wants her to do by Friday night so the family can spend weekends together, is set aside till Sunday morning.
But Mrs Chauhan and her husband Pradeep, 44, a vice-president in a food company, are not too perturbed, saying Anusha's phase is "part of character development".
Mrs Jane Eirene Santos-Kwok, senior lecturer and counselling psychologist, says tweenies are grappling with who they are, but unable to express the range of emotions they feel.
"The way they express the feelings is through acting up, and you see a sudden change of behaviour," says Mrs Santos- Kwok. Author-publisher Eliza Teoh, 41, says the change in elder daughter, Gabby Tan, three years ago left her flummoxed.
Gabby, now 14, became "sullen, rude and uncommunicative" at age 11.
Among other things, the tween did not want her mother to walk next to her and flinched when Ms Teoh touched her.
Ms Teoh, who consulted her friends, learnt that their daughters had behaved the same way, and to "let it pass". She did. It stopped after about four to six months.
"Our own unscientific conclusion was that adolescence was hitting kids early, and they don't become moody only in their teen years," says Ms Teoh, who cannot recall if she was moody.
"Gabby and I did have a few quarrels, but for the most part, I tried very hard not to let the sullenness get to me. I was also very mindful that she was maturing and having pre-teen issues with self-esteem, identity and image.
"I reminded myself that she wasn't being deliberately rude or grumpy, and that she was probably having a tough time dealing with change, going from being a child to discovering her own person."
Mr Tony Ong, 45, head of Fei Yue Child Protection Specialist Centre, says that kids today, exposed earlier to social media than previous generations, have "different ideas, which their parents are not able to keep up with".
"So these children often think that parents don't understand them as much as they should, leading to differences and conflicts," he adds.
That may be why Ms Menaka Appachamy, 40, no longer "calls all the shots" with eldest child Shivaani Shunmugam, 12.
The stay-at-home mum rules with an iron fist, even expecting her children to get her okay before switching on the television.
Her daughter still abides by the rules but has adopted an "attitude" since entering secondary school this year.
Ms Appachamy says: "She has this, 'Yes, I know everything attitude'. It's very irritating." Mum reckons it comes with the being-a- teenager-soon territory, as she has seen the same behaviour in her tweenie nephews and nieces.
She and her 44-year-old civil servant husbandare trying to immerse themselves in their daughter's world, including listening to Bruno Mars and Demi Lavato songs so they have common things to talk about.
The couple have two younger children, aged eight and seven.
But be prepared to be rebuffed, says Ms Appachamy. "I wanted to buy tickets to Bruno Mars concert for us to attend next month. She said, 'Buy for me and my friend. You can go with your age group.'"

Get a copy of The Straits Times or go to straitstimes.com for more stories.