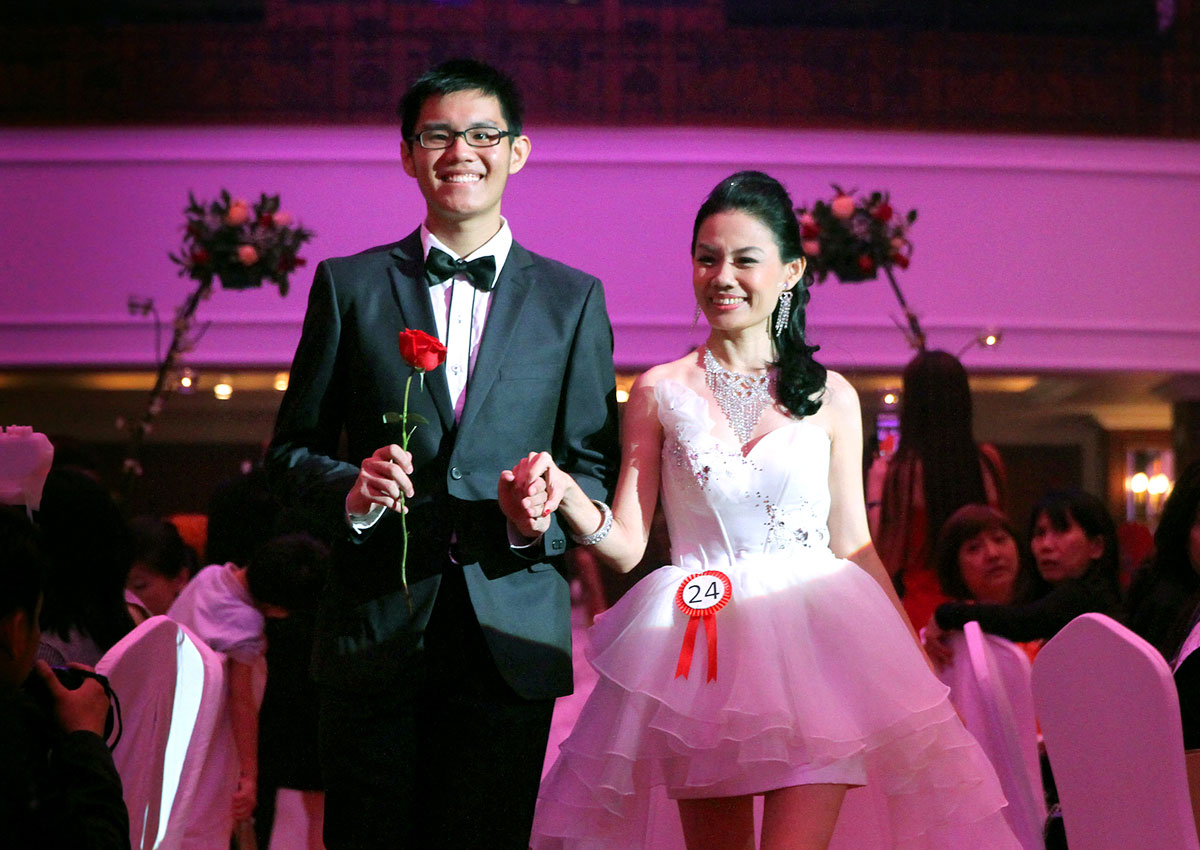 Arms linked, the Mrs Singapore and Classic Mrs Singapore 2016 contestants' smartly-dressed husbands clad in tailored suits escorted them on stage for the evening gown segment of the competition.
But for Ms Clara Lee, the special man by her side was her 20-year-old son Shaun, who had just completed his National Service.
Last month, the 49-year-old shared with TNP the story of her husband's sudden death while she was five months pregnant.
In 1995, when she was carrying the couple's first and only child, she received the tragic news that her 29-year-old photographer husband had died in a car accident in Germany. He had travelled to for work.
Widowed and feeling lost, she fell into a state of depression.
For a year, she would go to the 12th storey of her HDB block, climb onto the parapet and talk to her late husband as her legs dangled beneath her, before snapping out of it one day after seeing the pain she was causing her mother.
Last Saturday, Ms Lee walked away with the title of Classic Mrs Singapore Universe 2016 and also won the Charity Queen 2016 subsidiary award.
Madam Jessica Loh and Madam Serene Cheng, both 50, were named Classic Mrs Singapore Globe 2016 and Classic Mrs Singapore Planet 2016 respectively.
Since the TNP article was published, Ms Lee, a management operations executive, said she received an outpouring of support from friends and even strangers whom she met while helping out at charity events.
COMFORT ZONE
She said: "They have told me that I'm daring to step out of my comfort zone and that I'm strong and they're happy to learn from my example.
"They said they're sad to read about what I've been through, but happy that I've become a better person because of it."
Ms Lee said she even received phone calls from various organisations, including Singapore Amalgamated Services Co-operative Organisation and the Singapore Cancer Society, asking for her assistance in the event that she wins.
"I said even if I don't win, I will help. Charity is in my heart ," she said.
"But the only reason I had the strength to share my story was because of my son.
"He said, 'Mum, if you join this pageant, there is a chance of people getting to know our story. If you want to step up to share, I'm proud of you. If you feel ashamed of it, you shouldn't be joining this pageant'."
Shaun said he encouraged his mother to do so in order for her to "break out from her shell" and "move forward in life".
He said: "To see her come out from a dark period to winning this, it's very impressive. Seeing what she has been through has motivated me to overcome my own difficulties in life."
Ms Lee, who even showed off her belly dancing moves during the talent segment of the pageant, feels that if her husband were alive today, he would be very proud of her and would have supported her throughout the competition.
"But it is because of his death that I've been able to face the challenges and step out of it and grow," she said.
"The most important thing I've learnt is to do charity. By making others happy, you will feel happy.
"I mainly want to help those suffering from depression to show them that if I can come out of it stronger, they can too ," she said.
natmeah@sph.com.sg

This article was first published on May 9, 2016.
Get The New Paper for more stories.