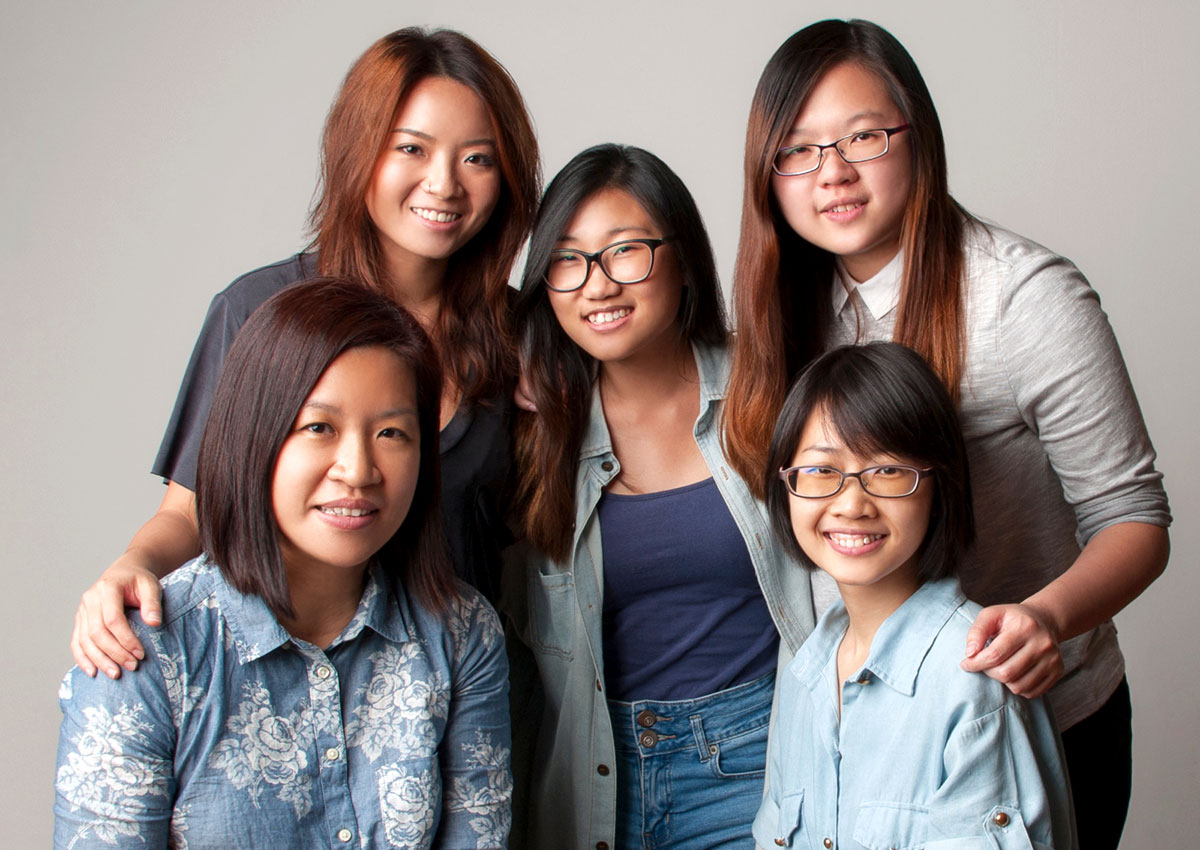 Eleven years ago, when people browsed through their photos, they would be asked: "Are you sure those were shot by you?"
That was what The Studio Loft's managing partner and head photographer Maryann Koh, 43, and her former business partner faced then.
She said: "At that time, 90 per cent of photographers were male. We worked very hard to overcome the (prejudice) by producing even better work."
Today, the studio in Ubi Road 1 has five female staff, including Ms Koh.
"It was always our idea to set up an all-female photography studio after my first pregnancy," said the mother of two boys, aged nine and 12.
"I wanted to take photos of my pregnancy then, but I realised the photographers out there were all men and I didn't feel comfortable."
Ms Koh, who specialised in film and TV production in university, bought her first DSLR camera 12 years ago and took her own photos, which her friends found simple and tasteful.
After talking to a former colleague, they decided to start their own studio to cater to pregnant women, babies and children.
But it was difficult for the two, who did not have any marketing or business background.
Ms Koh said they "stumbled a lot" and had to accept every gig.
"Even if it meant we needed to work on Sundays or until 8pm on weekdays," she said.
The last straw for her partner came 18 months later, when the studio's first location at Devonshire Road was burgled and they lost about $18,000. She pulled out of the business.
Ms Koh started managing the studio by herself.
But in November 2014, she was diagnosed with a brain tumour near the pituitary gland.
"When I announced I fell ill through our monthly newsletter, many clients came by to give me flowers, and sent encouragement messages," said Ms Koh, tears welling in her eyes.
"One client even bought me Australian beer to drink together when I got better."
Thankfully, the tumour was benign and she was ready for work after a four-hour operation and three weeks of rest.
On the perks of working in an all-female environment?
"I think we don't have to be very mindful about what we talk about - from make-up to menstrual issues," said Ms Koh.
"(Me and my staff) even discussed the design of our toilet, making sure it was convenient for our female clients and ourselves."
Helping pregnant women for 14 years
This is her 14th year as a doula, a woman who supports and gives advice to another woman during pregnancy, and during and after giving birth.
An unwed mother when she started, Mrs Ginny Phang-Davey had a less-than-ideal labour when giving birth to her first child, son Kieran, 16 years ago.
"I heard the word doula from a colleague. Her boyfriend's sister was expecting her third child and planning to have a drug-free birth with a doula," she said.
"I also wanted to have a drug-free birth, but was dealing with too much in my life at that point, and did not fully explore that option."
Little did she know that she would become a doula.
She said: "I met a group of breastfeeding mothers online and met Dr Amy Chin-Atkins, who became one of my good friends."
They started Four Trimesters, a doula company that provides prenatal sessions, birth support and postnatal visits. The team has now grown to nine doulas.
Mrs Phang-Davey has taught antenatal classes to over 1,000 couples and supported the same number of births. She hopes to expand her birth sanctuary, a holistic centre for women before and when they give birth, open a hospital, and make "doulaing" a recognised career.
"I hope it will become an option for mums who want to work part-time."
They aid women during that painful time of the month
It started when she wanted to overcome a long-time problem - menstrual cramps.
Encouraged by her boyfriend and business partner Caleb Leow, Miss Tan Peck Ying decided to start the pslove company, which sells heat pads to relieve period pains, in 2014.
Miss Tan, 29, who used be an assistant manager at NUS Enterprise, said: "I was taking medication for a large part of my life. I wanted to create something that women could use on a regular basis to aid them through their difficult time during the month."
Mr Leow, 28, co-founder of the company, added: "I used to buy hot water bags for her and realised how inconvenient it was."
The team is made up of six women and one man.
Mr Leow had to do customer surveys and ask women about menstrual issues, including the brands of sanitary pads they use.
He said: "I never predicted I would be doing this but I guess you never know where life takes you."
Mr Leow handles the business operations and the online ordering system.
Miss Tan added: "He was the one who got our first customer; the manager of Ngee Ann Polytechnic Co-op agreed to place our products on their shelves."
Marketing lead Yoong Jia Jun, 24, said: "I love working here as the team is small and we love talking about make-up and other girly topics like period cycles.
"We tend to forget (Mr Leow) is there, but sometimes he'll chime in with his knowledge of (sanitary) pad brands. We are now used to it, so it's not too weird."
huienl@sph.com.sg

This article was first published on March 8, 2017.
Get The New Paper for more stories.