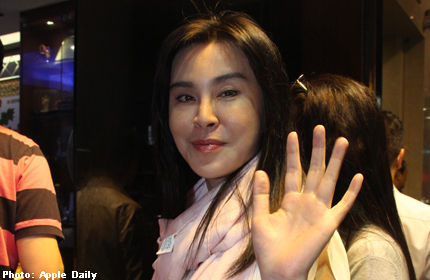 HONG KONG - Years after quitting films for a reclusive life in Canada, Joey Wong has been spotted in Hong Kong, re-igniting talk that the 1980s actress is making a comeback.
Newspaper photos published on Friday showed her shopping and having tea with a friend on Thursday.
The beautiful actress who starred in films such as A Chinese Ghost Story (1987) is now 46 and sported fleshy arms and a pancaked face, noted The Sun daily.
Like The Sun, Apple Daily Hong Kong alluded to cosmetic surgery, pointing to her fuller face and puffier eyes.
They were not the first photos of her in recent months. Pictures on the Internet have shown her going about her daily life in Vancouver looking wrinkle-free.
The Sun said she is to make a public appearance next month.
In March, reports said she was in talks with a Hong Kong jewellery and beauty company over a HK$100-million (S$16.4- million) endorsement deal.
Apple on Friday said Wong would be testing the waters first before deciding whether to return to films.
A Chinese Ghost Story, co-starring the late Leslie Cheung, was re-screened in China with good response in 2011, triggering her interest in coming back, it added.
Wong made her last film with 2004's Beautiful Shanghai.

Get a copy of The Straits Times or go to straitstimes.com for more stories.