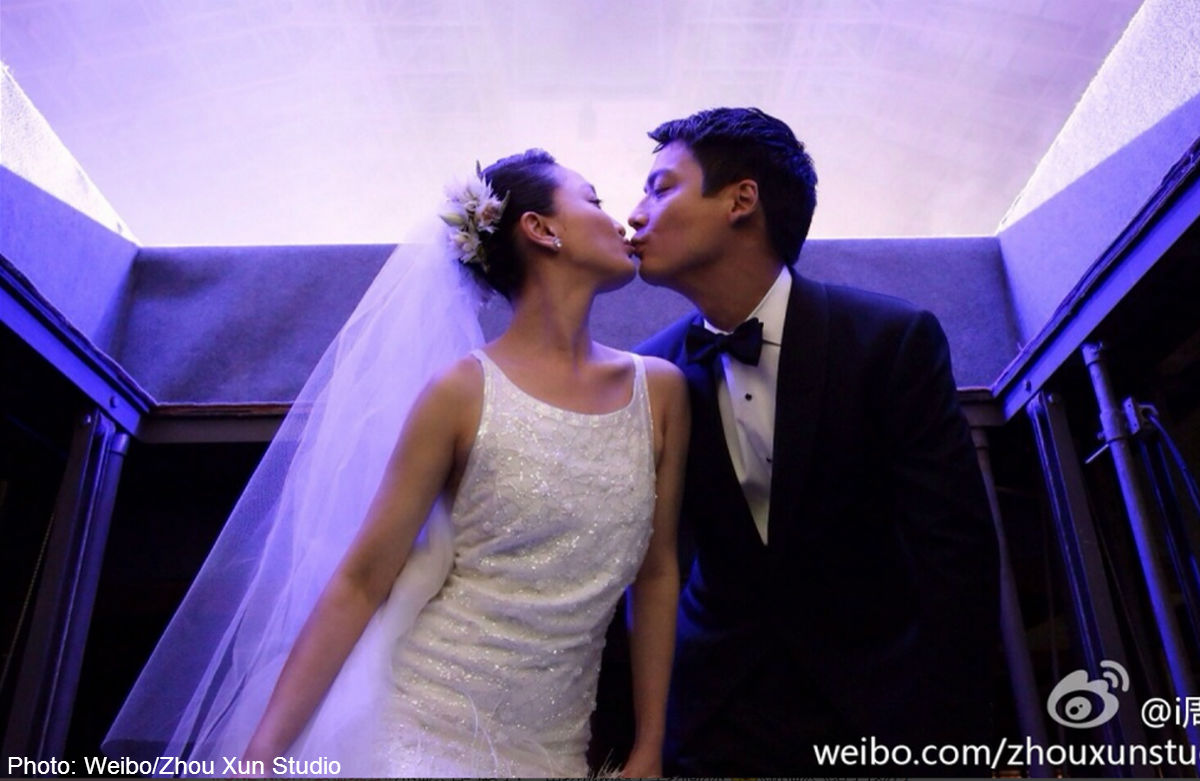 Chinese celebrity Zhou Xun made a surprise announcement at a charity event last night that she has married her American-born actor boyfriend, Gao Shengyuan (Archie Kao).
Near the end of the show in Hangzhou, which featured her friends such as actor Chen Kun, actress Gwei Lun-mei and former Super Junior singer Han Geng, she emerged in a white beaded dress and veil, holding hands with Kao, who was in a suit. 
The actor, famous for his role in American TV series CSI, spoke in halting Mandarin: "It's love that brought everybody here. It's love that brought me together with my wife."
Added Zhou: "We are really happy tonight to be in such a love-filled atmosphere. My husband and I would like to share our love with everyone. I've starred in films where I played the bride, but tonight is Zhou Xun's own story of romance." 
The couple then exchanged vows and rings, which had been carried on stage by Chen's son.
The 40-year-old actress has won endless awards over the past years. In contrast with her career success, her love life hasn't gone smoothly. But it appears the actress has finally found luck in love.
Since Zhou's wedding announcement was circulated on Weibo on the night of July 16, as of 10 am on Thursday, #Zhou Xun's wedding # has become the number one topic of the top 10 topics on China's Sina Weibo with 290,000 users participating in the discussion forum.
Most Weibo users have expressed surprise and best wishes towards Zhou and Gao. One internet user posted, "Happiness is when you are smiling and he stares at you. You are a perfect couple."
Still, there are also some celebrities who congratulated Zhou and Gao. Chinese actress Zhang Ziyi posted, "Congrats to Zhou, hope you can smile happily forever."
Chinese director and actress Zhao Wei also posted, "Good news one after another, congrats, wish you all the sweet happiness."