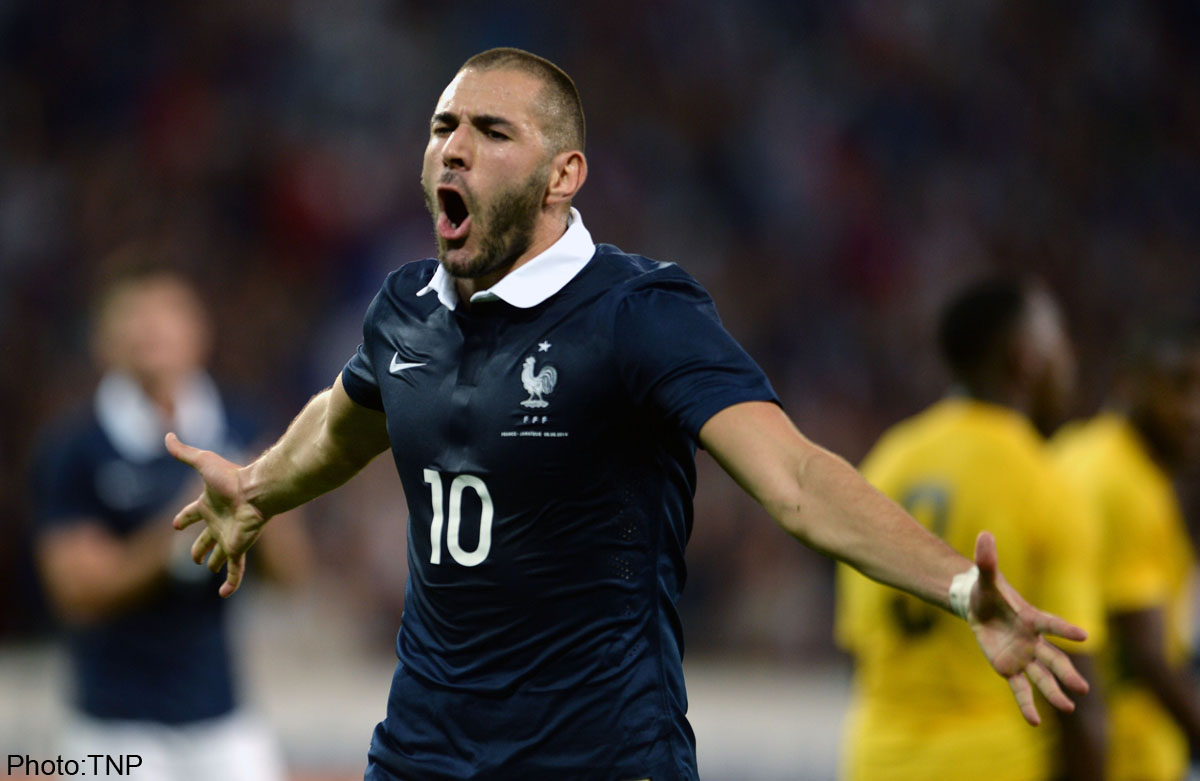 INTERNATIONAL FRIENDLY
FRANCE 8
(Yohan Cabaye 17, Blaise Matuidi 20, 66, Karim Benzema 38, 63, Olivier Giroud 53, Antoine Griezmann 77, 89)
JAMAICA 0
Memories are ruthlessly short. Franck Ribery is in danger of being forgotten already.
The winger said his injury felt like a death in his soul. But there is life in his national side. Ribery's dramatic demise could accidentally trigger a French resurrection.
He often played like a one-man band. Like Thierry Henry before him, blue blood flowed through Ribery. He was the go-to man and the obvious get-out for teammates.
But the solo act is gone. France now march to La Marseillaise in step and in unison. Didier Deschamps has instilled a collective work ethic and a creative consensus.
Where there was discord just two days ago, there is now harmony. France were lost out wide without Ribery. Now they've found Karim Benzema.
The Real Madrid striker was a revelation on the left side of a front three yesterday morning (Singapore time), terrorising the hapless Jamaicans who displayed all the movement of a bobsleigh team. Benzema did the cool running.
France have a patchy history of petulance, with superstars showing off their bottom lip rather than their ball skills when formations or positional changes were not to their liking.
But Benzama revelled in his new responsibilities.
THREE TO THRILL
Deschamps' obdurate 4-3-3 dispenses with conventional wingers. His attacking trio of Benzama, Olivier Giroud and Mathieu Valbuena are drawn towards the magnetic pull of the penalty box.
Benzema curled in a couple of peaches, contributed two assists and suddenly the striker previously shackled with the most unwanted goal drought in international football now has five in his last six.
As the French racked up the inevitable rugby score, that foolhardy prediction began to rear its romantic head. Maybe, just maybe, Deschamps' young scamps offer a greater World Cup threat than initially anticipated.
Friendlies always come with qualifiers. Jamaica's resistance was as pitiful as it was futile. Ecuador, Switzerland Honduras should all present sterner challenges in Group E.
But France are an irresistible attacking force with no discernible weaknesses in front of their back four.
In March, they offered a teasing glimpse of their youthful potential in the dismantling of Holland. Benzema and Blaise Matuidi were on target in the 2-0 victory that night. Both were flawless again against Jamaica yesterday morning.
Both will assume navigational duties in Brazil, plotting an unlikely path through the knock-out stages.
The cult of celebrity has focused almost entirely on Ribery, neglecting to focus on Deschamps' sterling work in cultivating a squad in his own image; maximising the youthful talent at his disposal, liberating his creators and fostering a team spirit not seen among Les Bleus in a generation.
Deschamps' boys in Brazil will make France's youngest World Cup squad since 1954. But they won't look it.
Around the centre circle, the midfield trio engage in a neat game of baton relay that is the envy of most international sides. Paul Pogba releases Matuidi. Matuidi releases Yohan Cabaye. Cabaye releases France. They repeat the process until a goal ensues.
Deschamps was once a metronome of midfield consistency. His finest quality on a pitch has followed him into the dugout. The French industry is infectious.
Benzema and Giroud made a mockery of the naive assumption that they can't play together.
Their busy interplay on the left freed Valbuena to wave his wand on the right.
Now 29, the experienced French orchestrator conducts proceedings impeccably.
He will be a stubborn thorn in opposing sides. He is a rose in bloom for his country.
Sceptical French followers will sense a certain deja vu at this point. They've been here before. Benzema went into 2012 flying at an unassailable altitude for club and country, scoring as a matter of routine and tipped to star in Poland and Ukraine.
He never scored and Laurent Blanc's timid side endured a poor campaign, prompting another round of acrimonious finger-pointing and blame shifting.
TAMING THE BEAST
But France are a different animal now. Deschamps has curtailed the temper tantrums without taming the beast.
The eight goals against Jamaica were less significant than their celebrations.
Each one was celebrated collectively. Attendance was compulsory. No man was left behind.
Even the coach was included. Mutinies have been replaced with Musketeers; all for one and one for all.
Deschamps has done this.
That's why the boisterous Lille crowd sent France away with a standing ovation; why Samir Nasri is sitting on a beach sticking pins into a Deschamps voodoo doll; why Ribery's absence is unfortunate, but not fatal.
If France top Group E as expected, they are likely to meet Bosnia and Herzegovina or Nigeria in the round of 16. Germany could be waiting in the quarter-finals.
Based on form, confidence and cohesion, the French have nothing to fear.
"The performance was full of confidence, but it does not give us insurance going into the first game..."
- France coach Deschamps, whose side face Honduras in their World Cup opener
The 1994 World Cup in the US saw Fifa introducing the new system where three points, instead of two, were awarded for a win. This is to encourage attacking football. Teams who were contented to sit back for a draw thus had more to lose. Other leagues and competitions later adopted the system.

This article was first published on June 10, 2014.
Get The New Paper for more stories.