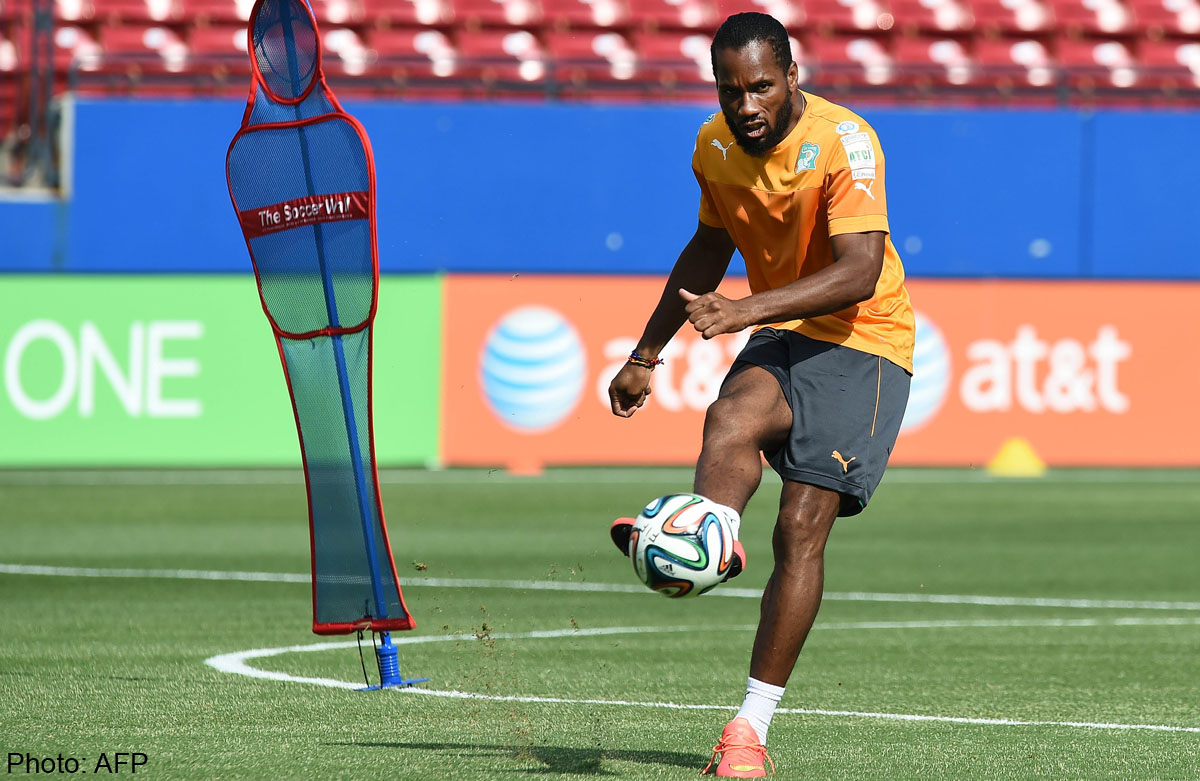 They have gone into previous World Cups hopeful of achieving great things, but ended up returning with little to show.
Time, though, is running out. In the twilight of their careers, they now have one final chance to set things right.
STEVEN GERRARD
Country: England
Age: 34
He was one of the brightest stars in a golden generation tipped to mark a glorious chapter in England's football history. The wait, however, continues.
Gerrard and Co never came close to winning any major competition with the Three Lions.
Now, he finds himself making a last-ditch attempt with a young side few expect to make waves. But he doesn't have a choice, does he?
Although reinvented by Liverpool manager Brendan Rodgers as a deep midfielder, a move which should prolong his career slightly, the skipper looks likely to retire from international football after this tournament.
MIROSLAV KLOSE
Country: Germany
Age: 35
They say Klose was made for Germany. Few players have shown such terrific international form with such consistency.
In fact, the Poland-born striker has always delivered on the big stage.
He scored five headers in the 2002 World Cup as Germany reached the final.
He won the Golden Boot in the 2006 edition, with another five goals, although his side crashed out in the semi-finals on home soil.
Four years ago, he netted four, as Germany's journey yet again ended in the last four.
But the trophy remains elusive.
For Klose, the feeling of missing out must be painful, considering they went into the last two World Cups as one of the hot favourites.
It sounds almost silly to expect him to fare even better than before.
But that's what he's aiming to do, whatever it takes, as long as he can win the coveted prize for once.
MARTIN DEMICHELIS
Country: Argentina
Age: 33
His last chance almost never came.
He entered 2014 having never played for his country for almost three years.
But his inclusion now gives him the opportunity to do what they failed to accomplish four years ago - win the World Cup.
Led by Diego Maradona, Argentina were one of the most in-form teams after having strung four wins in a row to reach the last eight.
Then came Germany to whip them 4-0 and Argentina's dreams went up in smoke.
Demichelis, who featured in central defence in all five games, may find playing time harder to come by in Brazil. But he will use his experience to guide the younger ones.
And you can be sure that he will be ready when the match official holds up his number.
DIRK KUYT
Country: Holland
Age: 33
Not the typical Dutch flair player, Kuyt however has earned plaudits for his industry and selflessness.
Over the years, he has also established himself as a valuable member of the Dutch set-up.
His first World Cup foray saw him help his side to the round of 16 in 2006.
Then four years ago, he came mightily close.
He started all seven matches as Holland finished runners-up to Spain.
The chance to take revenge on the Spaniards will come in their opening match on Saturday morning (Singapore time).
Helping his country clinch their first World Cup title sounds like a perfect parting gift.
PATRICE EVRA
Country: France
Age: 33
Named captain by coach Raymond Domenech ahead of the 2010 World Cup, Evra was expected to lead by example in South Africa.
Instead, he led the players to go on strike during the tournament.
And France crashed out at the group stage under farcical circumstances.
The French Football Federation slapped him with a five-match suspension as a result, although he wasn't the only one to be punished.
He no longer wears the armband, but he can make amends in Brazil.
Expected to feature as Didier Deschamps' first-choice left back, Evra will be raring to go.
But France's task has been made harder by the absence of star player Franck Ribery, who didn't recover from his injury in time.
DIDIER DROGBA
Country: Ivory Coast
Age: 36
Drogba has unfinished business.
Much was expected of Ivory Coast when he led them to their first World Cup appearance in 2006.
But, grouped with Argentina, Holland, and Serbia and Montenegro, they failed to make it out of the first phase.
Four years later, they were dealt another cruel joke.
Their Group of Death consisted of two heavyweights, Brazil and Portugal, and Asian minnows North Korea. Elimination came early once more.
They have no excuses now.
With the more manageable trio of Japan, Greece and a Falcao-less Colombia standing in their way in Brazil, Drogba knows they must deliver.
His legs no longer pack the power they used to, but he must somehow summon the strength to get Ivory Coast to at least the knock-out rounds.
Or face a lifetime of regrets.

This article was first published on June 10, 2014.
Get The New Paper for more stories.