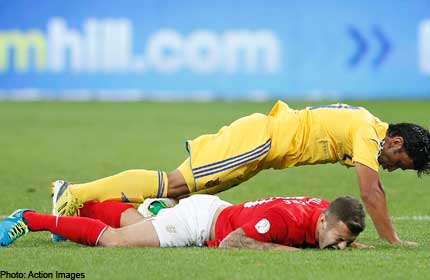 ENGLAND - With two games to go, England sit at the top of their World Cup qualifying group.
They are a single point clear, they have a vastly superior goal difference and their final fixtures are both at Wembley.
Ordinarily, you might expect the English to be pleased with such a scenario.
Roy Hodgson certainly did. Instead, the mood is increasingly bleak.
England were abject in Kiev on Wednesday morning (Singapore time), mustering the goalless draw they required more by virtue of Ukraine's failings than their own abilities.
Kiev is, of course, a difficult place to play football. The fans are partisan and intimidating, and Ukraine are on a similar level to England.
Hodgson's team are not so packed with talent that a win there is a foregone conclusion.
But it was the style of the draw that was so depressing.
It was the absence of technical ability, the lack of composure, the failure to even do the simple things well.
With a pass-completion rate of just 74 per cent, this was the most inaccurate that England have been in the qualifying tournament to date. If anything, that number felt a little high.
Only in Gary Cahill did England have anyone of whom they could be proud. The Chelsea defender had his work cut out, covering for the mistakes of the wretched Kyle Walker and picking up the pieces of a startlingly anxious start from Joe Hart.
Like a man spinning plates, Cahill ran from one wobbling pile of crockery to another, somehow keeping everything balanced.
Everywhere else, England were awful.
The much vaunted trio of Frank Lampard, earning his 100th cap, Steven Gerrard, already a centurion, and Jack Wilshere, a centurion in waiting if he stays fit, fell woefully short of expectations.
Against Moldova, the three of them had excelled. But that was only Moldova.
Pressured by a higher calibre of opponents, their passing fell to pieces. Time and time again, they sent the ball skidding across the turf to a yellow shirt.
On the flanks, England endured another dire performance from Theo Walcott, and a pedestrian display from stand-in left midfielder James Milner. Up front, Rickie Lambert toiled without reward.
Ukraine had the better of the chances - they could even have had two penalties but, in terms of touch and patience, they were little better than England.
This was two bald men swinging punches in a pub car park, fighting for ownership of a comb.
They may well both qualify for next summer's World Cup but, on the evidence of this, there's little chance that either team will make it out of the group stage.
All of which leaves new FA chairman Greg Dyke, who announced a sweeping review of the international set-up last week, with much to ponder.
Whose fault?
How much is Hodgson's fault and how much is the fault of the players? It's hard to argue that the manager is getting the best out of his squad, but has anyone ever managed to get the best from them at this level?
Since the misfortune of 2004, a tournament that Sven-Goran Eriksson could so easily have won, England have always disappointed in competition.
There seems to be some kind of mental block, something that afflicts the superstars when they pull on their Three Lions.
Hodgson was frustrated when journalists told him of the disappointment of the fans, reiterating his belief that a draw was a good result.
He's right, of course. Even Germany wouldn't go to Kiev thinking that three points was a foregone conclusion.
But it's the manner of these performances that causes such irritation.
We know that these players are better than they seem. We know that the potential is there for overachievement, so why do they always underachieve?
In a sense, the English were not unhappy with Wednesday's result; they were unhappy that there was little on display to suggest that good results will follow next summer. This was a pre-emptive sulk.
For Dyke, the situation is bleak. There are no standout candidates to replace Hodgson. Harry Redknapp leads a tentative and unlikely selection of names with the bookmakers, but his chance has surely passed.
There are no standout players who can step in and improve the team. The number of English players in the Premier League has dropped so dramatically that almost everyone who is qualified to play for England has already played for them.
England are yet to beat a decent team in qualifying, but they will probably still reach the World Cup.
What happens after that is anyone's guess.
Unless something extraordinary happens, Hodgson's men will be coming home some time before the final.
Frankly, you can see why Dyke is so worried.

Get The New Paper for more stories.