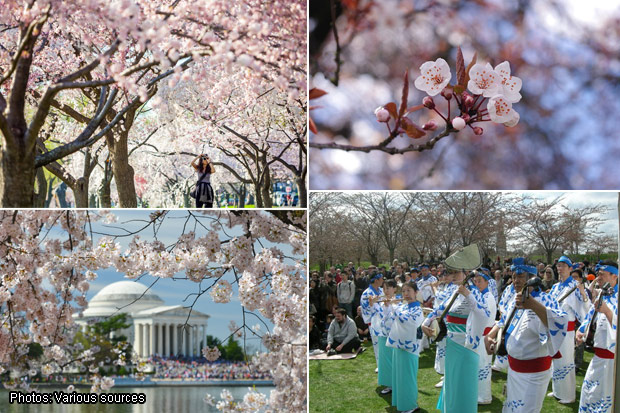 This article was originally published on the flight comparison site Skyscanner.
The world is so lucky to have so many thrilling displays of beautiful flowers during spring to shake off those wintertime blues.
Of course, king among these is the cherry blossom, or sakura - extra special because of its brief lifespan.
Most people associate the ephemeral beauty of the cherry blossom with Japan, but did you know that the tree originated in the Himalayas?
However, you don't have to be in Japan to enjoy sakura season. Skyscanner has conjured up a list of the world's best spots to be in awe of these dainty, delicate and awe-inspiring flowers.
1. National Cherry Blossom Festival, Washington D.C. (USA)
The world-famous National Cherry Blossom Festival of Washington D.C. features more than 3,000 blossoms and serves as a backdrop for a citywide festival of cultural events and exhibitions.
This year, the festival will be held from March 20 to April 12. This festival celebrates the enduring friendship between the people of the United States and Japan.
It goes on for three weeks and there is definitely something for everyone as it showcases art exhibitions, cuisine and sports. There are several ways to enjoy the flowers such as paddle boating, bike tours, walking tours, and of course, cruises.
2. Vancouver Cherry Blossom Festival, Vancouver (Canada)
The Vancouver Cherry Blossom Festival is an annual celebration to mark the beginning of spring (as rainy season fades) and to celebrate the beauty of these flowers.
There is no doubt the 40,000 cherry trees in Vancouver city can cheer anyone up with their bursting white and pink blooms.
The month-long festival introduces a huge variety of events from bike rides to art classes. This year it is from April 2 to 29.
3. Aoyama Cemetery, Tokyo (Japan)
Aoyama Cemetery in Tokyo, home to some giant names from Japanese history, has a street lined with several hundred sakura trees. This avenue offers a spectacular tunnel of cherry blossoms in April where people can enjoy lunch and even night-time "hanami" flower-viewing in the cemetery.
It might be weird to have a picnic among the graves but it does get pretty crowded during cherry blossom season and it could cheer anyone up, perhaps even the dearly departed.
4. Tom McCall Waterfront Park, Portland (Oregon, USA)
Portland, one of America's greenest cities bursts into a massive bouquet of pink every Spring, which is some time in March or April.
Its epicenter is Tom McCall Waterfront Park, located next to the Willamette River in downtown Portland, where a hundred cherry trees were planted to commemorate the history of those people that were forced into internment camps during the Second World War.
The park is adjacent to Portland hotspots like Voodoo Donut, Stumptown Coffee, the Farmer's Market and many other attractions in Old Town, making it a convenient stop on any itinerary.
5. Chidorigafuchi Imperial Palace Moat, Tokyo (Japan)
Chidorigafuchi is the North-Eastern moat of the Imperial Palace. It is one of the most famous cherry-blossom viewing spots in Japan. Individual boats can be rented to enjoy the snow-white blossoms in spring. You will have a great view of the moat and stone walls of the Imperial Palace. Many people come from all over Japan in March or April to see the sakura here, including of course the emperor himself.
6. Copenhagen Sakura Festival, Copenhagen (Denmark)
The Danish Honorary Consul of Hiroshima gave Copenhagen 200 flowering cherry trees to celebrate the bicentennial of Hans Christian Andersen. It is a two-day festival that takes place in Langelinie Park, which is also famed for the Little Mermaid statue.
Because the trees are still quite young, the blooms get more and more spectacular each year. In this festival, you can find martial arts demonstrations, tea ceremonies, a flea market and much more.
This year, the festival will be held on April 25 to 26.
7. Jinhae Cherry Blossom Festival, Jinhae (South Korea)
Jinhae Cherry Blossom Festival is the largest cherry blossom festival in South Korea. It draws millions of people each year. It is a ten-day festival where visitors flock to see not only the endless streets of cherry blossom trees but also street performers, carnival stalls, lights and military parades.
This year, it will be held from April 1 to 10. This festival honours a naval hero by the name of Admiral Yi Sun-Shin who held back the Japanese invasion of the peninsula more than 400 years ago. The white blooms give the seaside town an ethereal ambiance during its peak.
8. Botanical Garden of Curitiba, Curitiba (Brazil)
Lying southwest of Sao Paolo, the city of Curitiba (Brazil), is home to the Botanical Gardens of Curitiba and the largest collection of sakura trees in South America. Drink up with local Brazilians of Japanese descent, and then head down to the beach for some surf, football and samba. The cherry blossom trees bloom some time in July.
9. Shanghai Cherry Blossom Festival, Shanghai (China)
Shanghai's urban oasis of Gucun Park spreads out over 180 hectares and is home to 10,000 sakura trees. It's a great place to take a break from your busy city trip and absorb the ambience of the Shanghai spring. As an added bonus, it's a quick subway ride from all of Shanghai's other attractions, making it a great spot for tourists and locals alike. This year, you should be able to check out the beautiful blooms in April.
10. Cherry blossom season in Bonn, Germany
Every spring around April, the staid streets of the former capital of West Germany undergo a startling transformation, when the blooming sakura trees turn ordinary avenues into phantasmagoric tunnels roofed with pink flowers. While the city may not have the cultural cache of, say, Berlin, the sakura tunnels of Bonn are a sight to behold.
Click here for the original article or visit the flight comparison site Skyscanner for more.