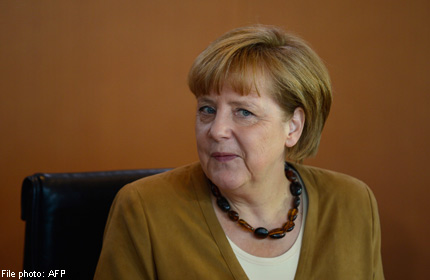 GERMANY - German Chancellor Angela Merkel has launched the final and most gruelling phase of her general election campaign after the only national televised debate between her and the leader of Germany's Social Democrat opposition ended inconclusively, with neither rival candidate landing a knockout punch.
According to all opinion polls, Dr Merkel and her centre-right Christian Democrats remain far ahead of all their rivals for the ballots scheduled on Sept 22. But due to Germany's complicated electoral system, the Chancellor has to fight for every vote; even a fraction of 1 per cent in the final tally could decide whether she wins a third term.
In a country where political gimmicks are frowned upon and electoral campaigns largely consist of carefully choreographed rallies and fairly uninspired posters, the single televised debate between the top candidates has long been one of the key highlights.
The live confrontation between Dr Merkel and Mr Peer Steinbrueck, her Social Democrat challenger, was watched on Sunday night by an estimated 20 million Germans, about a quarter of the nation.
The traditional debate is when political careers are made. A young Helmut Kohl, who went on to be one of Germany's greatest leaders, is still remembered for his single devastating quip during his first televised debate in the early 1980s when he famously asked his rival who talked non-stop to "give children in kindergartens a good example" by shutting up.
No such gems were on offer this time, notwithstanding the fact that Mr Steinbrueck is known for his sharp tongue, and that this was his biggest chance to claw back Dr Merkel's lead in the opinion polls.
The opposition leader drew blood by attacking the Chancellor's management of the euro financial crisis, accusing her of imposing austerity on Europe which created a "vicious circle of recession".
But that won't impress German voters who, if anything, believe that their Chancellor was too lenient on her bankrupt European neighbours.
Exit polls published on Monday indicate that although Mr Steinbrueck emerged as the more convincing debater by a margin of 49 to 44 per cent, just over half of all TV viewers still considered Dr Merkel as more "sympathetic".
The latest projections indicate that Dr Merkel's Christian Democrats are slated to get around 40 per cent of the popular vote, while Mr Steinbrueck's Social Democrats may only attract as little as 22 per cent, a tally which, if confirmed, will be their worst in almost a century.
Still, Dr Merkel cannot afford to be complacent.
One reason is that she is a poor campaigner.
The 2005 general election - the first she contested - was supposed to be a walkover but almost turned into a rout. Something similar happened with the 2009 general election, when her share of the popular vote actually fell, and she only retained power because her opponents fared even worse.
Furthermore, although the Chancellor has avoided any specific contentious issues, relying instead on repeating good housekeeping messages like: "We must stop living on credit; we have seen in Europe where that leads us", she is vulnerable to accusations that wealth disparities have grown under her stewardship as a fifth of all German workers survive on minimum wages.
But the biggest reason for uncertainty is the electoral system, which makes it virtually impossible for any single party to get an overall majority: Dr Merkel needs a coalition partner to form the government.
The preferred partner is her current one, the small, centrist Free Democrats. But another provision of the electoral system requires any party to win 5 per cent of the national vote before it qualifies for any parliamentary seats, and the Free Democrats are hovering dangerously around that threshold.
If the Free Democrats fail to get into Parliament, the main opposition Socialists will not be able to form an alternative government either, since they won't have enough parliamentary seats, even if they align with the Greens, which are currently predicted to get 12 per cent of the vote.
And to complicate matters, a newly established, anti-European Union party called Alternative for Germany is likely to attract about 4 per cent of the ballots, which is not enough to gain parliamentary representation but just enough to hurt Dr Merkel.
All the Chancellor can do at this stage is to try and maximise her electoral advantage. Her campaign has got slicker, with the release of a book about Dr Merkel's childhood complete with recipes for the food she likes, and the appearance of placards reading "Angie", held aloft by supporters in an attempt to indicate wide popular following.
Yet what by all accounts has been one of Germany's most uneventful electoral campaigns could still produce the surprising outcome nobody wants - a Merkel-led "grand coalition" government between the Christian Democrats and the Social Democrats.
Understandably, however, that's one topic which neither Dr Merkel nor Mr Steinbrueck raised during their televised debate.
jonathan.eyal@gmail.com

Get a copy of The Straits Times or go to straitstimes.com for more stories.