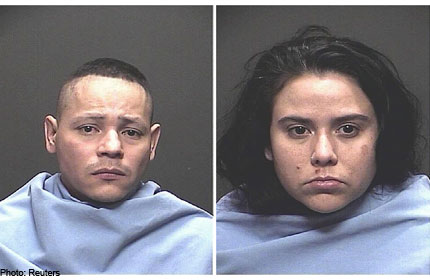 The oldest of the three sisters was just 17 years old.
The girls were allegedly held captive in the bedrooms of their US home in Tucson, Arizona, for two years. They alleged they did not have a wash for four to six months.
The sisters were rescued on Tuesday and the mother Sophia and stepfather Fernando Richter were arrested on kidnapping and child abuse charges. The 34-year-old man also faces one count of sexual abuse with a person under 15.
Their case came to light when two of the girls ran to a neighbour's home for help after the stepfather allegedly threatened them with a knife.
The two younger girls are aged 12 and 13.
The sisters were found to be malnourished and filthy. The younger girls and their sister had not seen each other for nearly two years, police said.
The home was a house of horrors with 24-hour surveillance, an elaborate alarm system and music blasted round the clock, police said.
The girls resorted to using their closets as modified bathrooms when their parents failed to let them out, the New York Daily News reported.
SEALED OFF
Investigators are trying to determine how long the girls were held captive, a police spokesman said.
When police arrived at the house, they found the 17-year-old locked in a separate bedroom from the room the younger girls claimed they were held in.
The oldest girl's room was sealed off, with towels pressed against the doors and windows. The ducts were also taped over, making the music piped into the room nearly inaudible from the outside, Tucson Police Chief Roberto Villasenor said.
The parents played hip-hop music to the 17-year-old and Latin music to the younger girls, said police.
Mr Villasenor said the parents would change the music to the sound of static if the girls started liking the tunes.
The music was so loud that the 17-year-old had no idea police had arrived at the home.
A neighbour, who did not want to be identified, told Tucson News Now that when the girls ran to her for help, they were hysterical and visibly shaking.
The neighbour said the girls were begging to come in and were afraid.

Get The New Paper for more stories.