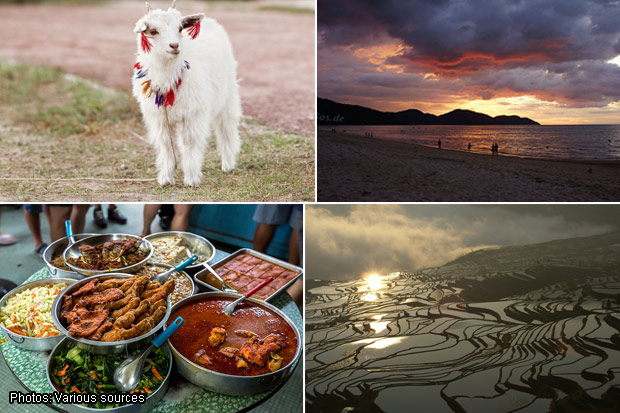 This article was originally published on the flight comparison site Skyscanner.
It's 2015: the year of the Goat hasn't even started yet, officially, but you may already be running out of ways to celebrate here in Singapore.
The goat farm in Lim Chu Kang? Check. Goat simulator on the computer? Check. Mutton soup? Check.
Well, it's probably time to travel out and put goat-seeing on that itinerary, especially throughout this Lunar New Year of the Goat. Skyscanner offers six quirky ideas:
1. Mongolia
Singapore is pretty hot and sticky, so if you're looking for a change of climate, Mongolia should be on your list of destinations for 2015. Bring a coat; Mongolia can be cold.
If your coat is not enough, then buy some local cashmere! The Gobi Desert is home to lots of goat herders who use the goat wool to make the warm and luxurious fabric, and you can even meet the goats who keep you warm.
Mongolia is a true adventure, and what is life without adventure? The Gobi Desert is one of the natural wonders of the world, and the rest of Mongolia is an epic array of mountains, rivers and steppes. Its jaw-dropping vistas are a trekker's dream.
2. Yunnan, China
Located in far southwestern China, near the border with Myanmar, Yunnan is a region of ancient culture, astounding natural beauty, and goats. The goats there provide the milk for some tasty local delicacies, including one of the few types of cheese indigenous to China.
After you have sampled the goat cheese, head to the countryside! Yuanyang is home to the stunningly beautiful rice terraces, and Tiger Leaping Gorge is breathtaking.
It's not just nature in Yunnan though; the ancient city of Lijiang is a great place for a wander, and the village of Shaxi is one of the last remaining caravan oases that dotted the landscape a thousand years ago. Spend your next #throwbackthursday here.
3. Penang, Malaysia
Penang is a great place to relax and get away from it all. The city of George Town regularly tops quality of life lists, and its street food is world renowned.
Penang's got great beaches, wonderful culture, and loads of activities for both adults and kids. It also has goats. Pay the Happy Goat Farm a visit!
Once you've celebrated the new year with the goats, hit the streets for some food. You can also head off into the national parks for some quality green time.
The Teluk Bahang butterfly park is beautiful enough to attract the Prime Minister of England, and once you've experienced that, spend the night in one of the beach-side resorts of Batu Ferringhi, which claims the title of the best beach in Penang.
4. Nepal
If the ordinary goats in this article fail to impress, then you should consider heading to the roof of the world. Some of the most astounding feats of goat-acrobatics in the world can be found in Nepal.
Nepali goats aren't ordinary goats; they ninja their way down vertical cliff faces as casually as you wander downstairs to the hawker centre for some Nasi Lemak and Kopi C.
Nepal is a place of spiritual healing and jaw-dropping nature; if you're looking to challenge yourself a little bit in 2015, then you might have to forego that shopping spree you were planning, strap on some hiking boots and get out there with the mountain goats.
5. Tokyo, Japan
Tokyo's got it all. Yes, when we say "all", it includes goats too. When you've tired of shopping 'til you drop in Ginza and fashion-spotting in the back alleys of Harajuku, take a quick coffee break at Goat Cafe Sakuraoka.
If you're wondering what exactly a goat cafe is... it's a cafe, with goats. The cafe has two goats on its premises, who hang out in large cages next to the tables, so you don't have to worry about them trying to steal your food or eat your luggage while you relax.
The goats seem to enjoy their lives in Tokyo, and they get taken out for walks on a regular basis, so don't worry too much about them. After your reinvigorating coffee break, head to Roppongi for some awesome food.
6. Yogyakarta, Indonesia
In 2014, the band Maroon 5 had a design contest for the cover of their new album "V". Improbably enough, the winner was a 20-year-old goat farmer from Yogyakarta named Bayo Gale.
Now, Skyscanner doesn't recommend that you go visit him, or his goats; the victory just reminds us of the unexpected surprises one finds in Indonesia, and is an excellent excuse to visit Yogyakarta. The city itself is a tranquil haven of art, learning, and amazing food - the day trips are fantastic as well.
From the fiery slopes of Mt. Merapi, and the ancient sacred sites of Borobudur and Prambanan, to the beautiful black sand beaches of Java's south coast, your trip to Yogyakarta will ensure your Year of the Goat gets off to an auspicious start.
And you may even see some goats while you're there.
Picky with the goat-centric destinations? Here are three more kooky ideas:
Saudi Arabia holds its annual Goat Beauty Contest in September - perfect for people who like beautiful goats. Skyscanner has been assured that all contestants are thoroughly screened before the competition. No ugly goats here.
In America, you can hang out with Fainting Goats, who literally pass out when they get spooked. Check out the International Fainting Goat Association if you're keen. In 2014, a town in Tennessee held a fainting goat festival!
Look out and look up at goats in trees in Marrakech, Morocco, where they can be found chomping on argan fruits.
Click here for the original article or visit the flight comparison site Skyscanner for more.