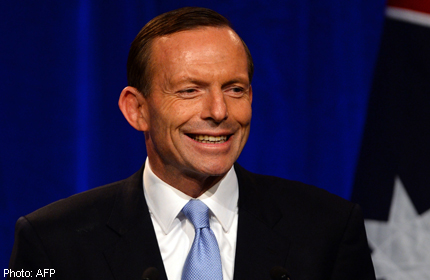 SYDNEY - Australia's incoming prime minister, Mr Tony Abbott, is planning to "reboot" the nation's mining boom and has immediately begun work on scrapping the carbon tax and taking a tougher approach to asylum seekers.
After his dramatic win over Labor leader Kevin Rudd last Saturday, Mr Abbott, 55, signalled a new style of governing in contrast to Mr Rudd's frenetic, headline- grabbing leadership routine.
Mr Abbott, a fitness-obsessed dad of three, began his first day as Prime Minister-elect with a trademark bike ride before going to his office in Sydney. He ordered the country's top bureaucrats and defence chiefs to start work on implementing his plans to repeal Labor's carbon and mining taxes, and to bolster border security.
"My team will hit the ground running," he said on Sunday.
"We will be a 'no surprises, no excuses' government... We won't be perfect; no government ever is, but when we get it wrong, we'll admit it and when we make a mistake, we will learn from it."
Mr Abbott's conservative Liberal-National coalition soundly defeated Mr Rudd's Labor government in a federal election last Saturday. The coalition looks set to win 89 seats in Australia's 150-seat Lower House, with Labor due to win 57, according to ABC's analysis.
Other likely winners included the mining tycoon who is planning to build a replica of the Titanic, Mr Clive Palmer, plus a Green candidate and independents.
Australia's decade-long mining boom has begun to slow and investment has ebbed in the past year, but the incoming leader has promised to cut red tape and attract new foreign investment.
A senior frontbencher and potentially the next finance minister, Mr Andrew Robb, said on Sunday that the new government will make Australia more competitive.
"As of today, the mining boom will be rebooted," he told ABC television, adding that there were "A$150 billion (S$176.2 billion) worth of projects out there to be grabbed".
Mr Robb said that the new government would "restore an appetite for risk and investment", creating a surge in new jobs.
To achieve the wide-ranging goals, Mr Abbott will need to start reaching out to an odd assortment of MPs who will hold the balance of power in the Senate, Australia's Upper House.
Several small narrow-interest parties were set to win seats in the 76-seat Chamber, including the Australian Motoring Enthusiasts Party, the Australian Sports Party and Family First, as well as Mr Palmer's Palmer United Party.
But Mr Abbott will be buoyed by the overall outcome, which will allow him to avoid having to rely on the Greens or Labor to pass Bills. The current counting suggests that the coalition will have 33 seats, Labor 25, Greens 10, and assorted parties the rest.
Mr Rudd resigned as Labor leader on Saturday night. Labor's blame game over its spectacular loss has already begun while numerous possible new leaders have been touted, including mining leader Bill Shorten, deputy leader Anthony Albanese and outgoing Treasurer Chris Bowen.
The party got its worst national result in over a century after three years of leadership turmoil.
It received 34 per cent of the primary vote nationally, down 4 per cent from 2010. Its vote - on a two-party basis - was 47 per cent, compared with 53 per cent for the coalition.
jonathanmpearlman@gmail.com

Get a copy of The Straits Times or go to straitstimes.com for more stories.