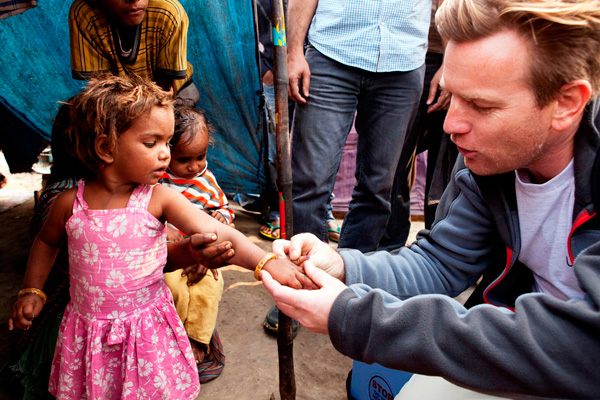 LONDON - Scottish actor Ewan McGregor called on Tuesday for greater efforts to help refugee children in Iraq, warning they are at serious risk of death, sexual violence, or recruitment into armed groups.
Following a visit to Iraq, McGregor, an ambassador for the United Nation's children's agency UNICEF, said the situation in Iraq was becoming "increasingly desperate".
He said tens of thousands of children in Syria and Iraq have been killed and 3.6 million children are now at risk, with many separated from their families, making them vulnerable to human traffickers and sexual abuse. "Many of the children I've met in Iraq have been forced to flee their homes, risking their lives on dangerous journeys and have been exposed to unimaginable horrors," McGregor said in a statement.
An estimated 4.8 million Syrians have fled the country since the outbreak of civil war in 2011, most of them to neighbouring countries, including Iraq.
The UN refugee agency UNHCR says more than four million people in Iraq have been forced from their homes.
McGregor, 45, known for such films as "Trainspotting" and"Moulin Rouge", travelled to northern Iraq last week where he visited the Debaga camp and spent time with Syrian refugees and displaced Iraqi families around Erbil.
He described meeting a girl called Mirna who told him that her family had slept in a disused, half-built shopping mall for a year, living off food and supplies from the local community.
"This act of humanity should be replicated everywhere," said the actor, who has four children. "The world is facing an unprecedented refugee crisis and we must do more to protect the extraordinary number of children who have been torn from their homes by violent conflict."
McGregor was first introduced to UNICEF in 2004 during his British television series "Long Way Round" when he travelled by motorbike around 12 countries which included visiting various children's projects in Ukraine, Kazakhstan and Mongolia.