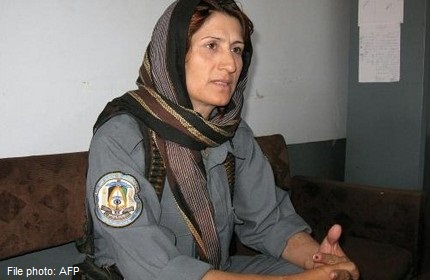 KANDAHAR, Afghanistan - Unknown gunmen shot and seriously injured a female police officer in southern Afghanistan on Sunday, just months after her high-profile predecessor was killed, officials said.
Nigar, who like many Afghans uses only one name, is the senior female officer in Helmand province after Islam Bibi was murdered in July in a killing that focused attention on the threat to Afghan women who take on public roles.
Nigar was shot by gunmen on a motorbike in Lashkar Gah, the capital of Helmand, a hotbed of the Islamist insurgency that was launched against the US-backed Kabul government after the fall of the Taliban in 2001.
"She was walking on the street near the police headquarters," provincial government spokesman Omar Zawak told AFP. "She is critically injured and has been admitted to the emergency unit at the hospital."
Zawak said Nigar had worked for seven years in the Helmand police crime branch and reached the rank of investigator, based at Lashkar Gah airport.
Lieutenant Bibi, who was also shot in Lashkar Gah, was seen as an example of how opportunities for women have improved in Afghanistan since the repressive Taliban regime was ousted.
But she also admitted receiving regular death threats from people who disapproved of her career - including from her own brother.
Women's rights are a key focus of international efforts in Afghanistan, with foreign diplomats often pointing to more female school children and greater freedom for women as signs of progress.
But donor nations have also raised fears that such advances are at risk as 87,000 NATO troops withdraw next year and Islamist groups lobby for more influence.