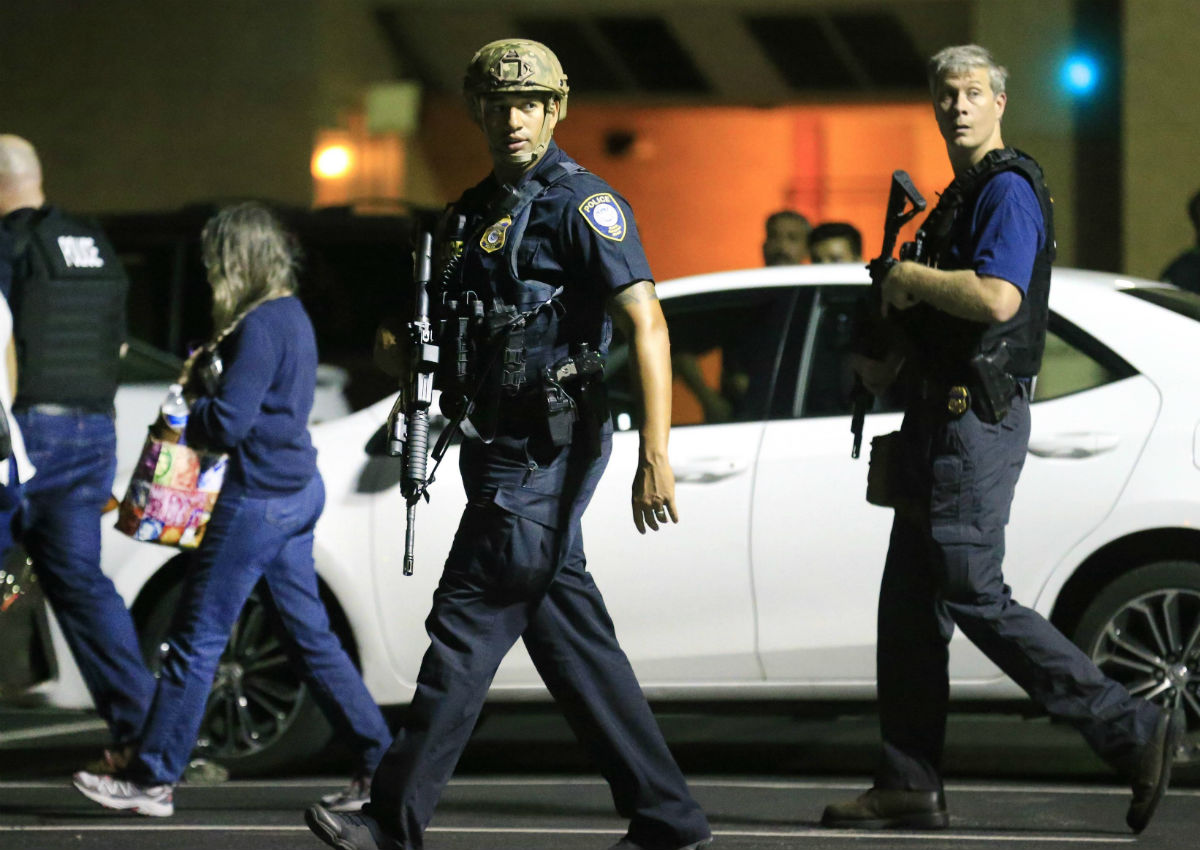 Dallas - Police arrested scores of people in demonstrations overnight Saturday to Sunday in several US cities, as racial tensions simmer over the killing of black men by police.
Protesters led by the Black Lives Matter movement are demanding justice for two African-American men shot dead by cops, their dying moments captured in video that went viral online.
The demos also come after 25-year-old black army veteran Micah Johnson used a high-power rifle to kill five police officers and wound seven in a sniper attack at a protest in Dallas, Texas late Thursday.
Johnson told negotiators before police killed him that he wanted to murder white cops in revenge for the black deaths.
Dallas was still on edge Saturday. Following an anonymous threat, SWAT teams swarmed the police headquarters while officers investigated reports of a suspicious person - finally giving the all-clear around two hours later.
The nationwide wave of protests was triggered by the shooting deaths of Alton Sterling in the southern state of Louisiana, and Philando Castile in the midwestern state of Minnesota.
Protesters held large and peaceful marches in several major US cities, including New York, Los Angeles and San Francisco.
However protests were unruly in Baton Rouge, where Sterling was killed, and St. Paul, where Castile died.
Hundred protesters in St. Paul blocked a highway intersection for several hours late Saturday and hurled firecrackers, rocks and bottles at police.
The officers, equipped with clubs and gas masks, used smoke grenades and pepper spray to break up the crowd.
St. Paul police said on Facebook that protesters also threw a molotov cocktail, and someone "dropped a large chunk of concrete onto an officer's head from a bridge." Five police officers were injured. "Thankfully the injuries were not serious," police said.
St. Paul police promised to provide details soon on the number of arrests. A jailer at the local detention center estimated that between 60 to 80 people had been detained.
Separately in Baton Rouge, local media reported that several dozen people were arrested in at least two demos, including one where members of the New Black Panther activist group confronted police.
The sheriff's department would not confirm arrest figures when contacted by AFP.
One of those arrested reportedly included DeRay McKesson, a prominent activist in the peaceful Black Lives Matter movement.
"Police have been provocateurs all night," McKesson says as he walks on the side of a road, livestreaming the demonstration on Periscope. "We aren't blocking the street or anything." "No justice, no peace, no racist police!" activists chant, as police cruisers follow the group.
Then suddenly the video is interrupted. "City Police. You're under arrest - don't fight me," a voice says.
Pictures on social media show McKesson with his hands behind his back being taken away by police.
A Louisiana state police officer told a reporter with The Advocate, a Baton Rouge publication, that McKesson was arrested because he had been blocking the road - even though in his video McKesson said there was no sidewalk.
"We wouldn't arrest people who are quietly protesting off the roadway," the officer told The Advocate in a video posted online.
An activist who was a witnesses told The Washington Post that McKesson was "clearly targeted."
Police across the country were on edge as it emerged that officers had been targeted in at least two incidents - in Tennessee and Wisconsin - by individuals apparently angered at the recent fatal shootings of black men by police.
Hundreds also marched peacefully Saturday in Los Angeles, including in South Central, the epicenter of violent 1992 riots following the acquittal of white police officers in the videotaped beating of black motorist Rodney King.
There were nasty scenes late Friday in Phoenix, Arizona, where police used pepper spray to disperse stone-throwing protesters. And in Rochester, New York, 74 people were arrested over a sit-in protest.
President Barack Obama tried Saturday to reassure a shocked country, insisting that the United States can overcome its racial divisions, and rejecting comparisons with the civil unrest of the 1960s.
Obama, scheduled to visit Dallas next week, described the gunman as a "demented individual" who in no way represented the African-American community.
"I firmly believe that America is not as divided as some have suggested," he said during a NATO summit in Warsaw.
"There is sorrow, there is anger, there is confusion... but there is unity." US politicians have sought to come across as unifiers after the week of violence.
"White Americans need to do a better job of listening when African Americans talk about the barriers they face," Democratic White House hopeful Hillary Clinton tweeted.
That message was echoed by prominent members of the Republican Party, which has often jumped to defend law enforcement amid accusations of racial bias.
"It is more dangerous to be black in America," said Newt Gingrich, a Republican former House speaker tipped as a possible White House running mate for Donald Trump.
"Sometimes it's difficult for whites to appreciate how real that is. It's an everyday danger."