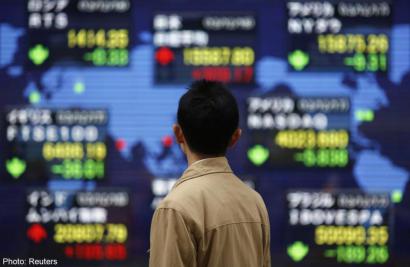 HONG KONG - Asian markets were mostly lower on Friday, with another upbeat lead from Wall Street overshadowed by concerns about the Ukraine crisis.
The euro maintained its momentum after a pick-up on Thursday fuelled by a healthy consumer confidence reading from Germany.
Tokyo rose 0.17 per cent, or 24.27 points, to 14,429.26 while Seoul tumbled 1.34 per cent, or 26.68 points, to 1,971.66.
Hong Kong sank 1.50 per cent, or 339.27 points, to 22,223.53 and Shanghai fell 1.00 per cent, or 20.51 points, to 2,036.52.
Sydney and Wellington were closed for public holidays.
US shares ended mostly higher on Thursday following another round of impressive corporate results as well as a second strong month of durable goods orders in March.
The figures indicated the economy is rebounding from its winter slump.
The Nasdaq climbed 0.52 per cent, boosted by a rally in Apple which rose more than eight per cent on better-than-expected earnings. The S&P 500 added 0.17 per cent and the Dow was unchanged.
However, traders remain on edge over the situation in Eastern Europe. Russia on Thursday ordered new military exercises on the border of Ukraine and warned of "consequences" after Kiev launched a deadly assault against pro-Kremlin rebels occupying a flashpoint town.
Later US Secretary of State John Kerry accused Russia of a "full-throated effort to actively sabotage the democratic process through gross external intimidation" and described the military exercises as "threatening".
He also said Moscow had broken an agreement signed last week in Geneva aimed at easing tensions, adding that refusal to take any steps to end the crisis would "not just be a grave mistake, it will be an expensive mistake".
The veteran diplomat added "we are ready to act" as Washington tees up new economic sanctions against Moscow.
On currency markets the euro edged up to $1.3836 from $1.3830 in New York, boosted by news that the Ifo economic institute's closely watched German business climate index rose in April following a dip in March.
It was at 141.50 yen from 141.53.
The dollar fetched 102.25 yen, against 102.32 yen in New York late Thursday.
Traders were largely unmoved by data showing Japanese inflation rose for a 10th straight month in March, with rising energy costs behind the increase.
Oil prices rose. US benchmark, West Texas Intermediate for June delivery, was down 40 cents at $101.54 a barrel in afternoon trade and Brent North Sea crude for June fell 38 cents to $109.95.
Gold fetched $1,293.22 an ounce at 0810 GMT compared with $1,271.96 on Thursday.
In other markets: - Taipei fell 1.92 per cent, or 171.33 points, to 8,774.12.
Smartphone maker HTC shed 3.45 per cent to Tw$154.0 while Taiwan Semiconductor Manufacturing Co. was 2.07 per cent lower at Tw$118.5.
- Manila slipped 0.69 per cent, or 46.23 points, to 6,685.10.
Metropolitan Bank fell 1.60 per cent to 83.00 pesos, SM Investments eased 0.41 per cent to 734.50 pesos and Manila Electric sank 1.67 per cent to 270.40 pesos.