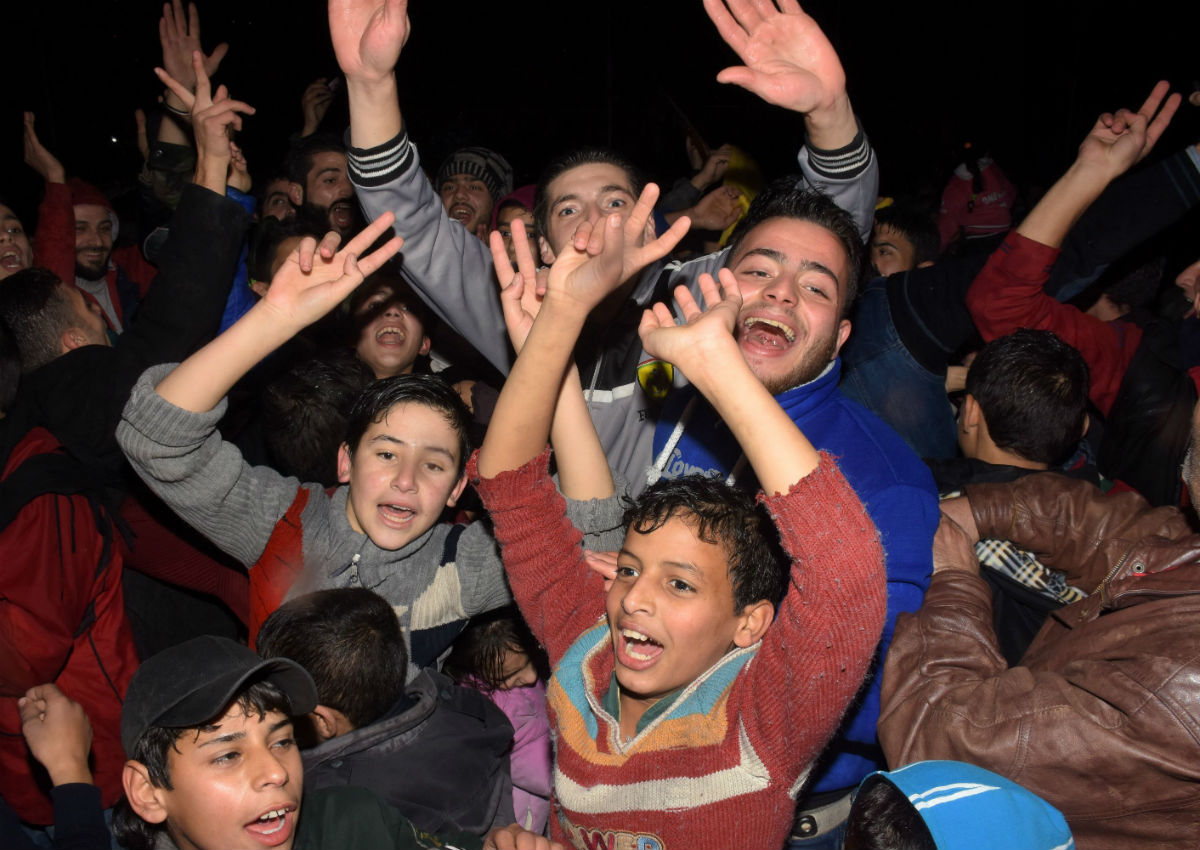 Thousands of people in western Aleppo took to the streets Thursday, rejoicing in the Syrian regime's operation to retake the eastern side of their city from rebels after a years-long battle.
Celebratory gunfire began to erupt and crowds began to fill the streets as soon as the army announced the last rebels had left east Aleppo.
The western side of the city had been under the control of President Bashar al-Assad's forces throughout the conflict, and also suffered heavy shelling and loss of life.
"We've been waiting five years for this. We have suffered, what with the rebels, the water shortages and the power cuts," said Rana al-Salem, 29, as tears welled in her eyes and noise rose to a crescendo in the background.
Cars crawled along, their drivers sounding their horns, and in city squares, children had the colours of the Syrian flag painted on their cheeks.
Some carried portraits of Assad or the flags of Syria and Russia, whose air raids against the rebels were a turning point.
"Our joy is immense. Life returned to Aleppo today," said lawyer Omar Halli, who predicted "victory over all of Syria".
"God, Syria, Bashar are all we need," "Hey, hey, hey, Aleppo," "With our soul, our blood, we sacrifice ourselves for Syria!," some chanted.
Some took selfies in the middle of the crowd, and others let off fireworks.
"My mother swore that I would only get married in our house, in the Old City," a 26-year-old man who gave his name as Assaad, told AFP.
"I am going to go back to our house and build another floor on it, and I'll be living there after my wedding," he vowed.
Centuries old and studded with historic stone buildings, the Old City became a UNESCO World Heritage Site in 1986.
Read also: Aleppo girl Bana Alabed meets Erdogan at Ankara palace
But in the battle of Aleppo, the quarter was on the frontline, between the rebel-held east and regime-held west. In 2013, the UN agency placed it on its list of cultural heritage that was at risk.
Aleppo, Syria's second city, was an economic powerhouse for the country before the war, and locally-born businessman Aly Akkam predicted it would rise once more.
"Aleppo will bounce back even stronger," Akkam said, adding he planned to return to the Old City where he had a textile shop that he had to abandon.
The loss of east Aleppo is the biggest blow to the rebel movement in Syria's nearly six-year conflict, which has killed more than 310,000 people.
Wednesday's announcement came after a landmark evacuation deal that ended a month-long offensive by government forces and allied militia.
Read also: 25000 evacuated from Syria's Aleppo so far: Red Cross