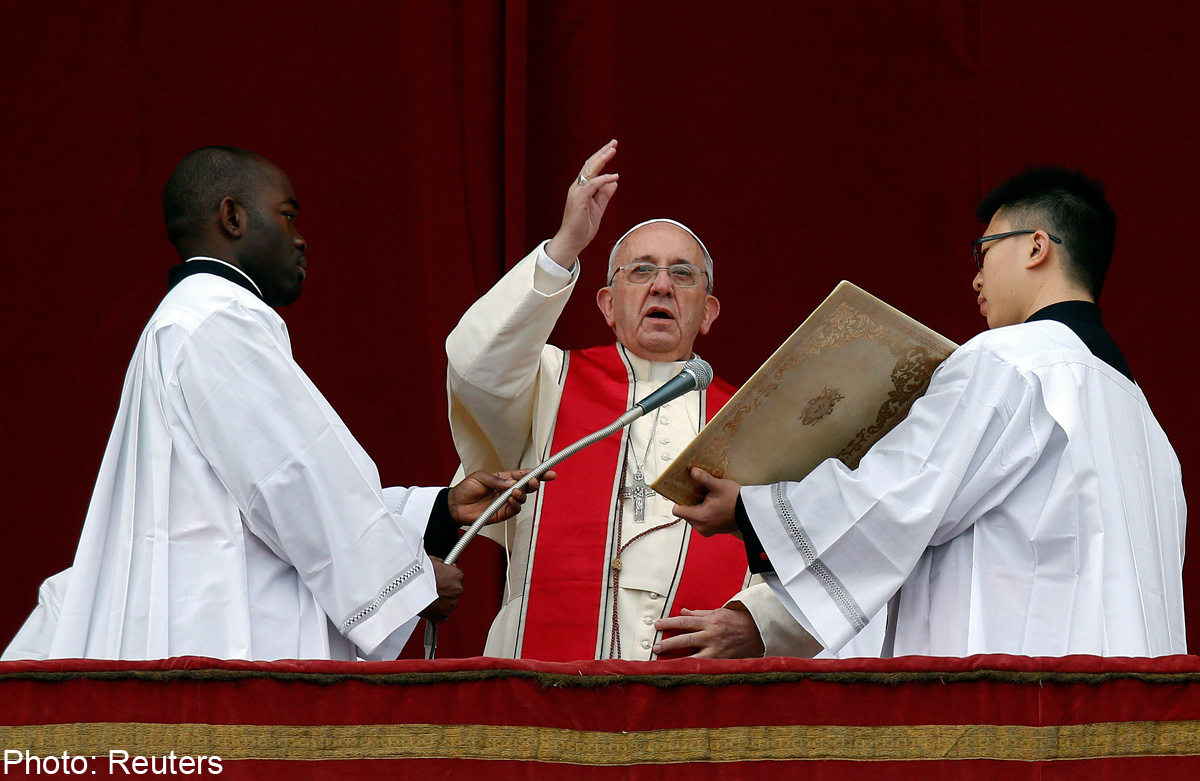 VATICAN CITY - Pope Francis, celebrating his first Christmas as Roman Catholic leader, on Wednesday called on atheists to unite with believers of all religions and work for "a homemade peace" that can spread across the world.
Speaking to about 70,000 people from the central balcony of St. Peter's Basilica, the same spot where he emerged to the world as pope when he was elected on March 13, Francis also made another appeal for the environment to be saved from "human greed and rapacity".
The leader of the 1.2 billion-member Church wove his first"Urbi et Orbi" (to the city and world) message around the theme of peace. "Peace is a daily commitment. It is a homemade peace," he said.
He said that people of other religions were also praying for peace, and - departing from his prepared text - he urged atheists to join forces with believers. "I invite even non-believers to desire peace. (Join us) with your desire, a desire that widens the heart. Let us all unite, either with prayer or with desire, but everyone, for peace," he said, drawing sustained applause from the crowd.
Francis's reaching out to atheists and people of other religions is a marked contrast to the attitude of former Pope Benedict, who sometimes left non-Catholics feeling that he saw them as second-class believers.
He called for "social harmony in South Sudan, where current tensions have already caused numerous victims and are threatening peaceful coexistence in that young state".
Thousands are believed to have died in violence divided along ethnic lines between the Nuer and Dinka tribes in the country, which seceded from Sudan in 2011 after decades of war.
The pontiff also called for dialogue to end the conflicts in Syria, Nigeria, Democratic Republic of Congo and Iraq, and prayed for a "favourable outcome" to the peace process between Israelis and Palestinians. "Wars shatter and hurt so many lives!" he said, saying their most vulnerable victims were children, elderly, battered women and the sick.
Personal peacemakers
The thread running through the message was that individuals had a role in promoting peace, either with their neighbour or between nations.
The message of the birth of Jesus in Bethlehem was directed at "every man or woman who keeps watch through the night, who hopes for a better world, who cares for others while humbly seeking to do his or her duty," he said. "God is peace: let us ask him to help us to be peacemakers each day, in our life, in our families, in our cities and nations, in the whole world," he said.
Pilgrims came from all over the world for Christmas at the Vatican and some said it was because they felt Francis had brought a breath of fresh air to the Church. "(He) is bringing a new era into the Church, a Church that is focusing much more on the poor and that is more austere, more lively," said Dolores Di Benedetto, who came from the pope's homeland, Argentina, to attend Christmas Eve Mass.
Giacchino Sabello, an Italian, said he wanted to get a first-hand look at the new pope: "I thought it would be very nice to hear the words of this pope close up and to see how the people are overwhelmed by him."
In his speech, Francis asked God to "look upon the many children who are kidnapped, wounded and killed in armed conflicts, and all those who are robbed of their childhood and forced to become soldiers".
He also called for a "dignified life" for migrants, praying tragedies such as one in which hundreds died in a shipwreck off the coast of the Italian island of Lampedusa are never repeated, and made a particular appeal against human trafficking, which he called a "crime against humanity".