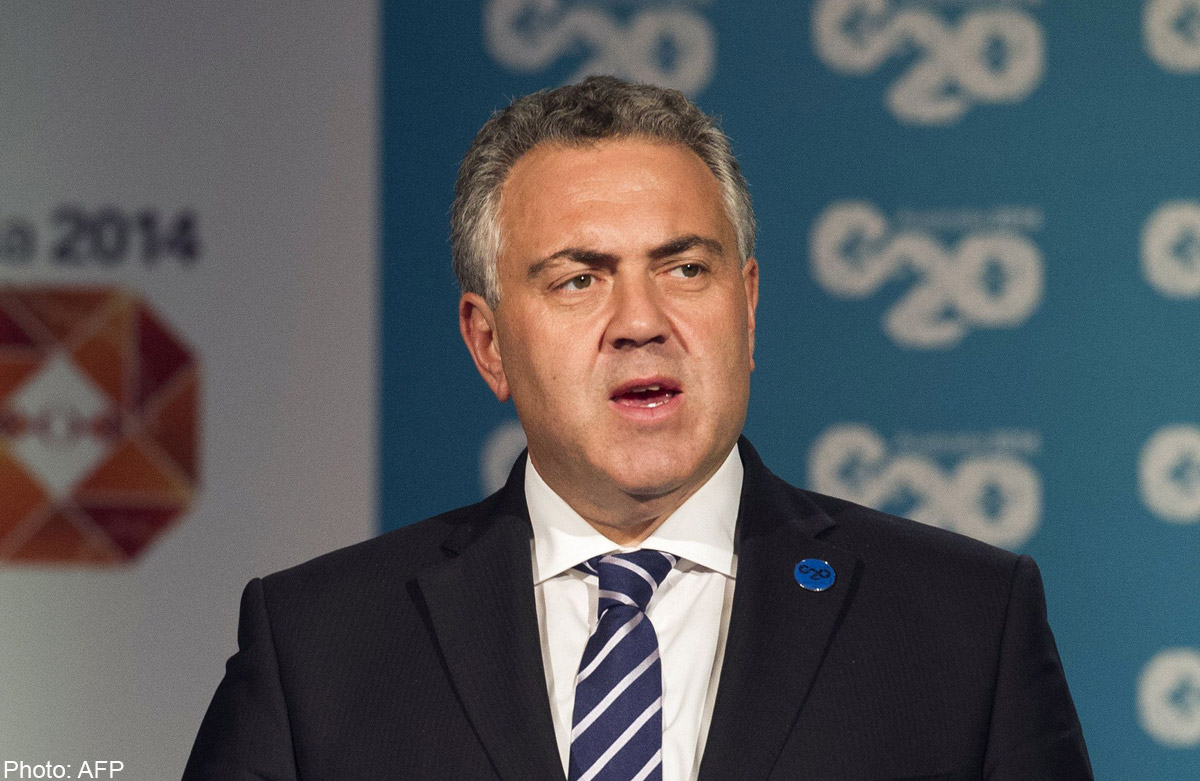 Prime Minister Tony Abbott may be a keen cyclist but he is even keener on cars, pushing a plan to spend A$82 billion (S$96 billion) on roads that will transform life in Australia's major cities.
The Abbott government's first federal budget, to be delivered in Canberra today, will include plans for a major nationwide boost to road funding, according to Treasurer Joe Hockey.
The budget is tipped to include large public service cuts and new taxes on fuel and high earners to address an expected A$47 billion deficit this year. But infrastructure spending will get a big boost.
The government is expected to commit A$40 billion to roads over the next six years, with a further A$42 billion coming from state governments and private investors. The projects are expected to create tens of thousands of jobs.
But critics say the projects are wasteful, have not been subject to adequate feasibility studies and will drain money from Australia's ailing public transport networks.
Flagging the road build-up, Mr Hockey said on Sunday he would deliver a "contribute and build" budget which may include extra taxes but would also feature a dramatic increase in infrastructure spending.
"We are laying a plan for the biggest increase in road expenditure in Australian history," Mr Hockey told Channel Nine.
"That is tens of thousands of new jobs, but most importantly, it is going to address the significant drop-off in investment in construction in Australia associated with mining investment coming off," he added.
Roads in Australian cities are largely the domain of state governments, but the Abbott government has flagged big funding boosts to major projects across all capital cities.
The biggest project is Sydney's A$12 billion WestConnex, a 33km road which will link its populous western suburbs to the central business district and the airport. The city's urban sprawl and poor public transport have caused heavy peak-hour congestion for its 4.5 million residents.
The three-stage project is expected to create 10,000 jobs. The entire road, which will cut 40 minutes off the peak-hour drive from the city's geographic heart of Parramatta to the airport, will be ready by 2023.
The state government estimates the overall benefit to the economy will be A$20 billion.
Mr Abbott, who has said he wants to be known as an "infrastructure prime minister", has made no secret of his plans to boost Australia's roads.
Though he is an avid cyclist, he does so mainly for exercise rather than to commute - and, as a politician, he has tended to support spending projects that favour cars over public transport or cycling.
"Infrastructure is what enables us to get to work, to get home and the more time we spend stuck in traffic jams, the less time we are productively at work or the less time we're spending with our families," he told Sydney's Daily Telegraph last week.
He has also pledged A$2.5 billion to a major new 12km road project in Melbourne. The East- West Link will connect the city's west to its port and is due to include a A$5 billion cross-city tunnel that will carry about 100,000 cars a day.
In Perth, the Abbott government has committed A$925 million to a A$1.6 billion road specifically for trucks that will link the airport to Fremantle's port by 2020.
But the various projects have come under heavy criticism, particularly as they have not been matched by big spending boosts to public transport.
There have also been warnings the government has been rushing to sign off on big projects without properly assessing the benefits.
This article was published on May 13 in The Straits Times.


Get a copy of The Straits Times or go to straitstimes.com for more stories.