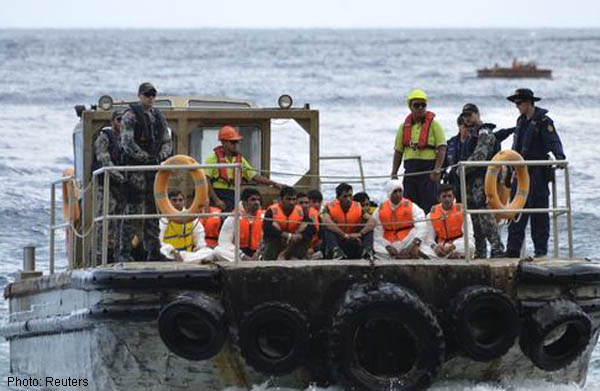 SYDNEY - Australia on Friday announced a new frontline border protection agency merging operations from the customs and immigration departments to build on its success in stopping boatpeople and tackle the growing menace of transnational crime.
Immigration Minister Scott Morrison said the new Australian Border Force agency would be led by a high-powered civilian commissioner who would report directly to him and that it was based on models used by Britain and the United States.
Australia has adopted a hardline policy against asylum-seekers entering its waters on unauthorised boats, with its military-led Operation Sovereign Borders having prevented any new arrivals for more than four months.
Speaking ahead of the conservative government's first budget next week, Morrison said stopping the boats had created Aus$2.5 billion (US$2.34 billion) in savings, as he announced six more detention centres would be closed, in addition to four closures already announced.
"This is the fiscal dividend of the coalition's stronger border protection policies," he said.
Under the policy, boats are being turned back to Indonesia, where most originate, while anyone that does arrive is sent to camps on remote Nauru and Papua New Guinea's Manus Island in the Pacific for processing. They are denied resettlement in Australia.
"The creation of the Australian Border Force is about strengthening our borders. It is a reform measure, not simply a savings measure," Morrison said of the new super agency, which will remove duplication and potentially deliver significant cost benefits.
"Now what that will do is ensure we have an integrated presence on our border to not just be dealing with people-smuggling but the full range of threats."
Criminal gangs threat
While consolidating its success in halting illegal boat arrivals is a key element of the work the new agency will do, Morrison said the threat from overseas criminal gangs was also growing.
"Organised criminals will pedal anything from which they can profit - people, drugs, guns or other illicit substances. And not everyone who comes and goes through our airports every day visits with benign intent," he said.
"Transnational criminals are in the border busting business. It is their job to violate our borders to conduct their trade. It is our job to put them out of this business, and at the very least make it as difficult as possible." The integrated agency is due to be up and running by the middle of next year. It will bring together enforcement officers, investigators and intelligence officials with those working at sea, ports and airports.
"Establishing a single border agency is not new. It has been a theme of global border reform for decades, in particular in the United States through the Homeland Security Department and a series of reforms at the UK Home Office," said the minister.
"In bringing together this reform we have studied their failures and their successes. The model proposed is a hybrid of the current UK Home Office model, that has also evolved from their experience in dealing with these issues." Australia is holding hundreds of people on Manus Island and so far none have been resettled as refugees in PNG, although Morrison said this was about to change, with immigration officials recently handing down their first decisions.
He did not say how many people were involved, but said about half of the cases examined were deemed to be genuine refugees, meaning they would be released from the camp into the community.
"The resettlement package that is being worked on by the Papua New Guinea government, that will come forward to their cabinet next week I understand," said the minister, who has just returned from a trip to the poverty-stricken country.
Tensions at the camp, which the United Nations has condemned as "harsh", boiled over earlier this year with rioting leaving one person dead and dozens injured.