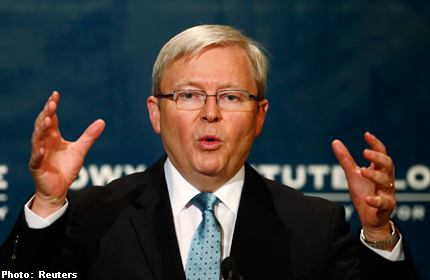 SYDNEY - Australian Prime Minister Kevin Rudd said Tuesday that key naval assets could be relocated north to adapt to a changing security landscape and put personnel nearer to their fields of operation.
Rudd, facing national polls on September 7, said moving Sydney Harbour's Garden Island base to Queensland, in the east, and Western Australia could improve the nation's ability to sustain operations in the Asia-Pacific.
"Our national security challenges of the future lie to our northeast, to our north, and to our northwest," the Labor leader said in a foreign policy speech.
"That has been the strategic logic of Australia's defence policy for the last 30 years. This is a continuum in Australian defence force policy."
Rudd said the approach underlined Canberra's enduring interest in regional stability and would better facilitate Australian military responses to humanitarian crises in the Asia-Pacific.
A move would also take defence personnel closer to their fields of activity and at the same time open up Sydney Harbour to the growing cruise ship industry, he said.
Rudd said if re-elected he would establish a future navy taskforce to advise on how best to shift some or all of Garden Island's Fleet Base East to Queensland and Perth, in Western Australia.
It would also advise on "developing, upgrading or expanding" bases in Darwin in the Northern Territory, and the northern Western Australian town of Broome.
"The government would expect the relocation of fleet elements north and west to be completed by 2030," Rudd said.
Australia is seen as a critical pillar in the US "pivot" to Asia and Washington's rebalancing of its military strategy, with hundreds of American marines already stationed in Darwin.
But the idea of moving the navy's major base north has not been universally welcomed, with New South Wales Premier Barry O'Farrell saying it would cost thousands of jobs in his state.
O'Farrell, who crossed paths with the prime minister on the Sydney Harbour foreshore after Rudd's speech, said his comments had come as a shock.
"A phone call would've been nice," he said to Rudd as they walked past each other.
"We stand to lose 4,000 direct jobs all because we have a federal political leader so spooked by the polls he will do anything, even use defence infrastructure, as a tactic to try and win votes," O'Farrell said.
Conservative opposition leader Tony Abbott, who opinion polls suggest will win the upcoming national election, said he was not against shifting military assets appropriately "over time".
"What I am against is policy on the run by a desperate government," Abbott told reporters.
James Brown, a military fellow at the Lowy Institute think-tank, said while Australia's strategic interests were increasingly to the north and west it was not necessary to "uproot the entire navy to secure them".
Brown said positioning new amphibious assault vessels closer to the army units they would embark with would allow them to respond to a crisis 24 hours faster than if there were based in Sydney.
"But the sheer scale of upheaval required to move navy bases, as well as the cost, would outweigh this benefit," he said, adding that the cost of a new east coast base had been estimated conservatively at Aus$6-9 billion (US$5-8 billion).
The Australian Defence Association lobby group said Brisbane, in Queensland, was not a viable option for a major naval base because the city was built on a flood-prone river which opened onto a shallow bay, unlike Sydney's deep water harbour.